Week 6, Term 1 2021 - 2nd March 2021
Principal's Reflection
Last week we held our P&F AGM, where we appointed our 2021 executive. I am pleased to announce the committee this year is;
As well as the AGM, the meeting attendees also undertook some goal setting activities, identifying areas where P&F funds could be spent to enhance our school community. Following input from our staff and Yr 6 leaders, at the next P&F meeting we will prioritise these projects and commit funds for their completion. If you can make it along to this meeting, please do.
These types of activities really remind me of the importance of parental involvement in a school. A parent's involvement in their child's education is one of the most important contributors to a child's development. There have been many studies looking at parental involvement; overwhelmingly they show a host of significant benefits. Some key findings from these studies include;
Parental involvement in children's education from an early age has a significant effect on educational achievement, and continues to do so into adolescence and adulthood.
Family learning time can also provide a range of benefits for parents and children including; improvements in reading, writing and numeracy as well as greater parental confidence in helping their child at home.
The more parents participate in schooling, in a sustained way and at every level, the better it is for student achievement.
When parents are engaged in their child's education, students have:

Higher grades, test scores, and graduation rates
Better school attendance
Increased motivation, better self-esteem
Lower rates of suspension
Decreased rate of substance abuse
Fewer instances of violent behaviour
These findings reinforce what most of us already know. As the old saying goes, 'It takes a village to raise a child'. Being interested and more importantly involved in your child's education can take many different shapes. Some effective ways include;
Read with your child at home and help them with their homework.
Debrief with them about their day. It may be difficult to 'tease' the information out of some children, but don't believe them when they say, 'I did nothing today'.
Make yourself available to assist in the classroom. Whether it is helping with reading groups, assisting with math's rotations or supervising an art activity, please remember that you are always welcome in your child's class.
Become involved in one of the parent organisations in the school. At St Mary's we have the P&F and the School Board, as well as the year/class groups, organised by a class coordinator. It is a great way to get involved and meet other parents.
I urge all parents to think about the way that they involve themselves in their child's education. Our 'Just One Thing' campaign aims to record the varying ways in which parents can contribute, and I urge all parents to submit a response below.
If you would like further information on this topic, please make a time to come and see me.
All the very best,
Wes Rose
Principal
From our Principal - Mr Wes Rose
I ask that all St Mary's parents submit a response to the 'Just 1 Thing' campaign, which assists us to engage parents in their preferred ways. Please click this link to complete the short, one-minute form.
Leadership Formation Day
This Wednesday, our school leadership team (Wes Rose, Terri Leotta and Belinda Battaia) will be attending a leadership formation day with Mr McCusker. During our absence, Mrs Motteram and Mrs Belinda van Lint will be acting Principal.
Clean Up Australia Day
This Sunday we continue our commitment to caring for Our Common Home by inviting everyone to participate in Clean Up Australia Day.
This video illustrates the importance of us all working together for this cause. We will meet at Quota Park (near the Ocean International) at 9am. We hope to see you there.
Peace & blessings,
Mrs Terri Leotta
APRE/Teacher
Quote of the Week
"Following Jesus' example, we should strive to be people of action who are intent on improving our relationship with God and those we encounter in our daily lives. And this is not done solely by doubling our prayer time, increasing our Lenten penances or attending Mass more often. Our practices of piety need to be authenticated by the way we treat others."
-Laurie Woods
Project Compassion - Holy Week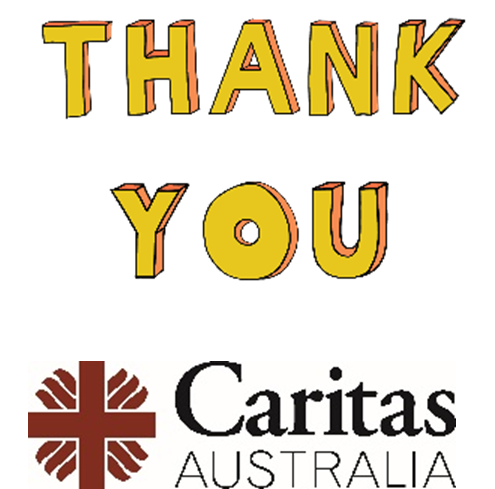 As we enter Holy Week, we continue to reflect on the lives of people vulnerable to extreme poverty and injustice and how we can respond through supporting Caritas Australia's Project Compassion appeal.
Let us take time to remember the life and teachings of Saint Oscar Romero. His many lessons include: live a simple life, commit to bringing peace to the world, speak the truth and of course aspire not to have more, but to be more. Some words from what has become known as the Oscar Romero prayer; "We cannot do everything, and there is a sense of liberation in realizing that. This enables us to do something, and to do it very well. It may be incomplete, but it is a beginning, a step along the way, an opportunity for the Lord's grace to enter and do the rest."
Thank you for supporting Caritas Australia's Project Compassion Campaign. Your generosity will work for the freedom of those living in poverty, challenge unjust structures, and empower people to work for a sustainable way of life.

Caritas Classroom Tally
Prep 2022 Enrolments
St Mary's are currently taking enrolments for Prep 2022. We encourage both existing and new families who have a child starting Prep next year to lodge their enrolment application as soon as possible. Interviews will commence on 10th May. Applications are to be made via our new online enrolment form available from our website www.smmrok.catholic.edu.au. Please contact the school office for further information or any assistance required.
From our APC - Mrs Belinda Battaia
Calling all writers!!
The 2021 Schools Writing Competition is now open. School students across Australia have the opportunity to battle it out for the great cash and prizes on offer.
The quickest and easiest way to enter is online at Schools write4fun writing competition.
To assist with the creative writing of poetry or a short story in the competition there is NO THEME! Entries can be on any topic and in any style.
Entry is free and the closing date is Wednesday 31st March 2021. Please feel free to share your child's story or poem with me via email, I would love to read what the students come up with - belinda_battaia@rok.catholic.edu.au.
If you require any assistance with the submission of your child's entry, please contact the school office.
Mrs Belinda Battaia
APC/Teacher
The 2021 Prime Minister's Spelling Bee is on soon. Students from Years 3 to 6 are invited to take part in an online spelling bee. They will compete against other students in Australia to correctly spell 30 randomly selected words. Finalists will be invited to take part in the State and National finals. Entry is free for all students. A signed consent form is required.
What: 2021 Prime Minister's Spelling Bee
When: March 15- 26
Where: Online competition during school
Who: See your class teacher or Mrs Paul for a consent form.
Please join us!
Sport News
Congratulations to the following players on their selection in the Southern Suburbs Rugby League sides. The boys will attend the Mackay trials next week.
U10 – Bodene Tass
U11 – Harper Shields, Blake Battaia, Fynn Shears, Harrison Roberts, Charlie Galea and Jack Hurley
Congratulations also to Jack Sellentin who was selected in the Mackay & District U12 Basketball side yesterday. Jack will travel to Rockhampton to play in the Capricornia trials.
Mrs Caroline Kerrisk
HPE Teacher
Touch Football Draw - Round 4
Tuckshop News
Our tuckshop is open from Tuesday to Friday at first & second break.
Order something healthy & delicious for your student today!
Visit Quickcliq or go to our St Mary's App & click on the Tuckshop tile.
Click the link below to view or download our latest menu.
P&F Welcoming BBQ
Please join us for the P&F Welcoming BBQ on Monday 8th March in the Basketball area. Our P&F is sponsoring the BBQ for all family members. BYO drinks!

We will also have classrooms open for a walkthrough from 5:30pm-6pm to allow families to see the modern and dynamic learning environments our students enjoy each day.
Please RSVP here if you would like to attend.
We hope to see you there!


St Mary's Trivia Night
Student of the Week
Week 5 Term 1 Student Award Winners
| | |
| --- | --- |
| PB | Ila for excellent 'sounding out' during journal writing. Well done! |
| PC | Alice for your amazing, confident and informative show and share. Well done! |
| 1L | Mila for wonderful behaviour! |
| | Finn for your concentration and enthusiasm in class! |
| 1P | Leah for being a great listener during Show and Tell. You ask the best questions. Thank you Leah. |
| | Archie for your great Show and Tell about your special day. Thank you Archie! |
| 2A | Hannah for always displaying a happy, positive attitude and enthusiasm for learning. |
| | Cash for being a polite, responsible and hard-working member of 2A. |
| 2B | Elly for having a happy and enthusiastic attitude towards all aspects of her class work. |
| | Maxwell for working hard in class and sharing your ideas. |
| 3B | Peyton for your thoughtful contributions in our Boost Reading. You're a STAR! |
| | Xander - What a STAR you are becoming at place value. You have shown persistence and confidence with every task. |
| 3M | Ava for always being one of the first people to offer to help in class. You are a responsible and reliable student. Keep it up! |
| | Kalani for excellent persuasive writing this week! You are so convincing I nearly gave extra homework this week. |
| 4K | Victoria for being a proactive learner and completing tasks in your spare time. Keep up the responsible work ethic! |
| | Ryan for working consistently, working super tough during math lessons. You are a complensate King! Well done. |
| 4P | Talei for your enthusiasm and concentration during Math Power and Boost lessons. Keep up the awesome work Talei! |
| | Cooper for your thoughtful contributions to class discussions and teamwork when packing up. Well done Cooper! |
| 5L | Millie for always doing your very best when completing tasks in class. Well done! |
| | Sonny for being a trustworthy student who is a wonderful friend to others. |
| 5R | Ivy for the wonderful effort you put into your bookwork and overall presentation. It is a pleasure to read. |
| | Romeo for the enthusiasm and effort you demonstrate in Maths lessons. |
| 6M | Eden for displaying the virtues of acceptance, gentleness and diligence and for your wonderful sense of humour. |
| | Hugo for your intelligent and knowledgeable contributions to class discussions. |
| 6V | Brooke for always being willing to help others and displaying the virtue of organisation. |
| | Dale for being a respectful, responsible student and working diligently to complete all tasks. |
Celebrating Catholic Education in Australia
Community News