Week 3, Term 2 2021 - 4th May 2021
APRE Reflection
Dear Parents,
A mother's love is endless and the care she gives is infinite. This week we thank you for your grace, resilience, persistence and love. Motherhood changes you forever, it is rollercoaster with no return ticket. For all mothers - here are some signs that you may be on the ride of your life….
You can't remember the last time you painted your toenails.
You can unfold a stroller in two seconds flat!
You're ecstatic when fruit snacks are 2-for-1 at the store!
Your favourite piece of jewellery says "Mummy" on it, and only cost $10.
There's always a "surprise" under the couch or in the cushions (which you discover by following the odour)!
You can't wait to escape your troublesome toddler for an evening out, and then miss him terribly within the first half-hour.

The Calling
We call ye forward all who dare
For a life of worry, toil and care.
A tiny baby will be placed in your arms,
You'll be instantly seduced by this elfin's charms.
Never again shall your sleep be sound
You may even try to hide, but you will be found.
The child will grow to accomplish many things
For you who gave them life, will next give them their wings.

Have a wonderful week and an especially beautiful Mother's Day.
With blessings and prayers for you, today and every day.
Terri Leotta
APRE
From the Principal
MJR-Making Jesus Real Sessions
On Friday we held our first MJR peer led sessions. Under the direction of classroom teachers, our year 6 students very successfully welcomed their group members and explained the definition of loyalty using scripture videos and group games.
Mother's Day Stall
There was great excitement this morning as the Mother's Day Stall opened in the hall, full of beautiful gifts for our special caregivers. The stall will continue each morning this week.
Children's Liturgy
This Saturday Children's Liturgy will be held during the parish Mass at 6pm. All students are welcome to attend. Online bookings for Mass can be made through TRYBOOKING.
Pick up of Students
A reminder to all families about our student pick up/collection procedure. If your child is being collected from school by someone other than a parent or their emergency contact, the school office is to be notified of this change. I thank all families for ensuring that this occurs.
Cath Zamparutti – Leave
I advise that from Week 4 our Learning Support teacher, Mrs Zamparutti, is taking leave for the remainder of the year. At this time, we are still finalising details of her replacement and will communicate this as soon as possible.
Mrs Terri Leotta
(Acting Principal)
Quote of the Week
"The meaning of life is to find your gift; the purpose of life is to give it away."
-Pablo Picasso
Project Compassion Tally
Thank you to our school community for the very generous donations to Project Compassion last term.
Congratulations to Year 6M who have risen to the challenge with a huge donation of $441.00!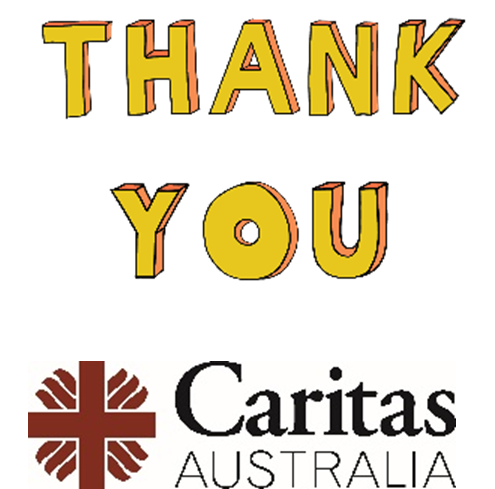 Prep 2022 Enrolment Interviews Commencing Soon
Prep 2022 enrolment interviews will commence at St Mary's next Monday 10th May. An email has been sent to families requesting they book their interview with the school office by Friday 7th May. If you have not received this email, please contact the school office.
Applications are still open for Prep 2022. If you would like to apply, please complete our online enrolment form via our school website.
Please contact the school office for further information or any assistance required.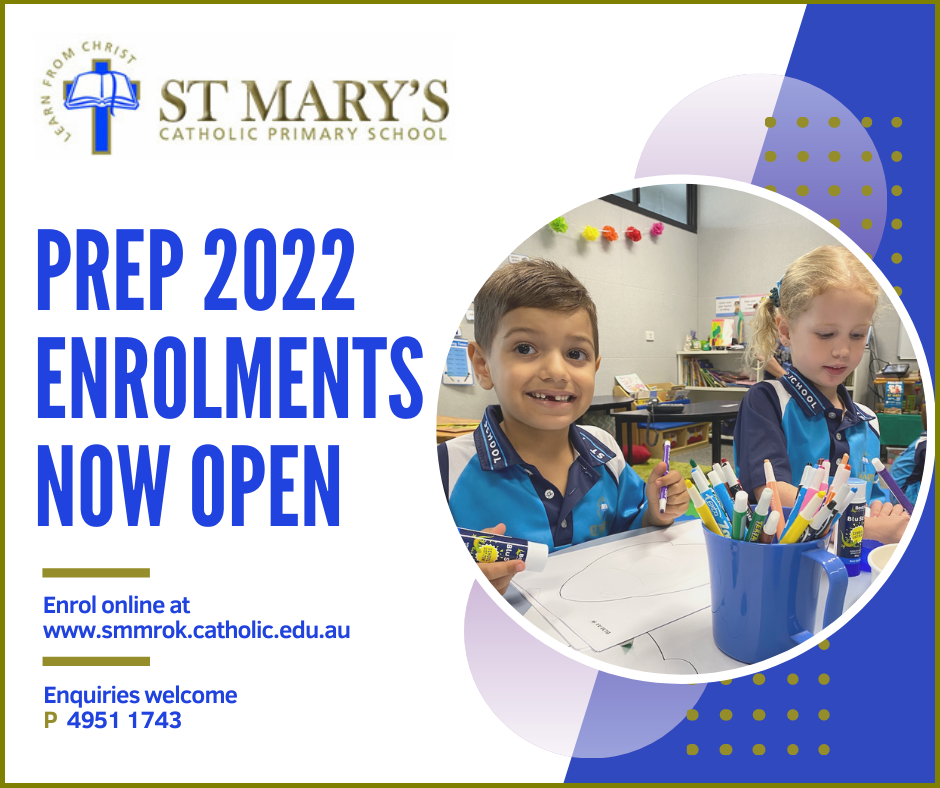 Spelling Bee
This year we had 58 students take part in the Prime Minister's Spelling Bee! There were 30 challenging words to correctly spell. Well done to all students for your participation in this event.
Congratulations to the following class champions:
3B Daniel Saw
3M Millie Fredericksen
4K Maddison McConnon
4P Louis McKay
5L Lara Savige
5R Ivy Martin
6M Alexis Kavanagh
6V Asher Rogers
The following students achieved very high scores and progressed to the Queensland finals: Daniel Saw, Louis McKay, Alexis Kavanagh and Asher Rogers. We are now waiting to see if any of these spelling champions will make it through to the national level. This year our School Champion is Daniel, who achieved the highest overall score. Congratulations Daniel!
Sport News

Well the good news just keeps on coming! Another huge week for St Mary's.
Wednesday
- Blake Battaia and Logan Attard were selected in the Mackay U12 Rugby Union team. The boys will next play in Gladstone at the Capricornia Trials.
- Millie Camilleri was chosen in the Mackay U12 girls Soccer side. Millie will now play at the Capricornia trials later this term.
Thursday
– Matthew Davies and Thomas Louw progressed through to the Mackay team for U12 tennis. The boys travel to Biloela for the Capricornia Trials later this month.
- Harper Shields and Kai Crisp were selected in the Mackay U12 Touch Football side. The boys will play at the Capricornia Trials in Mackay this term.
Friday
– Our new Iluka White House Captain was announced...congratulations Jade Williams!
- Our amazing St Mary's cross-country team competed at the Southern Suburbs trial. Our whole team ran extremely well. I was lucky enough to be stationed at the finish line and was so impressed with how the runners crossed the line. Anyone can start well but to finish well is tough, congratulations runners. The following runners have progressed to the Southern Suburbs team and will now race at the Mackay trial.
Eddie Rose – 2nd U10, Thomas Louw – 7th U10 ( shadow)
Mayson Vassallo – 1st U10, Emmi Burgess – 2nd U10
Harper Shields – 2nd U11, Zac Callinan - 3rd U11
Riley Albert – 1st U11
Izabella Louw – 3rd U12
Rugby League
The St Mary's Battlers had their first game and first win for 2021 against Beaconsfield SS. The tries were exciting, the tackles solid but the sportsmanship was the highlight.
Thank you to our players who offered to help both Beaconsfield SS and St Brendan's who were both needing players this week. Sonny Richardson had a debut to remember with a smashing tackle and run away try! Our little mighty mouse Nate Keating tackled the house down with our tennis/hockey superstar Matty Davies also making his presence known in defense. I can't wait to see what the next round brings!
What a great school to be a part of. Well done St Mary's.
Mrs Caroline Kerrisk
HPE Teacher
Whitsunday Futsal Titles
St Mary's was well represented at the 2021 Whitsunday School Futsal Titles with 39 students participating. Our two 12 year old teams placed 3rd and 5th in their pools while our two 11 year old teams placed 2nd and 3rd in their competition. This year we also had 10 year team competing and these boys made incredible progress throughout the day, making it to the final and placing 2nd.
Thank you to Mrs Davies, Mrs Louw, Mr Battaia, Mr Rogers, Ms Ahwong, Mrs Stables and Mrs Phelan who coached the teams on the day.
All students from St Mary's represented our school with excellent sportsmanship and behaviour and a great day was had by all.
Mrs Belinda van Lint
Team Co-Ordinator
My New Gallery
St Mary's Schoolzine App
It's been great to see many of our parents using our new Schoolzine App. We encourage more families to download this free app which will enable you to;
advise student absences
view the newsletter
access Parent Lounge
receive notifications
plus other features.
Once downloaded, please complete your registration, using our school passcode 4142. More instructions on how to install the SZApp are shown in the flyer below.
If you have any queries or difficulties downloading the app please contact the school office.
St Mary's Trivia Night
Student of the Week
WEEK 2 TERM 2 STUDENT AWARD WINNERS
| | |
| --- | --- |
| PB | Lincoln for being confident and happy every day you come to school. You are a ray of sunshine. |
| PC | Tayla for the happy presence you bring to our classroom. You are so eager to learn and help others. |
| | Hudson for your amazing detailed drawings in our HASS lesson – you showed so much care and focus! |
| 1L | Sienna for your example in behaviour, manners and conscientiousness. |
| | Hugo for a great paragraph about your weekend. You're writing very well! |
| 1P | Bethany for great listening in class and for always presenting your bookwork neatly. Thank you Bethany! |
| | Henare for great listening and reading during our BOOST reading sessions. |
| 2A | Sophia for working quietly and demonstrating persistence to achieve your learning goals. |
| | Harvey for being a kind and co-operative classmate, who does everything with a smile. |
| 2B | Nina for making a big effort to improve your doubles facts. |
| | Ashton for making a great start to the term. You are concentrating hard. |
| 3B | Griffin for the confidence and fluence you've shown in your reading. Keep up the great work! |
| | Daniel for the Sizzling Start you wrote for your "Terrible, Horrible, No Good, Very Bad Day" story. |
| 3M | Max for the amazing effort you have put into all tasks so far this term. Keep up the excellent work. |
| | Rahill for always being on task and ready to learn. You are an excellent role model for your peers. |
| 4K | Maddison for working hard to complete tasks. You always listen to the task instructions and work diligently to finish your work. Well done and keep it up! |
| | Zac for working staying focussed and on track with your class tasks. You have a great work ethic and determination to complete your activities. Keep it up! |
| 4P | Jordan for "seeing a need and doing something about it." Just like St Mary' MacKillop you show kindness, initiative and drive. |
| | Thomas for showing care and concern when you saw someone in need. |
| 5L | Isabelle for being the quiet achiever! You always get on with classwork showing great persistence and effort! Well done! |
| | Piper Your fabulous effort over the past two weeks! Welcome to St Mary's! |
| 5R | Harmoni for always working with diligence in class and being a positive role model. |
| | Yongkang for always being on task and applies himself in a mature and diligent manner. |
| 6M | Jenny Xuan for your enthralling Historical Journal. It is so beautifully written and well-researched. |
| | Ben for the reverence and respect you displayed during the ANZAC Day liturgy. You set an excellent example to your classmates. |
| 6V | Izabella for being caring and compassionate towards all of your classmates. I love the way you never see a need without helping Bella! |
| | Corren for displaying a great attitude towards learning and always showing respect to others. |
Community News
Year 1 Family Catch Up
Sunday 16th May
Quota Park from 3pm