Week 8, Term 2 2021 - 8th June 2021
Reflection - Week 8
Last Sunday we recognised the Feast of Corpus Christi, the Body (and Blood) of Christ. It is the last Sunday feast in the long double season that began with Lent. Next Sunday we are back in what is called Ordinary Time.
Early Christians called the Body and Blood of Christ, 'food for the journey'. This is what Eucharist or Holy Communion is designed to be for Catholics; sustenance to face another day, motivation to continue living our best life. Eucharist can strengthen and embolden us to help God transform the world through how we spend our lives.
As families gather each night to share dinner, sometimes laughing, crying, or arguing, the kitchen table is often the heart and soul of the home. Sunday dinner used to be the high point of many families' week, and often it was 'the more the merrier'. So too, we are invited to share in our Parish family's celebration each Sunday and be nourished; in mind and Spirit.
Peace and blessings,
Terri Leotta
APRE/Teacher
From our Principal - Mr Wes Rose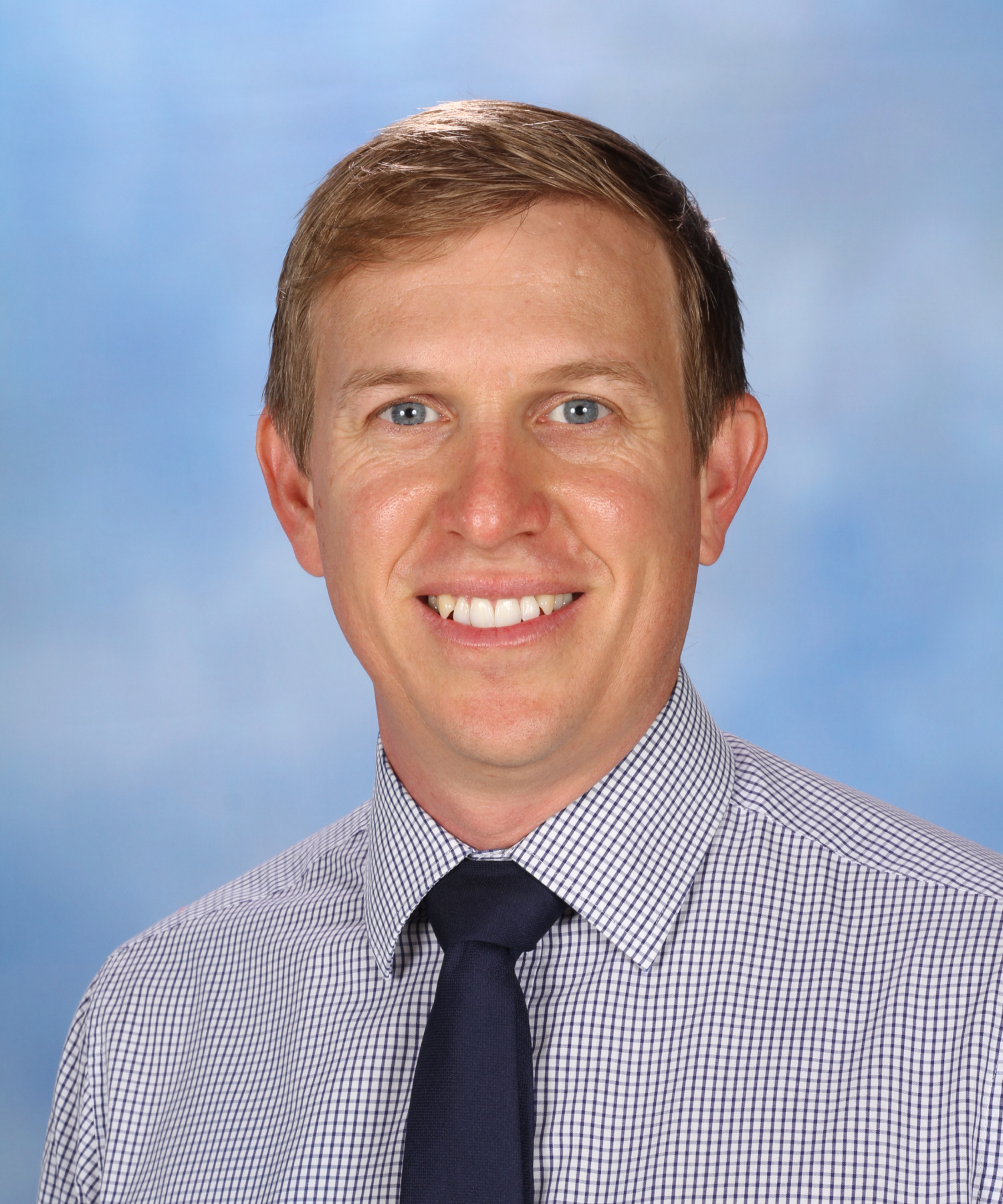 St Mary's Trivia Night
All the best to the parents and friends that will join us at the Trivia night this Friday from 6:30pm. We are sure it will be a great evening in our Basketball court area. A reminder to dress warmly, as we are in for a cold night. A special thank you to Nikita Kinnane and the organising committee for making this event possible.
Senior Sports Carnival
Many thanks to Mrs Kerrisk for coordinating this week's sports carnival. More information about Thursday's track events at the ARC can be found below.
Ashwin Acharya - Priestly Ordination
You may recall that in 2019, Ashwin Acharya was in Mackay, ministering to the parishes as he completed his seminarian studies. Ashwin has successfully completed his formation and now will be ordained as a Catholic Priest, next Thursday 17th June at St Joseph's Cathedral Rockhampton. On behalf of the St Mary's school community, I congratulate Ashwin and thank him for answering the call of vocation to the priesthood. I will attend Ashwin's ordination next week.
REMINDER:
Show Day Public Holiday
Thursday 17th June
Blessing and Opening
We will formally recognise the construction of our new buildings at our Blessing and Opening, which will be held on Thursday 29th July at 1:00pm. More details to follow.
Tuckshop Closed
As advised previously, our school tuckshop is closed until we appoint a new tuckshop convenor. If you know anyone who may be interested in either the Tuckshop Convenor or Assistant role, please see the advertisement below for further details.
Pick Up/Drop Off
A reminder to all families about our student collection/drop off procedure. There have been several parents dropping children off in the staff carpark (Juliet St) of a morning. This can prove to be dangerous to our students as there many staff vehicles entering this area during this busy time of the day. I ask all parents to please use our designated drop off zone (Church carpark drive-through) when dropping students to school in the morning.
Classroom access before school
A reminder to all families that classrooms are open 8:15am each morning. If a teacher is not in their classroom, I ask that all parents and students refrain from entering the room.
Quote of the Week
"Darkness cannot drive out darkness; only light can do that. Hate cannot drive out hate; only love can do that."
-Martin Luther King Jr
Sport News
Rugby League
We had a win!
We were pleased to see more bodies in the tackles this week, the team starting to send 2 and 3 into each tackle. A bit more urgency needed on the line but a better team effort. Huge runs down the field from Matty Davies and Blake Battaia had the sideline cheering. They are exciting players to watch, both in attack and defense. Zane dazzled again with his fancy footwork and Jack Hurley organized the troops well. He moves the ball beautifully.
We have a week off and then the final two rounds will belong to the Challenge Cup team as they prepare for their carnival in July.
Let's keep this momentum going Battlers! GO QUEENSLAND!
"I've always believed if you put in the work, the results will come" Michael Jordan
Athletics Carnival 2021
The Interhouse Track events will be at the Mackay Aquatic and Recreation Complex (ARC), Boundary Road, Ooralea.
Parents who may be attending are reminded that they are NOT to park in the trade TAFE carpark at the front of the facility, closest to the track. The carpark should be roped off from the uni so parents can't access it, but as it is a TAFE day, that carpark needs to be free for students.
Parents are to park in the ARC carpark which is down near the pool and walk to athletics.
All students in years 3-6 will bus over to the venue first thing in the morning so please ensure your children arrive to school on time. Snack, lunch, water bottles and hats will all need to be taken to the field with the students. Students are asked to wear running shoes and socks, HPE shorts and their house shirt. Students will need to sit with their team rather than with family to ensure they do not miss their race. Events on this day include 800m (optional), 100m, 200m and relays.
There is room for spectators if you would like to bring a chair or rug, however, please take photos from behind the fence. If you choose to take your child home early, please let one of the staff members know.
Mrs Caroline Kerrisk
HPE Teacher
Run Club
RUN CLUB CANCELLED
Thursday 10th June
St Mary's Trivia Night
ONLY 3 MORE SLEEPS UNTIL TRIVIA NIGHT!
St Mary's P&F Committee would like to extend a huge thank you to these businesses who have kindly supported our St Mary's Trivia Night this Friday.
The evening simply could not happen without our incredible sponsors!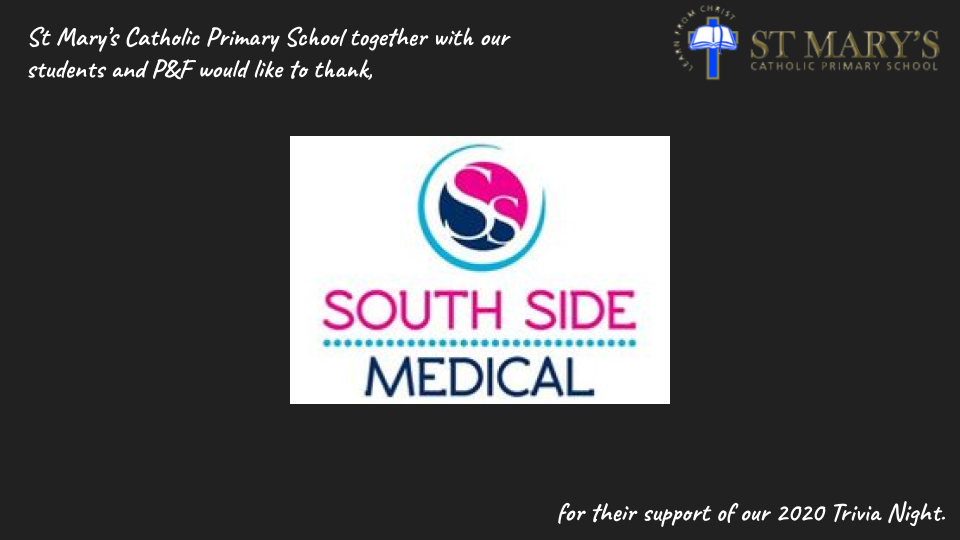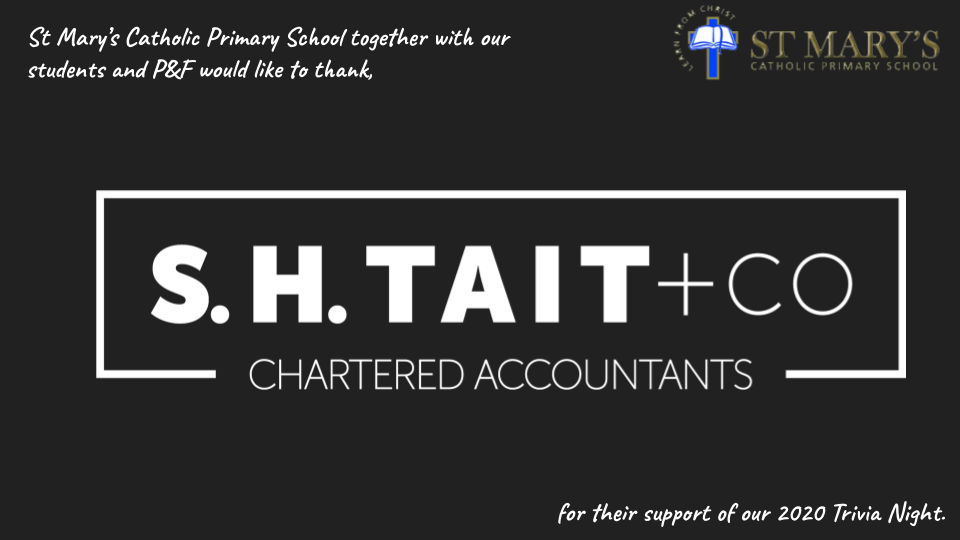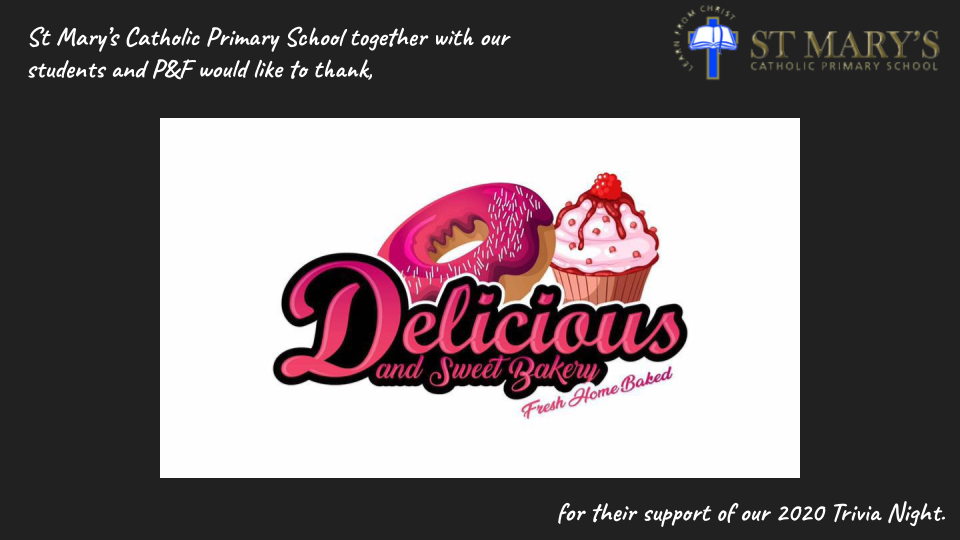 Prev
Showing images
1 - 8
of 53
Next
Readers Cup
Congratulations to our Readers Cup team who were awarded second place in the Mackay regional competition. The girls had to read and study five novels and then answer questions. Well done Sophia, Grace, Emma, Cleo and Alexis.
Thank you to Fitzgerald State School for hosting the competition.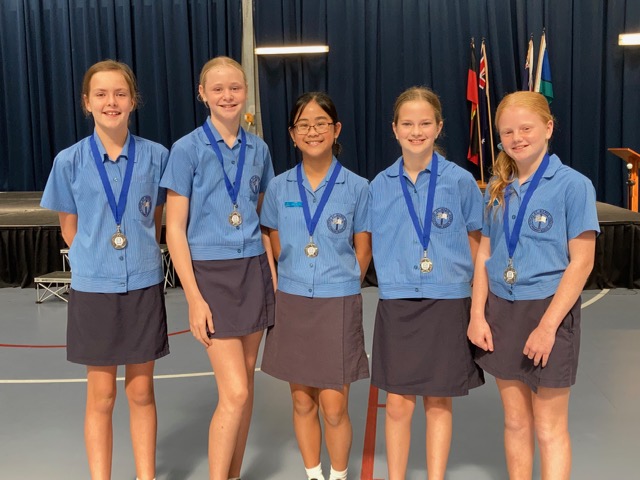 Year 4 Excursion
Last week our year four classes visited the MECC to attend a theatre performance of David Walliams book The Midnight Gang. Everyone thoroughly enjoyed seeing the book we have been reading in class come alive.
Position Vacant
Student of the Week
WEEK 7 TERM 2 STUDENT AWARD WINNERS
| | |
| --- | --- |
| PB | Jacob for being super clever and super quick writing your list words. Amazing! |
| | Dominic for the enthusiastic and genius way you can 'subitise' in maths. Amazing work! |
| PC | Evie for being a responsible and caring student – you are amazing! |
| | Paulo for your incredible work during our science lesson. Well done! |
| 1L | Nathan for the care you put into your beautiful handwriting. |
| | Finn for the great work with your writing. Your spelling and punctuation are great! |
| 1P | Leah for your wonderful work during maths rotations this week. You are an adding superstar! |
| | Rayansh for your amazing Show & Tell this week. You spoke clearly and confidently. Thank you Rayansh! |
| 2A | Levi for thinking of others and being a kind and helpful class member. |
| 2B | Hudson for being a problem solver at maths tasks. Super effort, Hudson! |
| | Raj for always being organised and ready to begin work. |
| 3B | Mackenzie for the creative ideas you add to our narrative writing discussions. |
| | Evie – What a superstar you have been this week with addition with trading. |
| 3M | Jayda for the focus and determination you have shown during RTI this week! Keep up the excellent work! |
| | Harper for the excellent teamwork and cooperation you showed this week during our design task. Your house looks phenomenal! |
| 4K | Coco for your hard work and creativity when writing your persuasive letter. Look out Mr Rose – be ready to be persuaded for a school 'Yes Day'. |
| | Hamiora – Thank you for your kindness and compassion towards others. I see the 'Spirit of Jesus' in you and your peers are grateful to have you in class. |
| 4P | Emelia for your enthusiasm and perseverance with learning your spelling words. Congratulations on your progress and keep up the awesome work Emelia. |
| | Andy for your fantastic concentration and effort while making your game and completing your paperwork for design technology. Well done, Andy! |
| 5L | Lucy for the beautiful big smile you bring to the classroom everyday. You brighten the 5L classroom! |
| | Bodene – Thank you for the wonderful improvement in your work ethic and focus in class. Outstanding!! |
| 5R | Ruby for working well in the classroom and doing your best to stay on task. Keep it up. |
| | Aiden for the way you conduct yourself in prep buddies. Well done. |
| 6M | Max – One of the Habits of Mind is a spirit of inquiry and curiosity and you have shown this all week. |
| 6V | Jade for displaying the virtue of co-operation during group tasks. |
| | Jack for working hard to complete Maths Online tasks in class. |
Community News