Week 9, Term 3 2021 - 7th September 2021
Principal's Reflection
No Shortcuts to Success
(adapted from Mrs Carmel Kriz – Assistant Director Teaching and Learning)
'Doing a Bradbury' has become part of the Australian vernacular.
It's when you experience success and no-one expects it. It suggests 'dumb luck' rather than effort and infers that the success is not really deserved.
Stephen Bradbury won "the most unexpected gold medal in history" in Salt Lake City in 2002. As his competitors fell on the ice and he seemed to glide through from last place into first, the look on his face appeared to say it all.
But 'doing a Bradbury' also hides the true story of sustained diligence, sacrifice, commitment and focused attention.
Stephen Bradbury participated in the 1994, 1998 and 2002 Winter Olympics and won a Bronze medal in 1994 as part of the short track relay team. During a 1994 World Cup event, another skater's blade sliced through his right thigh; he lost four litres of blood, needed 111 stitches and took 18 months for his leg to regain full strength. In September 2000, Bradbury broke his neck in a training accident. He fractured his C4 and C5 vertebrae, spent months in a brace, and had pins, screws and plates inserted in his skull, back and chest.
The unlikely win turned Bradbury into something of a folk hero, comparable to ski jumper Eddie "The Eagle" Edwards and the 1988 Jamaican bobsled team. Many newspapers hailed Bradbury and held him as an example of the value of an underdog never giving up, regardless of the odds against them. The unusual manner of his victory made news across the world.
This seldom told narrative of Bradbury's effort needs to be voiced often. It reminds us that it's not simply good luck that wins success - it's dogged persistence, good management, strong leadership and sustained effort.
Effort wins success. There are no shortcuts and perseverance is the key.
From our Principal - Mr Wes Rose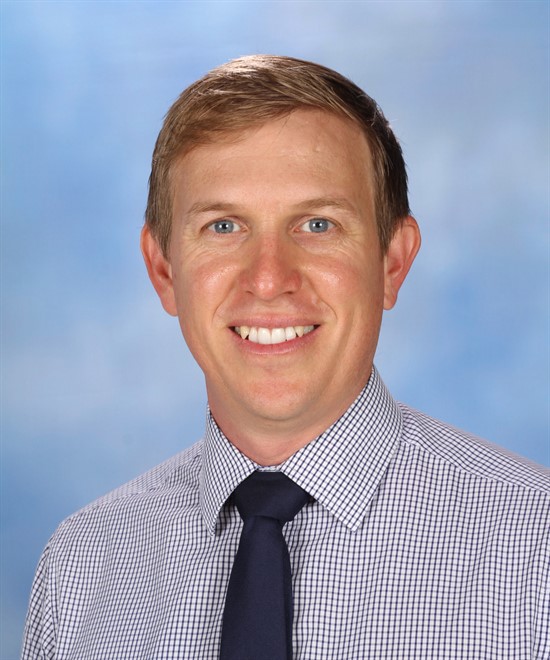 Art Extravaganza
It's Show Time! Our St Mary's Art Extravaganza is on next Tuesday 14th September from 5:30pm – 7:00pm in our school hall. The students have completed their art lessons with our artist in residence, Ms Maria Lenz and have created some amazing pieces of artwork in readiness for this exhibition. Several staff and parents are also showcasing their artistic talents on the evening.
There are still plenty of tickets available for the 6:15pm session in the hall. Parents may wish to enjoy the entertainment on the F Block lawn before viewing the art at the second session. Click on the link to book now!
This event is always a highlight of our St Mary's calendar and we hope you can join us to celebrate the creative talents of our school community this year.
Art Show - Help Needed
We require some assistance at the Art show to help distribute the bento boxes and drinks. If you are able to assist for a short time, we are still currently looking for 13 helpers. Please add your name to the list via this link. Currently, we are still looking for 13 helpers, so if you are able to assist for a short time, please register your name.
Staff Training
This Thursday, several ancillary staff are involved in training focusing on the management of potential/actual physical aggression. This is useful training and I thank our Diocesan Education office for providing this session.
Quote of the Week
"If you change the way you look at things, the things you look at change."
-Dr Wayne Dyer
Daniel Morcombe Curriculum
Recognise
This term we are implementing the Daniel Morcombe Child Safety Curriculum. The first key safety message of the curriculum is recognise. Recognise is about being aware of your environment.
Children, young people and adults can all learn to take notice of what is happening around them to help keep themselves safe. Everyone can use clues, such as the things we see, hear, smell or feel to help protect us from harm and keep ourselves safe. Clues can be simple things that warn us about a danger, e.g. hearing a fire alarm or seeing smoke, that prompt us to react. We can also use clues to prepare for potentially unsafe situations, e.g. if we are walking alone at night, then we try to use a well-lit route and avoid secluded lanes or parks.
When we recognise that there might be a safety problem we can take steps to move away or reduce the risk or develop strategies that can help keep us safe. For instance, if you are in a busy environment such as the Ekka or a local event where there are big crowds, you might consider what you and your child could do if you became separated. Strategies could include: going to a highly visible pre-determined meeting spot; writing your phone number on a card and placing it in your child's pocket; identifying who your child could approach if they become lost, e.g. police, staff at a booth.
React
Our students have also been learning to recognise if they are safe or unsafe.
When children recognise that they are in an unsafe situation, we encourage them to think about what they could do to be safe again. They will have opportunities to think about ways to react using real-life scenarios. Our students will also learn that breaking the rules (e.g. saying no to an adult who is behaving inappropriately) is sometimes necessary so that they can become safe again.
Please take the time to talk with your children about what they have been learning about safety and, in particular, the ways they could react if they are unsafe to make themselves safe again. Talking with your child about ways to stay safe will help them to develop life-long safety skills.
Report
The final key message of the Daniel Morcombe Child Safety Curriculum is: report. This means that when children or young people have been in a situation that is unsafe that they are taught to report what has happened to an adult. Even if a child has been able to make themselves safe, it is vital that they still report what has happened. Adults need to know about unsafe situations so that some action can be taken to help the child be safe again or ensure it doesn't happen again.
Students will be encouraged to make a list of adult safety helpers. These are adults the children and young people nominate whom they can talk to when they are feeling unsafe or have experienced an unsafe situation or feel they are at risk of something that may cause them harm. This list will include a selection of adults who live in and outside the home.
Report also includes telling an adult about unsafe or inappropriate incidents which may occur when children or young people are online. This might occur when surfing the net or using social media sites like Facebook and twitter, and can include cyberbullying, viewing or receiving inappropriate images or messages or communicating with unknown contacts.
It is important that the key safety messages of the Daniel Morcombe Child Safety Curriculum: Recognise, React and Report are reinforced, both at school and home. I encourage you, wherever possible, to talk with your child about safety to help them stay safe now and in the future.
Mr Wes Rose
Principal
Tuckshop News
Who doesn't love a sausage sizzle? Get your order in now on Quickcliq for tomorrow's tuckshop special.
St Mary's Feast Day
This Friday we will hold our school feast day celebrations. The day will begin with assembly.
We would love to have you stay and join us for our School Feast Day Mass at 9:15am.
Our day will also include a guest artist and the cutting of a cake in honour of Our Lady's Birthday.
All students are invited to wear their green, blue or white house shirt as we will have team events in the afternoon.
Mrs Terri Leotta
APRE
First Holy Communion
Congratulations to our first group of children who celebrated the sacrament of First Holy Communion last Saturday night.
Best wishes to Group 2 who will receive this special sacrament during 5pm Mass at St Mary's Church this Saturday night.
From our School Counsellor
Are you OK?
Life's ups and downs happen to all of us. So chances are, someone you know might be struggling. Your genuine support can make a difference whatever they are facing, big or small. This Thursday, September 9th, is 'R U OK? Day' which draws attention to the need for us to reach out and engage with others when we feel that things may not be quite right for our family or friends. This year the message is: "Are they really ok? Ask them today."
The 'RU OK?' website offers great tips on how to prepare to ask if you are feeling uncertain about the answer you might receive, how to listen with an open mind, how to encourage them to action their feelings and then suggests a check in further down the track.
Signs that people aren't travelling well include behaviour that is different to what you normally see, they may seem out of sorts, more agitated or even withdrawn. Trust your gut instinct and act on it. By starting a conversation and commenting on the changes you've noticed, you could help that family member, friend or workmate open up. It is not always easy to keep the conversation going when someone says they're not doing okay. If they say they are not okay, follow the conversation steps on the attached flyer or go to ruok.org.au for more suggestions. If they are okay, that person will know you are someone who cares enough to ask.
It is great that there is a national day of recognition for checking in on the mental health of others. Importantly, people need to know that someone cares 365 days of the year… reach out and touch base with someone you haven't checked in on in a while, you may provide the light they need!
Ms Wendy Parker
School Counsellor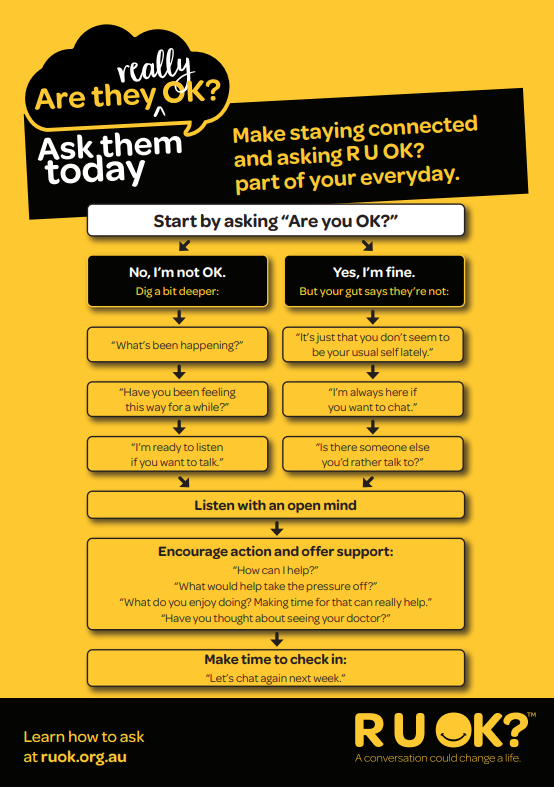 Community News
Child Protection Week Queensland (5 to 11 September 2021) is coordinated by the Child Protection Week Committee under the auspicing body of Act for Kids. For more information click here