Week 1, Term 4 2021 - 5th October 2021
Principal's News
Catholic School Parents Queensland warmly invite all Catholic School Parents, Carers, Principals & School Staff to join us on Zoom with Andrew Fuller. Andrew is a clinical psychologist, Author and Speaker. Andrew's talks are always fun and informative.
This is a free webinar sponsored by CSPQ to support our children's learning and wellbeing. Topics for all ages Prep to Year 12. Topics to be covered will include:
The active ingredients of resilience
How parents can develop these in their children
Friendship and relationship skills
Neurochemistry and parenting
Parenting tricky kids
Creating happy kids
Building self-esteem and dealing with set backs
Parents have two options to participate in this talk. Interested parents are invited to view the presentation in our Music Room, with tea/coffee from 6:30pm and the presentation from 7pm-8pm.
For those who are unable to attend the school viewing, you can register yourself and participate from the comfort of your own home. To register at home, click here.
All the very best
Wes Rose
Principal
From our Principal-Mr Wes Rose
Staff News
Over the holidays we were advised that Mrs Ruth van Lint has accepted the position as Principal's secretary at Mercy College. Ruth has been our administration secretary for the past 13 years and over that time has done a marvellous job with parents, staff and students. Always known for her warm personality and high level of care, Ruth will be greatly missed. Ruth's last day will be Friday 15th October. On behalf of the school I sincerely thank Ruth for her dedication to St Mary's school and wish her all the best in her new role at Mercy College.
I also advise that Mrs Caroline Kerrisk has accepted the position as foundation teaching staff member at Catherine McAuley College. Caroline has been our Health and Physical Education teacher for the past 11 years and in that time, has done an outstanding job. Her PE lessons are always a highlight of the week for students and her dedication to promoting the myriad of school representative sporting opportunities is greatly appreciated. In particular, her involvement with the St Mary's Battlers Rugby League team is a notable achievement. I congratulate Caroline on her new appointment and sincerely thank her for her professionalism and organisation of all things sporting at St Mary's.
Talent Show
Our very popular 'St Mary's Got Talent' show was held the last day of term 3. This is always a highlight of our calendar and showcased some amazing talent of our students. Congratulations to Ruby Pigeon who was crowned the 2021 winner. I also thank Miss Rossetto for judging the event and sincere thanks to Mrs Wood for her tireless efforts in coordinating the event.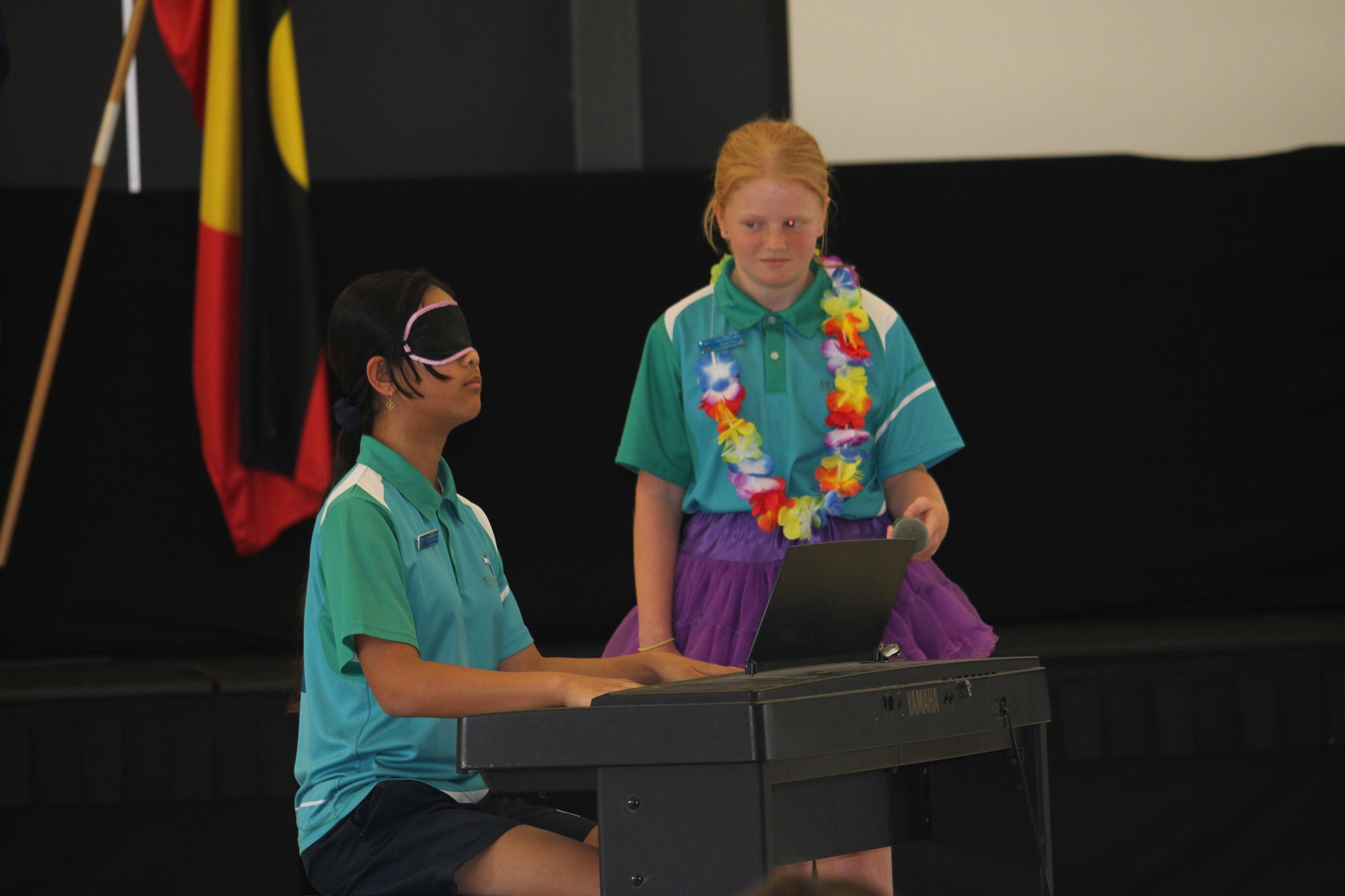 Planned Maintenance
Over the holidays several maintenance works were carried out, including;
- air-conditioner servicing in the Early Years precinct.
- external washdown of the library and toilet block
- electrical statutory maintenance (test and tag/ emergency lighting)
- security system service
- aeration of the school oval
- repair of the broken window in the tuckshop area
- concrete pathways were pressure washed
New Senior Playground
Following extensive consultation with the P&F, I am excited to announce that the school will construct a new senior playground for our students. As you may remember our previous senior playground was removed during our recent building works and the P&F was very interested in funding a new play space that was tailored to our middle/upper years students. As you can see from the images below, the design will certainly be an exciting space for our students to play. Site preparation has already commenced, with the cricket nets removed and ground levelled ready for the playground. We anticipate construction to occur in December, ready for the 2022 school year. This is an exciting project and I thank the P&F for their encouragement and financial support.
Rugby League News
The last day of Term 3 also saw our U11 Rugby League players participate in the Steve Jackson Rugby League Gala Day. Our team did a great job, winning all their pool matches and were crowned joint winners of the day. Sincere thanks to our coach Mr Clancy and manager Mrs Kerrisk for their assistance with the team.
P&F Bike-a-Thon
St Mary's P&F is proud to host our first Bike-a-Thon fundraising event! All funds raised will go towards the construction of our new senior playground. All families and friends of St Mary's are welcome to attend.
Date: Sunday 17th Oct from 8:30am – 10:30am
Venue: Blue water Quay (Playground/Park near Bluewater Lagoon)
Cost: $30 entry per family or $5 per child (entry fee covers sausage on bread. Booking link will go live in the next few days.)
Prizes for best dressed child, best dressed team.
Theme: Tropical
Important Dates
12th Oct P&F Meeting 6:30pm in the staffroom
17th Oct P&F Bike-a-Thon (8:30am Blue Water Trail)
22nd Oct Prep Grandparent's Day
29th Oct World Teacher's Day / Day for Daniel (wear an item of red)
3rd-4th Nov 'World of Maths' visit. All classes attending this interactive presentation
23rd Nov 2022 School Leadership speeches
25th Nov 2022 Orientation day (Mercy College/Catherine McAuley College)
26th Nov 2022 school leaders announced on assembly
29th Nov Year 6 Graduation Dinner
30th Nov End of Year Mass
1st Dec Semester 2 Report cards published
3rd Dec Last day of school
17th Jan 2022 School office opens
24th Jan 2022 Term 1 2022 commences
Year 6 Camp Funding
Thank you to the Queensland Government's Great Barrier Reef Education Experience Program for their funding support for our Year 6 Camp Great Keppel Island day trip. The funding amount of $85 per student assisted in meeting the cost of this activity. The students thoroughly enjoyed this experience made possible by this generous funding.
Children's Liturgy
We would like to extend an invitation to children
to come and join us for Children's Liturgy this Saturday.
During St Mary's Saturday night's mass at 5pm, the children of the congregation are invited to attend a separate Liturgy of the Word where they will be able to celebrate God's word through craft, activities and reflections on the Gospel.
PLEASE NOTE: Mass time on Saturdays until further notice is at 5pm. There is no online booking requirement for mass, however a QR sign-in code is available at the front door of the church.
Soctober
This week our Soctober event is "Sock Stack." To play this game you simply have to be the one who can balance more socks than anyone else.
It's only $1 to play and our first prize is a $10 tuckshop voucher and a Poppit Fidget Toy. To enter bring in your $1 coin to your teacher by Friday.
All money collected goes to Catholic Mission.
October-The Month of the Rosary
This term through the month of October, year 5 will be leading our school in a decade of the Rosary
each day.
Could you please ensure your child has their rosary beads at school so that can fully participate in the Rosary.
Thank you to year 5, Mrs Lewis and Mrs Rokic for organising this sacred time of prayer in honour of the patron saint of our school.
Mrs Terri Leotta
APRE
First Holy Communion
Congratulations to our third group of children who celebrated the sacrament of First Holy Communion on the 18th September.
I would like to express my thanks to Roz at Exclusive Cakes For You exclusivecakes4all@bigpond.com for preparing the cupcakes for each of the Holy Communion nights at a greatly reduced price for us. They were beautifully presented and I'm told they tasted great. My gratitude is also extended to the members of the Sacramental Team: Chris Burchill, Paula Eva, Wes Rose, Tammy Kaddatz and Scott McSherry for leading workshops and assisting with the preparation.
Preparation for the Sacrament of Reconciliation for students in Year 3, 2021 will commence shortly. Parents of students in Year 3 will be notified as soon as dates are advised from Father Don.
Mrs Terri Leotta
APRE
Sport News - Mrs Caroline Kerrisk
Students interested in trialing for the Capricornia Aquathlon please email caroline_kerrisk@rok.catholic.edu.au for the nomination process.
AQUATHLON
Junior Age Group (13/14yrs as of 31 December 2022)
Enticer – 300m swim, 10km bike, 2km run.
NOTE: There are no registrations on the day, all participants must have completed their entries by
Thursday 18th November 2021. ALL participants are subject to Triathlon Australia rules and regulations.
Junior Aquathlon (11/12 year olds as of 31 December 2022)
1km run, 200m swim, 1km run.
Mrs Caroline Kerrisk
HPE Teacher
Environmental Club
Last term our Environmental Club members scanned the eating areas, to find anyone who had a waste free lunch box and rewarded these students with a green card.
It was great to see so many students aware of our need to reduce our wastage and care for our earth.
Green Card Draw Winners
Fit Running Friday
This fitness initiative will resume this Friday 8th October with Mrs Dalglish.
Student of the Week
Week 10, Term 3 Student Award Winners
| | | |
| --- | --- | --- |
| PB | Kathy | The effort and improvement in your sentence writing work. Well done! |
| | Evan | The effort and care you have been showing in your journal writing tasks. Well done! |
| PC | Hunter | Counting in 2's all the way to 100! You are amazing! |
| | Jackson | Your awesome effort during our BOOST reading groups this week, well done! |
| 1L | Rex | Your wonderful leadership and example of maturity in our Daniel Morecombe lessons. You really understand the importance of what you have learnt. |
| | Finn | For always being such a hard worker who gives 100% on all that you do! |
| 1P | Santiago | The mature and responsible way you ran your Boost reading group independently this week. We are so proud of you! |
| | Oaklan | Working quickly and independently on your dinosaur information report. Congratulations on being the first person in our class to complete their report! |
| 2A | Paulina | Your hard work and courage to give things a go. Your persistence is paying off! |
| 2B | Alice | Your ability to stay focused and attentive in class. Awesome effort, Alice! |
| 3B | Ryder | The descriptive way you wrote about the journey of a refugee. You created a detailed picture for the reader. |
| 3M | Rahill | Your confidence to get up and participate in the Sean Choolburra performance. You made a fabulous willie wagtail! |
| 4K | Deepthii | Being a thoughtful and kind person. You saved up all your class money and used it to reward others, you are amazing! Your classmates are lucky to have such a wonderful friend in their lives. |
| | William | Becoming the class bookworm. I am proud of you for discovering a love of reading, you've found books you enjoy and read them whenever you can. Keep it up! |
| 4P | Ava | Your dedication and enthusiasm when writing your chapter for The Twits. It is fantastic to see your improved writing. Keep up the great work. |
| | Stella | Your dedication and enthusiasm when writing your chapter for The Twits. It is fantastic to see your improved writing. Keep up the great work. |
| 5L | Cooper | Cooper you have been an absolute trooper this week! You've worked so hard to complete assessment tasks, showing great determination!! Keep up the huge effort! |
| | Lucas | It's been great to see your focus and attention to complete all visual arts assessment tasks. Your drawings are fabulous and your colours are superb! Well done! |
| 5R | Aiden | Your oral presentation on Granpa's Great Escape. You spoke confidently, clearly and gave the class a detailed and well thought out review of the book. Keep up the awesome work! |
| | Samuel | Thank you for your engaging and well rehearsed oral presentation reviewing the book Skulduggery Pleasant. You had fantastic eye contact, stance and projection whilst presenting to the class. Well done! |
| 6M | Jamall Ahwong | Yhe effort you are putting into your fantasy narrative. You are determined to turn it into an epic novel, Jamall! I'm looking forward to reading the finished product. |
| | Layla | Your wonderful narrative, "Strange Costume". You incorporated your love of dance into an intriguing story. |
| 6V | Brooke | Having an excellent approach to your assignment work this term. Your hard work and diligence have paid off Brooke. |
| | Wyatt | Always being willing to help a friend in need. Your friendly attitude and kindness is appreciated by your teachers and peers. |
Community News
Marriage Encounter Weekend - Virtual 22-24 October 2021
Worldwide Marriage Encounter invites couples, priests and religious to a Marriage Encounter Weekend to enrich and revitalise your Sacrament. It gives you the opportunity to grow in your relationship with your spouse or your community.
Virtual weekend via Zoom, 22 October 2021 to 24 October 2021, commencing at 7pm on Friday – concluding at 4pm Sunday. Contact Julie and Zyg Staszyc: 0437 388 513 Email: sabookings@wwme.org.au
Information website: www.wwme.org.au