Week 3, Term 4 2021 - 19th October 2021
Principal's Reflection
School Culture Matters!
All of us are members of various clubs, associations and workplaces. These organisations are described and defined by their culture. Culture is a notoriously challenging thing to quantify, and is often best explained as a feeling or vibe that you get from the people within an organisation.
Culture generally refers to the prevailing beliefs, values and attitudes that influence how people think and behave. In the context of education, the influence of school culture is a very powerful force, one which has been the subject of many studies over past decades. One consistently strong theme from these studies is that a positive school culture significantly impacts student learning.
Positive school culture is more than the school's personal development curriculum, or doing a few team-building activities as a staff. Culture goes a lot deeper into the perspectives staff members have of themselves, of each other, and of the students. Essentially, school culture is shaped by a group of people who are committed to a common goal and are actively using their gifts and talents to enhance the overall growth of all students.
At St Mary's, we take seriously the importance of a positive school culture. This culture is shaped and defined on a daily basis by the actions and behaviours of staff and parents. Our entire educational endeavour relies on the strong partnership between between school staff, parents and the wider community. It is only when these forces are aligned that we get the necessary environment that promotes positive outcomes for all students.
Ultimately, our school's culture is inspired by the life and teachings of Jesus Christ and articulated in our Mission and Vision statements. As we edge closer to the end of what has certainly been a challenging year, I invite you to consider the ways your individual and collective efforts have contributed to making this mission and vision real in our school – for, it is in a climate of support and collaboration that we can really achieve great outcomes for all involved.
All the very best,
Wes Rose
Principal
From our Principal - Mr Wes Rose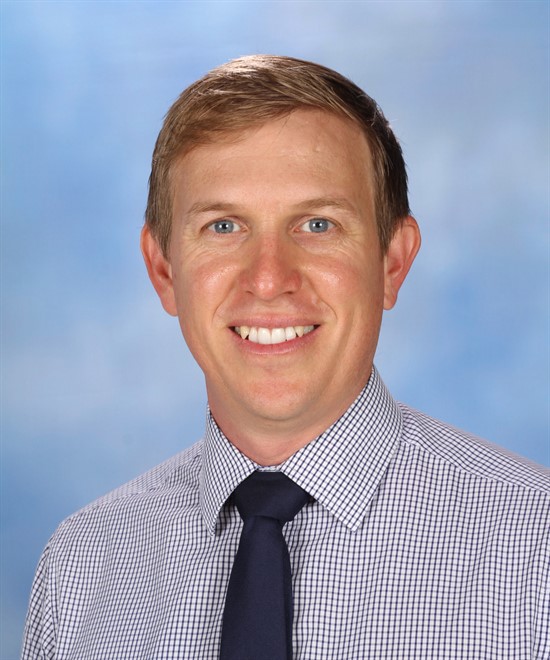 P&F Bike-a-Thon

Thank you to all the families that made it along to the St Mary's P&F Bike-a-thon on Sunday morning. We had over 200 people in attendance, which was great to see. There were some outstanding dress ups and ornately decorated bikes that added to the 'tropical' feel of the event. Well done to the following people who won the judge's awards:
Best dressed student: Malachi Nyenuh
Best decorated bike: Isabella Villon
Best dressed family: The Taylor family
Many thanks to the members of the P&F that assisted in a myriad of ways to make the morning a success! A total of $1175 was raised by this wonderful initiative and will be used towards the construction of our new senior playground.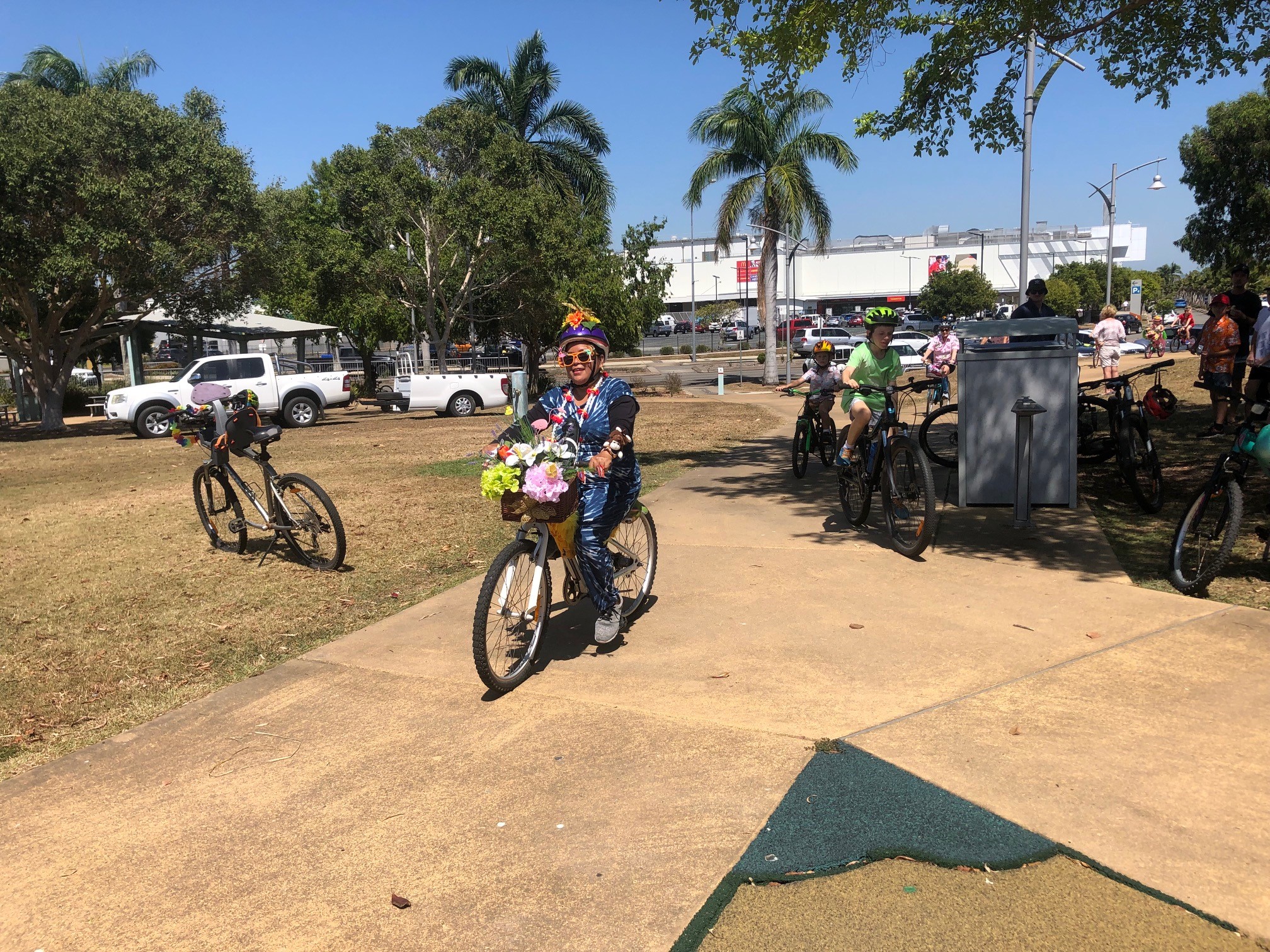 Prev
Showing images
1 - 8
of 17
Next
In our Prayers
Today we celebrated the life of Mrs Ursula Murray (Paula Eva's mother) at a Requiem Mass at St Mary's Church. On behalf of the St Mary's community, I offer my deepest condolences to Paula and her family at this sad time.
Parenting Session with Andrew Fuller
Following a successful first parent ZOOM with clinical psychologist Andrew Fuller a couple of weeks ago, CSPQ are hosting a follow up personal development session Tuesday 19th October from 7pm-8pm, again via ZOOM.
This session is applicable to every family and empowers parents to guide their children (and themselves) towards success. This approach takes the latest research from brain science, positive education and resilience to create strength based education. Topics to be covered will include:
- Increasing engagement & motivation
- Learning strengths
- Neuroscience of young adult's learning
To maximise your learning from the session, please complete the learning strengths analysis at www.mylearningstrengths.com for yourself before coming. Have the letter or full report with you (to refer to- not to share!) during the session. To register for the session, please click here.
Eisteddfod
Congratulations to the Year 1 and 2 students on a very successful Eisteddfod. Both classes finished first in their section, a huge achievement! Many thanks to the conductors, Mrs Wood (Year 1) and Mrs Ramsay (Year 2) on preparing the students so well.
Staff News
This week we welcome our new Administration Secretary, Mrs Katrina Wilkes. Katrina joins us following an extensive admin career in a variety of industries. On behalf of St Mary's, I warmly welcome Katrina to our school.
Congratulations
We congratulate BJ and D'Arcy Martin on the birth of Rorie Kylie Keeffe Martin last month. Rorie is a little sister to Asha (yr 3) and Rex (yr 1).
Families Leaving
As our total enrolment drives many aspects of our school (staffing, budget, class sizes and structure) it is important that we try to be as accurate as possible in predicting the school enrolment for 2022. If you know that you will be leaving at the end of the year, please notify the office as soon as possible. Your assistance with this matter is greatly appreciated.
New Senior Playground
Following extensive consultation with the P&F, I am excited to announce that the school will construct a new senior playground for our students. As you may remember our previous senior playground was removed during our recent building works and the P&F was very interested in funding a new play space that was tailored to our middle/upper years students. As you can see from the images below, the design will certainly be an exciting space for our students to play. Site preparation has already commenced, with the cricket nets removed and ground levelled ready for the playground. We anticipate construction to occur in December, ready for the 2022 school year. This is an exciting project and I thank the P&F for their encouragement and financial support.
Important Dates
22nd Oct Prep Grandparents Day
29th Oct World Teacher's Day / Day for Daniel (wear an item of red)
3rd-4th Nov 'World of Maths' visit. All classes attending this interactive presentation
13th Nov St Mary's Christmas Fair
19th Nov St Mary's Interhouse Swimming Carnival
23rd Nov 2022 School Leadership speeches
25th Nov 2022 Orientation day (Mercy College/Catherine McAuley College)
26th Nov 2022 school leaders announced on Assembly
29th Nov Year 6 Graduation Dinner
30th Nov End of Year Mass
1st Dec Semester 2 Report cards published
3rd Dec Last day of school
17th Jan 2022 School office opens
24th Jan 2022 Term 1 2022 commences
Quote of the Week
"Community is much more than belonging to something; it's about doing something together that makes belonging matter."
-Brian Solis
Stem Club
St Mary's after school Stem Club will return next Monday 25th October in the Makerspace area of the library from 3-4pm.
Notes are available from the school office and are due back by Friday 22nd October. Stem Club will include a range of different design, robotic and technology tasks aimed at developing skills such as:
- problem solving
- creativity
- teamwork
- independent thinking
- initiative
- communication
- digital literacy
- problem solving
Please phone the school office if you require any further details.
Mrs Belinda Battaia
APC/Teacher
Youth Mass & Children's Liturgy
Please join us!
St Mary's School will join with Mercy College to celebrate our Youth Mass this Saturday 23rd October at St Mary's Church at 5pm. Children's Liturgy will also be held.
Mass will be followed by a supper outside the church which the whole family is most welcome to attend.
We look forward to seeing you there.
Mrs Terri Leotta
APRE/Teacher
Booklists 2021
Booklists for 2022 were emailed to parents last week.
Mackay School Supplies are St Mary's preferred supplier for the 2022 booklists. This locally owned family business are supporting our P&F by giving our school a rebate on all 2022 booklist orders packed by them. This will be used to purchase additional classroom equipment.
All orders placed by Wednesday 27th October will be delivered to St Mary's Hall for collection. Collection times are: Monday 22nd November 3pm-4pm OR Tuesday 23rd November 8am-9am. Orders must be paid for prior to delivery.
Information on how to order has been provided on a parent letter which was emailed with the booklists. A copy of this letter is included below. Each year level booklist can be viewed by clicking the links below. If you'd like to order online directly with Mackay School Supplies please click here.
If you have any queries regarding the booklists, please contact Michelle at Mackay School Supplies on 0432 515 407 or ask at the school office.


St Mary's Swimming Carnival
Last week, swimming notes were sent home for all students from prep-year 6. If yours hasn't reached you, please check in the bottom of your child's bag and then email their teacher.
The date of the carnival is Friday the 19th November for both the junior and senior carnival. More details and the nomination process can be found on the previously mentioned note.
To help us have the program completed on time, please return nominations slips to the class teacher no later than Tuesday the 26th October. Looking forward to another fun day in the sun!
Mrs Caroline Kerrisk
HPE Teacher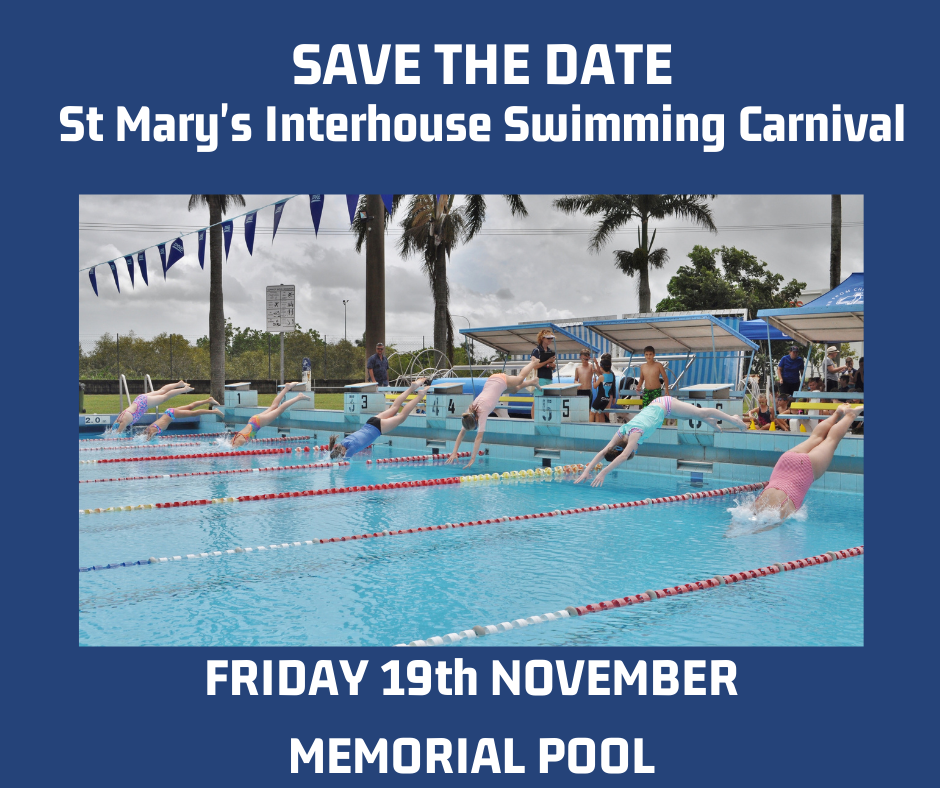 Free Dress Day - 21st October
To help support our St Mary's Christmas Fair, we are inviting students to wear free dress this Thursday 21st October. Please bring a $2 donation on the day to your teacher.
St Mary's Christmas Fair
Year Level Christmas Fair Coordinators
As we start the preparation to the St Mary's Christmas Community Fair, we are currently seeking preferably two (2) Fair Coordinators from each year level. If you are interested in volunteering your time, can you please contact Tanya Davies on 0438 138 392 or email tanyachris@bigpond.com.
Stalls
Prep – Jumping Castles
Year 1 – BBQ
Year 2 – Drinks
Year 3 – Hot Chips
Year 4 – Grocery Bags Stall
Year 5 – Sweet Stall
Year 6 – Bar
Year 6 Students – Fairy Floss, snow cones & pop corn with adult supervision.
Christmas Fair Donations
We are seeking donations for our major raffle to be drawn on the evening of the St Mary's Christmas Community Fair. Your business would be acknowledged in our newsletter encouraging our school community to support your business. More information We hope you can support our wonderful school.
St Mary's Netball Club Sponsorship
St Mary's needs a sponsor for the purchase of new Challenge Cup dresses for 2022.
As a sponsor you will get your business name printed on the dresses and in our school newsletter. These dresses will be worn by our Challenge Cup netball team each year at the Mackay Gala Day Carnival and the Challenge Cup Carnival in Yeppoon.
If you are interested, please see Belinda van Lint or contact our school office on 4951 1743.
Fit Running Friday
Fit Running Friday with Mrs Daglish is finished for the remainder of the term. This initiative will be back in 2022.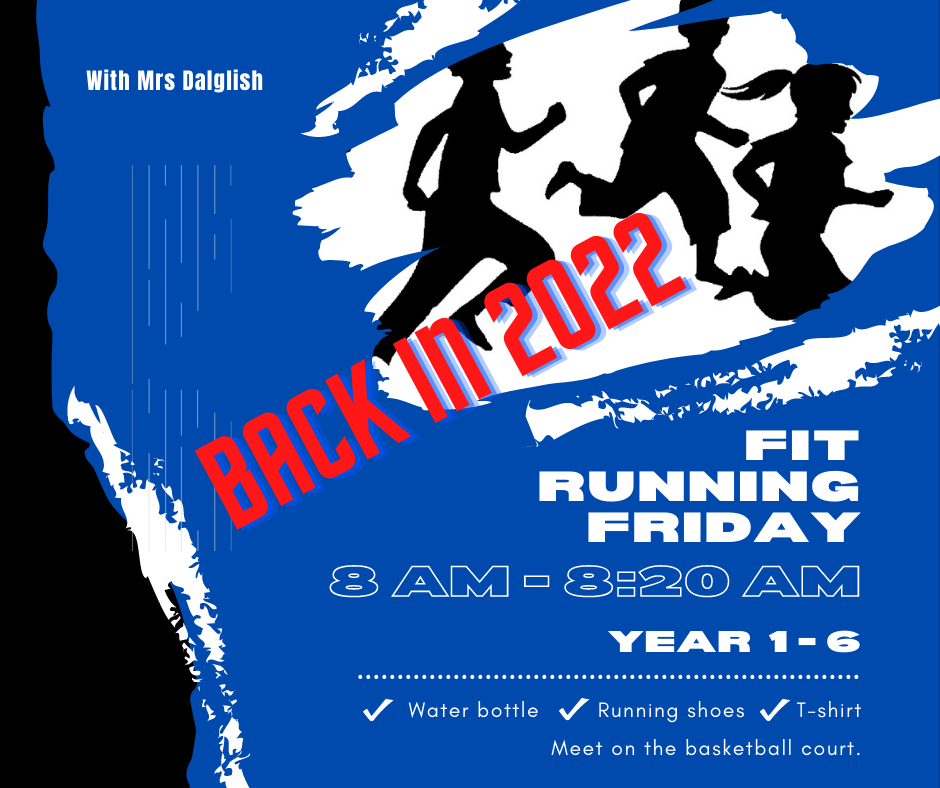 Student of the Week
Week 2, Term 4 Student Award Winners
| | | |
| --- | --- | --- |
| PB | Lincoln | Confidently completing reading and comprehension tasks independently. What a great effort! |
| PC | Kheiruz | Your lovely neat handwriting. The effort you put into the Mr McGee story map was amazing. |
| 1L | Mischa | Always being your best self! You are a hard worker and always display beautiful manners and behaviour! |
| | Jasleen | All the extra jobs you do in the classroom without asking! I do notice your kindness. |
| | All of 1L | Your amazing performance at the Eisteddfod. You were amazing! We are so proud of you all! |
| 1P | Rayansh | Being a wonderful listener and classroom worker. You are a star! |
| | Cooper | Wonderful work with your writing. You write neatly and work hard to sound out tricky words. Well done Cooper! |
| | All of 1PW | Your wonderful performance at the Eisteddfod. You were amazing! We are so proud of you! |
| 2A | Jake | Demonstrating positive classroom behavior. You have done such a great job! |
| | Mia | Your beautiful fluency and hard work towards your reading goals in BOOST. Well done! |
| 2B | Olivia | Showing the YCDI key of persistence when you bravely walked onto the stage and performed the eisteddfod poems. Well done! |
| 3B | Jaylah | Making great progress when calculating change this week. |
| | Lincoln | Making great progress when calculating change this week. |
| 3M | Lauren | Always being one of the first students to offer to help around the classroom. You make life so much easier for any teachers that come into this classroom. |
| 4K | Jimmy | Always taking pride in the presentation of your bookwork. Your handwriting is a pleasure to read. I wish I could write as neatly as you can. Keep it up! |
| 4P | Jordan | Being a conscientious learner and always trying your best. Keep up the fantastic work Jordan! |
| | Ariah | Confidently and enthusiastically sharing your scientific thinking this week. Keep up the awesome work Ariah! |
| 5L | Jack | Jack you are always smiling and spreading joy in the classroom. Your friendly nature is a wonderful gift. |
| | Katie | Katie it is evident that you take great pride in the presentation of your work. Keep up the wonderful effort you make with every piece of written work you complete and submit. |
| 5R | Lucas | The effort you are making to stay on task and focus during lessons. Please keep up this fantastic effort, we are both very proud of you. |
| 6M | Logan | Excellent results in your number sequencing task. You nailed it Logan! |
| | Alexis | Your creative and beautifully written narrative. Your are an author in the making! |
| 6V | Cayden | Being a hard working member of our class and always remembering to present his work neatly. |
| | Grace | Displaying excellent research skills for our HASS learning tasks this week. |
Community News