Week 9, Term 4 2021 - 30th November 2021
From our Principal - Mr Wes Rose
Thank you
I extend my sincere thanks to the students, parents and staff for all their efforts this year and wish you all the very best for the Christmas holidays. Please note that the school office closes next Thursday 9th December and will reopen Monday 17th January 2022. I look forward to seeing students back for first day of the school year on 24th January 2022.
Christmas Concert
The St Mary's Christmas Concert will be held in the basketball court area this Wednesday 1st December. Join us from 5:15pm for a sausage sizzle and drinks, with the concert starting from 6pm. Please note that students will be sitting with their class, with parents to find a suitable seat (BYO chair) around the student seating area. The year levels have been practising their concert items over the past few weeks, so I really do encourage every student and family to attend.
2022 School Leaders
I warmly congratulate our 2022 school leaders, who were announced at last Friday's assembly. These students will be formally inducted early next year.
School Captains Lily Cheyne and Eddie Rose
Vice Captains Evie Clarendon and Sonny Richardson
Cultural Leaders Gracie Franks and Ruby Pidgeon
Student Ministry Charlotte van Gestel and Sam Sutherland
Social Justice Millie Camilleri and Leo Christensen
Eungella Sports Georgia Arbuthnot and Fynn Shears
Illawong Sports Sunny Hodder and Harrison Roberts
Iluka Sports Emmi Burgess and Jack Watt
Year 6 Graduation Dinner
Last night's graduation dinner was a wonderful celebration of the culmination of primary school for our Year 6 students. I sincerely thank the parent organising committee for their efforts in making this night a success.
Staff News

As the year comes to an end we are saying farewell to some of our staff members this week.
Mrs Judy Fisher commenced employment with DCEO as a Teacher Assistant at St Mary's in 1995 and has remained in this role for the past 27 years.
Judy has an innate ability to inspire learners and her encouraging, positive nature with everyone she meets will be dearly missed. Her role expanded to afternoon tutoring and even feeding the staff on special occasions, and the students on Multi-cultural days.
We extend our thanks to Judy for her many years of dedicated service and wish her every blessing in whatever the future holds.
We also farewell Mrs Caroline Kerrisk who has accepted the position as foundation teaching staff member at Catherine McAuley College.
Caroline has been our Health and Physical Education teacher for the past 11 years and in that time, has done an outstanding job. Her PE lessons are always a highlight of the week for students and her dedication to promoting the myriad of school representative sporting opportunities is greatly appreciated. In particular, her involvement with the St Mary's Battlers Rugby League team is a notable achievement. We wish her well for her new role.
Three of our Teaching Assistants are also leaving St Mary's. We would like to sincerely thank Mrs Fiona Flohr, Mr Blake Paskins and Mrs Jo Reid for their dedication to students and continued support of our teachers.
This week, Mrs Dalglish is on Long Service Leave. I take this opportunity to thank her for her efforts this year and we'll see Emily back in 2022.
This Tuesday and Thursday, Mrs Kerrisk will attend some induction/training at Catherine McAuley College. Mr Brendan Brauer will teach PE these days.
Mrs Parrott is away on leave for this week. Mrs Rose will teach 4P Tue/Wed, Mrs Leotta will teach the class as normal on Thu and Mrs Ruth Healy will take the class on Fri.
Semester Two Reports
Please note that report cards will be available via Parent lounge from 4pm this Thursday 2nd December. Instructions on how to access Parent Lounge were emailed to all families yesterday, a copy of which is available by clicking the link below.
If you have any issues accessing your Parent Lounge account please contact the school office.
Semester 2 Attendance Letter
This Thursday, all students will receive a letter that outlines their Semester 2 school attendance. This is important information for all families and I thank parents for taking the time to read this letter. This letter will also advise your child's class teacher for 2022.
New Playground Installation
The P&F have been actively raising funds for our new 'ninja' style senior playground. I am very excited to inform that this playground will commence construction next Monday 6th December. We anticipate that the playground will be ready for student use at the start of the 2022 school year.
2022 School Dates
School Office Opens 17th Jan 2022
Term 1 24th Jan to 1st Apr
Term 2 19th Apr to 24th Jun
Term 3 11th Jul to 16th Sep
Term 4 4th Oct to 2nd Dec
Bishop's Inservice Day 18th Feb (pupil free)
In-Service day 2nd Sep (pupil free)
Uniform Guidelines
With the Christmas holidays fast approaching, it is timely to look forward to the 2022 school year and remind all families about the school uniform guidelines in place for all students. I ask parents to consult this guide to assist with decisions particularly around hairstyles, shoes, jewellery, etc.
Quote of the Week
"Freedom, in any case, is only possible by constantly struggling for it."
-Albert Einstein
Sport News
Spirit of St Mary's Sports Award – Helena Day
Our final sport award for the year is always the Spirit of St Mary's sports award.
This award is to recognize a student who has shown great commitment to their team and school by participating in the cross-country race, athletics carnival and swimming carnival. The recipient may not have left the carnival with ribbons or records but put in their best effort with their team in mind.
Helena not only represented her house in every carnival, but also represented St Mary's proudly in futsal, basketball, touch football, rugby league and netball. Helena was a great team-mate and loved by every team she played in.
In prep, Helena was a quiet student with a beautiful smile who wouldn't stop doing cartwheels. Now in year 6 she's still a quiet student with a beautiful smile, but killing it on the sporting field.
Congratulations Helena, on being the named the winner of the 2021 Spirit of St Mary's Sports Award.
Swimming Record Corrections
With all the excitement of the carnival we missed a couple of details last week…
Leo Christensen has a third record, 10 years 50m Freestyle, the record was 37.34 seconds, it now stands at 34.87
Lachlan Ware 9 years 50m breastroke, the record was 55.53 seconds , it is now 49.69

Congratulations, you've made history!
Capricornia Swimming Trials
If you would like information about how to nominate your child for the 2022 10-12 years Capricornia Swimming team please email caroline_kerrisk@rok.catholic.edu.au. Nominations are due February 2022 but information has already arrived in schools if you would like to peruse the nomination process.
Thank you and see you soon......
As I type my last sports write-up for St Mary's so many memories come flooding back. The triumphs and achievements are often mentioned here but the moments that have brought me the most joy often don't make assembly or the newsletter. Moments such as a student setting a goal to complete the 800m or the cross-country and then week by week building their physical and mental stamina to achieve that goal. Not a place, or a ribbon, or a record , just something that was a challenge for them. To see a whole class in HPE turn and cheer the last runner on for their final 50m still brings tears to my eyes. So many times I've heard a child say " I can't do it, I feel sick" and so many times, with a little nudge, they're on their way. Keep encouraging your children to do things that make them feel nervous, its either hard now or harder later…
Thank you for your interest and support over the years. St Mary's truly is a special place.
Mrs Caroline Kerrisk
HPE Teacher
End of Year School Mass
Thank you Fr Gasper for leading our End of Year School Mass this morning. We came together in Jesus' name to farewell our Year 6 students. This was followed by a candle ceremony where year 6 students handed over symbols of light to our new 2022 leaders.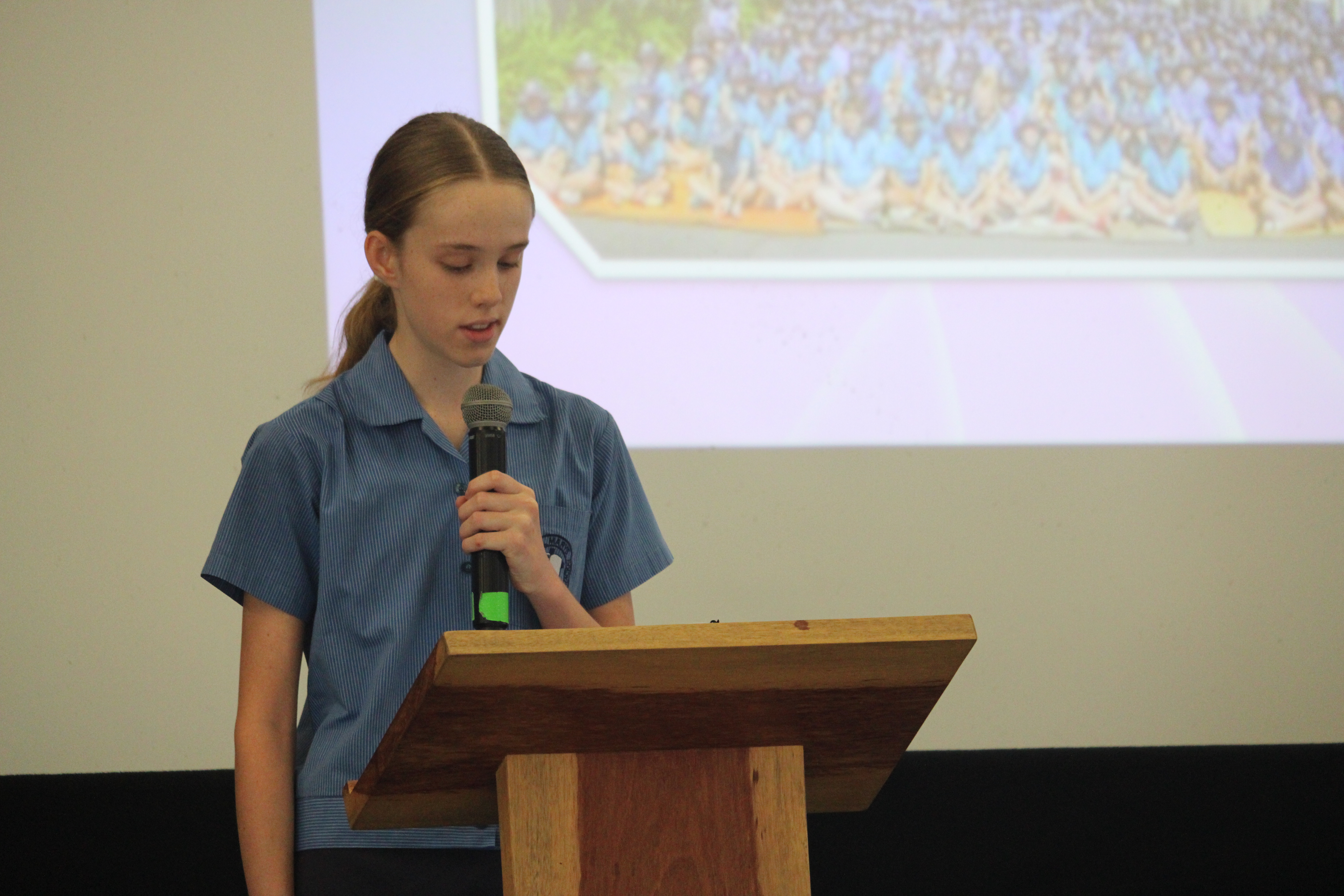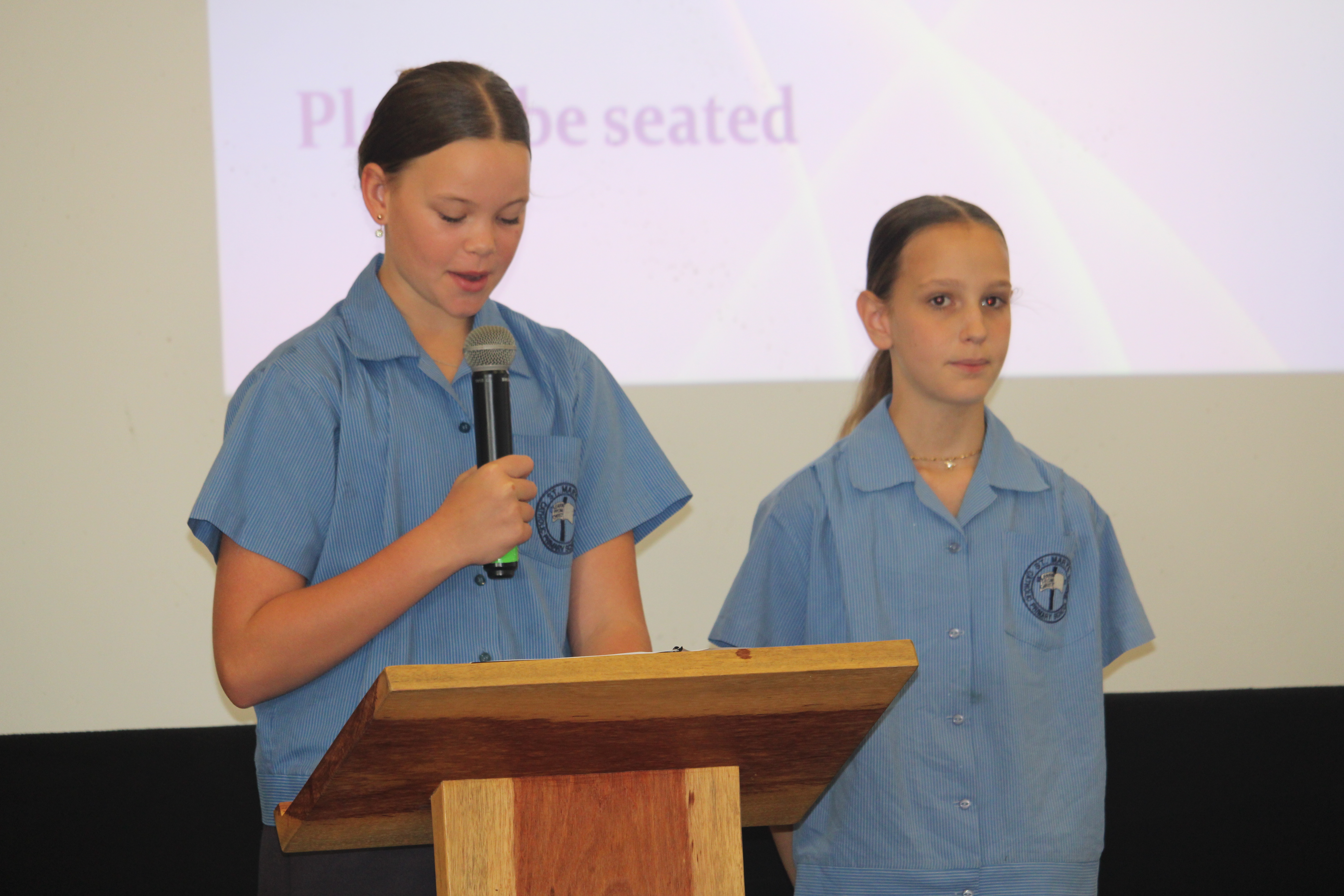 Prev
Showing images
1 - 8
of 16
Next
Tuckshop News
Tuckshop will be open tomorrow and Thursday
but will be closed on Friday to allow for cleaning.
Snack foods, ice blocks, drinks etc can be purchased over the counter on Friday (no hot food available). Check Facebook on Thursday for availability.
Thank you to all our wonderful volunteers in 2021.
Paul Gibbs
Tuckshop Convenor
Unclaimed Jewellery and Lost Property
Please contact the office if your child has lost some jewellery throughout 2021. We are holding a couple of pieces that have not been claimed.
We also have an abundance of water bottles in our lost property box in the office. Please encourage your student to check the box if they are missing their water bottle.
Support Jacob in his Shave for a Cure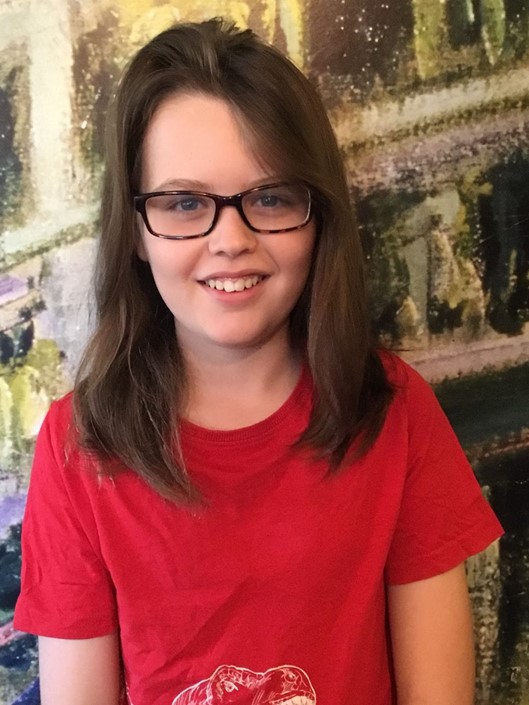 Support Jacob in his Shave for a Cure
Just two more sleeps until Jacob cuts his locks. It's not too late to donate. Simply visit the link to show your support World's Greatest Shave 2022 (leukaemiafoundation.org.au)
Jacob shares his story below which inspired him to action.
In 1986 my Mum's 12 year old brother, Mike, died from Acute Myeloid Leukaemia. Mum was the same age that I am now (11). She's told me about how Mike's illness and death affected her and her family and how important it is to help organisations such as the Leukaemia Foundation to fundraise for research and support for families like hers. So I'm taking part in the World's Greatest Shave for the Leukaemia Foundation! Please sponsor me to give families facing blood cancer the emotional and practical support they need.
Jacob's shave will take place at school on Thursday 2nd December at 10:15am on the basketball court. We hope to see you there.
Student of the Week
Weeks 7 & 8, Term 4 Student Award Winners
| | | |
| --- | --- | --- |
| Prep B | Jacob | For the wonderful way you displayed great listening and following teacher instructions. Wonderful effort! |
| | Chet | For showing persistence and determination when finishing work. Super effort! |
| | Reagan | For the amazing confidence heading into year one on our transition day! Well done! |
| | Isaac | the brilliant confidence you displayed reading at our class Christmas prayer celebration. Terrific effort! |
| Prep C | Paulo | Your terrific journal writing this week. It was very neat, specific and a pleasure to read! |
| | Riley | For your exciting show and share. You were very well prepared and displayed a love for your sport. Your teacher and friends think you are a cricket superstar! |
| | Evie | For being a confident and organised learner who is always ready to start your work. Thank you for being a terrific student! |
| | Elena | For being a confident and organised learner who is always ready to start your work. Thank you for being a terrific student! |
| 1L | Sienna | For your great contributions to our discussions on our responsibilities for caring for our common home. |
| | Jayda | For the concentration and care you have shown on all your tasks this week. You have been working up a storm. |
| | Caleb | For a terrific information report on the T-Rex. |
| | Charlie | For a terrific information report on the Velociraptor. |
| | Sidney | For consistent improvement in all areas of your learning. You are a conscientious boy who shows he wants to learn. |
| 1P | Bethany | For being a fast classroom worker who always puts 100% effort into your work. Thank you Bethany! |
| | Tane | For working hard to improve your writing. You are trying hard to sound out tricky words. Keep up the great work! |
| 2A | Shanya | For your amazing effort with your writing and always taking pride in your work. |
| 2B | The whole Year 2B class | For a wonderful year! Well done on your hard work, kind friendships and the many Spirit of Jesus moments. |
| 3B | Indy | For your positive and enthusiastic attitude towards all aspects of school. You set a wonderful example for your friends. |
| | Sophia | For the wonderful description of Christmas you wrote. You definitely made us feel like we were there. |
| 3M | Parker | For the focus and determination you showed during our Christmas Maths activities this week. |
| | Noah | For the focus and determination you showed during our Christmas Maths activities this week. |
| 4K | Dean | For working hard to complete the published copy of your historical recount. You worked independently and got all your paragraphs completed. Well done and keep it up! |
| | Thomas | For working hard to complete all your assessment and published work ready for showcase next week. You have been working so hard and I am proud of your effort and dedication to finish the year off strong. Keep it up! |
| 4P | Hudson | For your mastery of the Code Breaker maths activity during our Showcase Presentation. Well Done Hudson! |
| | Emelia | For guiding your special visitors through the passport activities at our Showcase Presentation. Your family looked completely mesmerized by your iMovie expertise. |
| | Aylah | For composing a beautiful Advent prayer following the You, Who, Do, Through structure. Awesome work Aylah! |
| | Tyrell | For your well composed and detailed written response in Boost reading this week. Keep up the great work Tyrell! |
| 5L | Lucas | Lucas you have really shown persistence and diligence over the past few weeks and this is reflected in your schoolwork. You should be very proud of your achievements. You've certainly demonstrated a positive 'You Can Do It' attitude and improved confidence in your abilities. |
| | Jesse | Jesse your humour is a welcome relief in the classroom, your creativity shines through in your artwork and love of music and your friendship with your peers is heartwarming to see. Keep being you! |
| 5R | Lily | For the effort and dedication you show in class each day. You are an amazing role model and demonstrate the Spirit of Jesus in all you do. |
| | Armani | For your Newspaper Article on the How the Grinch Stole Christmas. You put so much effort into your article and it was a pleasure to read. Well done! |
| 6M | Emma | For your incredibly beautiful and creative Holy Spirit art work. You have reflected deeply on your beliefs to produce this inspiring work Emma! |
| | Levi | For your brilliant achievements in mathematics. You grasp new mathematical concepts and strategies quickly and can explain your thought processes with the class. We have learnt a lot from you this year Levi! |
| 6V | Asher | For completing your maths work with speed and accuracy this week. Great work Asher! |
| | Sarah | For the mature, responsible attitude and positive mindset that you displayed this term. Keep up the great work Sarah and keep smiling!!! |
Christmas Wishes
Wishing all our families a peace-filled and joyous Christmas season.
Community News