Week 7, Term 1 2022 - 8th March 2022
Principal's Reflection
Over the past couple of weeks, we have been shining the spotlight on Grit, which is a way to describe a person's hard work and persistence to achieve success. This aligns nicely with our 2022 pastoral support and wellbeing goal, which is to increase students' ability to persist when solving challenging mathematical problems.
Last week on assembly, we heard from students about their understanding of grit and some of the ways they show grit in their everyday lives. We heard about how students portray grit in all manner of ways, from improving their tennis, basketball and skating skills, to how they approached their homework and other academic tasks. These are real life examples of how a hard- working and persistent mindset can, over time, make a big impact on success.
In the sporting world, we know that a positive transfer of skills exists between sports. What this means is that someone who has ability in one particular sport can transfer their skills to another sport. We've seen this in famous sports stars like Ash Barty, who a few years ago, took a break from tennis and used her amazing hand/eye coordination to play a season of Big Bash cricket for the Brisbane Heat! This is what I mean by a positive transfer of skills.
We can apply the same idea to grit. What this means is that we can transfer the way we show grit to one area and apply it to other parts of our lives. Over the next week, I invite you to consider ways where you can transfer a persistent mindset into another aspect of your life.
Just remember the words of NBA superstar Kevin Durant, 'Hard work beats talent when talent doesn't work hard!'
From our Principal-Mr Wes Rose
P & F Meeting
The St Mary's P&F Committee are pleased to announce our Annual General Meeting and first General Meeting of the year will be held on Thursday 10th March at 6pm in the Staffroom. At this meeting we will be electing committee members for 2022, discussing the financial position of the P&F and prioritizing initiatives for the year. Other details about the P&F include;
St Mary's P&F raises approx. $40,000 per year for the school through our fundraising, levies, events and volunteer activities.
It's an easy and fun way to contribute to the school and your child's experience
We need lots of different skill sets but no specific experience is necessary
Contribute what you can, when you can – Many hands make light work!
Come along to our first meeting of the year this Thursday and learn about how you can get involved.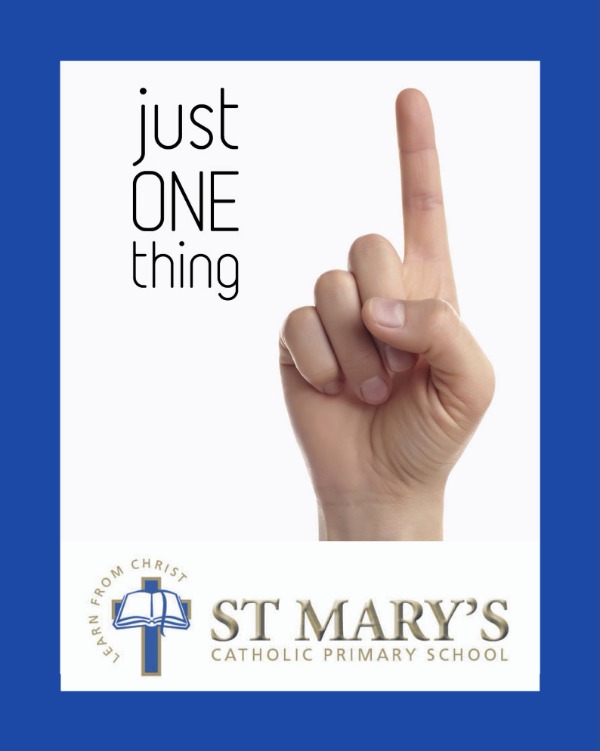 Just One Thing Campaign
This year we are again asking all families to assist with 'at least one thing' throughout the school year to provide opportunities for the students at our school and to help raise funds for the improvement of facilities and resources to benefit our children and the entire school community. We understand everyone has a busy schedule juggling work and family commitments; however, it would be greatly appreciated if every family would volunteer to assist with just one event/function/task this year. I ask that all St Mary's parents submit a response to the 'Just 1 Thing' campaign, which assists us to engage parents in their preferred ways. Please click here to register your response to this short 1 minute survey.
Volunteering at St Mary's Catholic Primary School
A huge thank you to all the parents who take time out of their busy lives to volunteer at St Mary's Catholic Primary School. In order to volunteer at St Mary's, please read the 2022 Induction of Volunteers Guidelines (click link below) and complete the google form. At this stage, the Qld government requires all visitors and volunteers working with students and staff to be double vaccinated. This will be monitored by scanning the Check-In Qld QR Code next to the sign in kiosk at the school office. We will keep parents informed should these requirements change in the future.
Mr Rose away
On Friday I will attend the Regional Principal's meeting at St Brendan's. In my absence, Mrs Leotta is acting principal.
Assembly Resumes
We welcome parents back to assembly this Friday at 8:30am.
Work Experience
This week, we welcome four Mercy College students for their work experience. Welcome to Aidyn McSherry, Chelsea Meigan, Alyssa van Lint and Anthony Sorbello. I am sure that they will enjoy their week.
Teaching News
Over the past four weeks, Mrs Paul has been teaching the 5L class and has done an exceptional job with the students. I sincerely thank Val for pausing her normal role as the school's literacy coach to teach the class. This week, we welcome Mr Rob Townsend, who has been appointed as 5L class teacher for the remainder of the term. Rob is well known to the students and has been working in 5L whilst completing his teaching practicum. I have been impressed with Rob's commitment to the learning and development of all students and know that he will do a fine job with the class. Mrs Paul will continue to work closely with 5L in her role as Rob's mentor and to ensure a continuity of learning for students.
Health News
St Mary's wishes to advise that during the past week, we have been notified of positive cases of COVID-19 in our school community. We regularly consult with the Catholic Education Office and relevant authorities, and continue to follow the advice of Queensland Health regarding cleaning requirements. Queensland Health has advised that no quarantine of students or staff is required.
As COVID-19 remains active in our community we ask you to continue to monitor your child's/children's health and if they develop any flu-like symptoms:
Keep your child/children at home
Seek a PCR or Rapid Antigen test where it is recommended and notify the school of positive results. Please be aware, a negative COVID test does not change the requirement to be symptom free to attend school.
Follow the advice of Queensland Health
As we continue to navigate the pandemic, please remind your child/ren to:
maintain good hand hygiene at all times
cover coughs and sneezes with a tissue or the inside of their elbow and dispose of tissues in the bin immediately.
practice social distancing from others where possible
We will continue to work closely with health authorities to keep our school community informed of any developments and advice. Thank you once again for your ongoing support.
Children absent from school
This term, families are sure to encounter periods of home quarantine that will prevent their child/ren from attending school. Please note that your child's class teacher is actively planning for short term absences and will have some readily accessible work that your child can complete at home. Typically, this will include the homework sheet, pages from various year level textbooks and online work set by the teacher. If your child is in this circumstance, please contact your child's teacher directly and they will make the necessary arrangements.
Quote of the Week
"Without effort, your skill is nothing more than what you could have done, but didn't."
-Angela Duckworth
Week 6 Term 1 Assembly
Please click here to view last week's assembly video.
Curriculum News-Mrs Belinda Battaia
DRA (Diagnostic Reading Assessment)
Over the next few weeks, teachers will be supported with time off class to complete the Diagnostic Reading Assessments of all students in their class.
DRA's provide us with:
A common language around reading instruction

Information to inform differentiated instruction

Information to inform professional learning

Information around individual reading growth and areas of concern
Once complete, teachers meet as a team with the APC to decide next steps for our Boost reading groups as well as any necessary support required for students by our literacy coach.
Areas of reading assessed include fluency/rate, accuracy, expression, and comprehension. Parents can offer support to children in reading by confirming any areas of concern with the classroom teacher and then utilising any of the tips below to support reading at home:
To improve:

Fluency/rate

Try repeated reading where students select a section (sentence, paragraph, page depending on age) from the book they are reading and time themselves reading that section with an aim to try and improve on their time.

To improve:

Accuracy

Try reading alongside your child. Count the words they miss or the words they substitute and give them a total of these errors at the end (they are often very surprised!). Then allow them to challenge you by requesting you read to them and they keep a tally of any words you may miss or substitute. This is a great way to make sure the students are reading each word on the page. If your child corrects themself, don't count the error, this is great because it means they are understanding what they are reading and are aware when something doesn't make sense.

To improve:

Expression

Encourage your child to read a section of the book aloud and get creative! Try different voices. Read with a different accent, change your volume, or project a particular emotion in your voice such as: sad person.

To improve:

Comprehension

Following reading, ask children to retell what they've read. Question children on their own connections to what they've read, character traits they can identify, setting descriptions and what they may have visualised while reading.

`What stuck?' is another tool that could be used where students use a sticky note on a section of the book that 'stuck' for/with them. Allow them to discuss this part in more detail with you.
Mrs Belinda Battaia
APC/Teacher
From the Office - Finance Department
Dear Parents
A friendly reminder that school fees were due last week, Tuesday 1st March. Thank you to those parents who have made payment or entered into a payment arrangement.
If you are yet to pay fees, could you please make payment as soon as possible.
If you need to enter into a payment arrangement, please don't hesitate to contact me on 4951 1743 to discuss payment arrangement options.
Mrs Kathy Parrish
Finance Officer
Project Compassion-Second Week of Lent
Biru 30, lives in a rural village in Jharkand State in India's east. He lost mobility in one of his legs, after contracting polio as a child, which makes it difficult for him to walk. With your generous support, Biru was able to access an entrepreneurship and livelihoods development program, run by Caritas Australia's partner, Caritas India. He gained the skills, support and encouragement he needed to establish his own bicycle repair business.
Now, Biru is able to provide a good life for his family – and an essential service to his community. He has discovered a sense of pride, confidence and hope which has inspired others living with a disability and paved the way For All Future Generations.
Please donate to Project Compassion 2022 and help people living with disabilities in India gain access to education and clean water, empowering them with skills to build a better future for all.
Together, we can help vulnerable communities face their challenges today and build a better tomorrow For All Future Generations.
You can donate through Project Compassion donation boxes in classrooms, by visiting lent.caritas.org.au, or by calling 1800 024 413.
Caritas Classroom Tally
Shrove Tuesday Thanks - Well done!
Nearly 400 pancakes were enjoyed at St Mary's on Shrove Tuesday! Many thanks to our tuckshop coordinator, Mr Gibbs, who personally cooked each pancake. The proceeds of this fundraiser will go to our school's Project Compassion Lenten appeal for Caritas. Well done St Mary's!
Ash Wednesday Liturgies
Students and staff participated in our Ash Wednesday classroom liturgies last week, to mark the start of the Lenten season. Lent, the time leading up to Easter, invites us all into a period of prayer, fasting and generosity. Receiving the ashes is an outward sign of faith and a reminder of our need of reconciliation with God.
Hot Cross Bun Drive
Less than a week to get your orders in!
As we hop closer to Easter, please join us in our annual P&F Hot Cross Buns Drive. Just like last year, we have Crusty's Bakery onboard to supply their freshly baked traditional, choc chip and fruit free hot cross buns, $6 per dozen.
Order forms were sent home last week with details on how to order (online only) and how to keep track of all your orders from family and friends.
Orders will close at 9pm on Monday 21 March. Collection will be in the school hall on Tuesday 29 March 2.30-3.30pm.
Please contact the office for further information.
Nude Food Day
Sport News
Check out our new Sport Notice Board!
Any sporting information will now be displayed on our Sport Notice Board located outside the library (left of the entrance door). Parents are encouraged to regularly check this board for any sporting upcoming events, community flyers, etc.

Congratulations to Layla Bungay, Evie Clarendon, Harriet Shields, Sibella Mayer, Mayson Vassallo, Bodene Tass, Ryan Sommerfeld, Harrison Roberts and Fynn Shears on their selection in the 10-12 Girls and Boys Southern Suburbs Touch Football teams. They will try out for Mackay District teams later this week. Well done and good luck at the next level.
Congratulations to Chloe Moore for her selection in the 10-12 Girls Mackay District AFL Team. She will try out for the Capricornia team in Rockhampton on Tuesday 15th March. Great work Chloe and good luck at the next level.
Congratulations to Emmi Burgess and Sunny Hodder on their selection in the 10-12 Girls Southern Suburbs Netball team. They will try out for the Mackay District team this week. Well done girls and good luck at the next level.
Mrs Simone Sibley
HPE Teacher
Touch Footy Draw - Round 2
Run Club
Year 5 News
Year 5 students have been working on their coding skills in Digital Technology. They were challenged to use their mathematical and problem solving skills to program the EV3 Robots to follow the path. Programming the EV3 robots is a lot harder than it looks. Well done Year 5.
Clean Up Australia Day
Thank you to the students, parents and staff who joined us for Clean up Australia Day, this morning. Together, we managed to pick up 18 bags of rubbish from Quota Park and surrounding foreshore. Special mention to Mel and Tayla McGuiness who found the most unusual item, a retro cassette tape!
Student of the Week
Week 6, Term 1 Student Award Winners
| | | |
| --- | --- | --- |
| PC | Asha | The lovely care, concentration and effort you put into your work every day. Your teacher is very proud of you! |
| PP | Hudson | Being a great listener during our carpet learning time. Thank you for always being ready to share your answers with the class. |
| PP | Delancee | Approaching all of your learning tasks with a smile on your face. Your smile brightens our day - thank you Delancee! |
| 1B | Reagan | Displaying skill and accuracy when writing numbers and being super fast with counting on and counting back. Well done! |
| 1B | Annabelle | A terrific response to the question What If? Your ideas were amazing and so was your writing. |
| 1L | Isaac | Tthe effort you put into absolutely everything, and the kindness you show to others. |
| 1L | Matilda | Your great writing! Your 'What If?' sentences were clever and interesting. |
| 2A | Lily | Your positive attitude. You are always interested and eager to learn. |
| 2A | Henare | Being a responsible and hard working student who always gives his best efforts! |
| 2B | Ruby | Always being so polite, kind and caring. Thank you for always trying your very best in everything you do. You are a great role model to have in 2B. |
| 2B | Mischa | Working hard and listening carefully at all times. Keep up the great effort, Mischa! |
| 3B | Harlen | The resilience you show in class. You bounce back quickly whenever you have a setback. |
| 3B | Charlotte | Your willingness to help around the classroom. You are the first to offer to run an errand or help a classmate. |
| 3M | Sophia | Demonstrating confidence in class and increasing your participation in class discussions and sharing answers. Keep up the great work! |
| 3M | Shanya | Being an excellent peer role model in class. You are always ready to learn and help out when you see a need. |
| 4C | Parker | The distinct effort you have applied to all of your work this week. |
| 4C | Flynn | Your conscientious and diligent approach to your work. Keep up the great work! |
| 4K | Noah | Showing real GRIT and determination to finish your note taking in HaSS, you thought you would 'never' get it done, but become the champion of 'yet' and finished all your work. Amazing effort, well done! |
| 4K | Venice | Gaining confidence and participating more in class discussions and questions. Keep it up Venice, we all value your input. |
| 5L | Kai Noris | Always being on task and trying your best to complete work to a high standard. We love hearing your ideas and answers during class discussions. Keep it up! |
| 5L | Mayson | Always striving to do your best. You are achieving excellent results from your grit and determination. Well done! |
| 5R | Lucy | The effort and dedication you show in maths lessons. I love how you explain your thinking to solve problems. Keep up the fantastic work. |
| 5R | William | Working hard to improve in writing tasks. You are taking more care to edit and correct your spelling and punctuation. Well done! |
| 6M | Layla | Your determination and grit when solving challenging maths problems. Great work Layla! |
| 6M | Robert | Being an understanding, patient and supportive friend to all of your classmates. We all really appreciate your kind nature Robert. |
| 6V | Fynn | Highlighting key information in texts, writing comprehensive summaries and answering questions with accuracy. |
| 6V | Christina | Having GRIT in maths this week to solve word problems using extended multiplication. |
Community News
Catherine McAuley College – Open Evening | Thursday 17 March 4.30pm to 7.30pm
For prospective students in Year 7-2023, their parents/guardians, and parents of current 2022 Year 7 students.
Parking: Field Street college carpark and assemble in the outdoor covered court
Format for the evening: Four tour groups at 4.30pm / 5.15pm / 6.00pm / 6.45pm
Our current students will escort small groups with CMC staff at locations of interest
We look forward to seeing you!
"Curiosity and questions will get you further than confidence and answers." – Maxime Lagace
To express enrolment interest, please go to our website CMC Website, click 'Enrolment Information', 'Start Online Enrolment Form': https://cmcmrok.catholic.edu.au/