Week 1, Term 2 2022 - 19th April 2022
Principal's Reflection
Dear parents, staff and students,
Welcome back to Term 2. I trust that you enjoyed the school holidays and the blessings of the Easter season, a time when we remember the death and resurrection of Jesus Christ. As we see in the above video, these events nearly two-thousand years ago still resonate with people today and continue to hold great significance to people's personal faith lives, the Christian religion and indeed the life of our own Catholic school.
Easter Sunday celebrates that darkness was overcome by light. The resurrection of Jesus is a central tenet of the Christian Faith; indeed the Apostle's Creed emphasises Jesus' birth but then skips to his death, burial and resurrection. An excerpt of the Apostle's Creed states,
I believe in…Jesus Christ, his only son our lord, who was conceived by the
Holy Spirit, born of the Virgin Mary, suffered under Pontius Pilate,
was crucified, died and was buried; He descended into hell;
on the third day He rose again from the dead…
However, it is also important not to forget the events within Jesus' life that give each of us a wonderful exemplar for our own lives. If we only look at the end results, we miss the fullness of the narrative–the history of failures and successes, the lessons learned and the witness given.
Yes, we bask in the glory of Christ's Resurrection, but never forget Jesus' backstory; his humble birth, inclusive ministry, and message of love. That's what you'll need to know – and follow – to achieve the great things of this season.
All the very best,
Wes Rose
Principal
From our Principal - Mr Wes Rose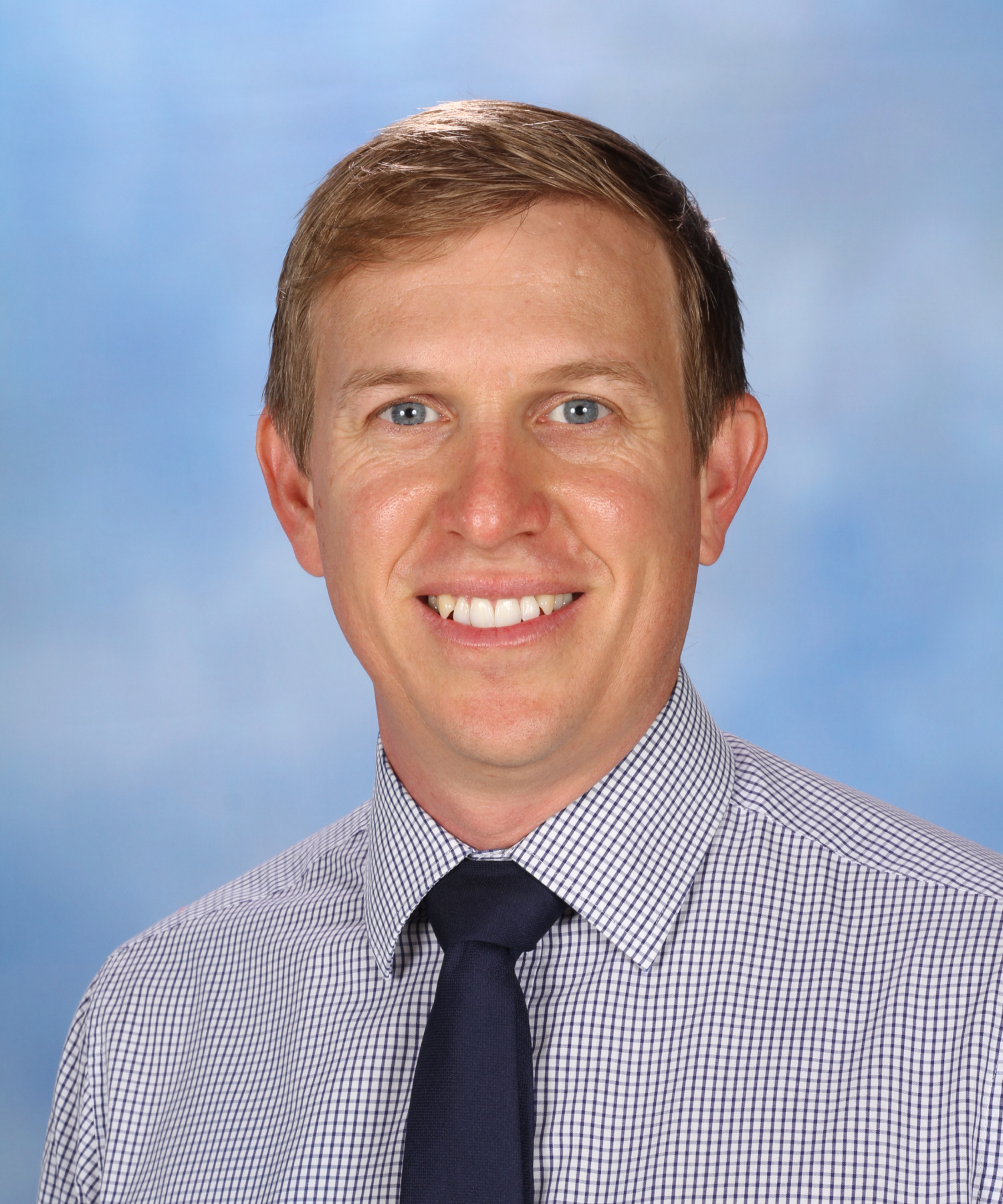 Staff News
This term we welcome back Mrs Lewis, who returns from sick leave to teach 5L. It is great having Mrs Lewis at St Mary's, and I know she is excited to return.
The Diocesan Learning Support/Indigenous Conference is scheduled this Wed-Fri in Rockhampton. Our Learning support teacher, Emily Dalglish and our Indigenous Teacher Assistant, Yrad Loban will be in attendance.
MJR Year 6 training session
Today, our Year 6 students were involved in a training session to prepare them to lead Making Jesus Real (MJR) sessions. MJR focuses on gospel values and virtues, inviting students to reflect on the way they see the world and live their lives. Groups of Prep-Year 5 children, led by the Year 6 students, will gather each Friday afternoon for these lessons, which are always a highlight of the year for all students. I sincerely thank Mrs Leotta for once again organising these sessions.
Maintenance Jobs
The following jobs were completed these holidays:
The flooring in the boys and girls' toilets were resealed.
The walkway between B Block and the library was re-roofed.
The reconfiguration of the fencing area near the aviary and pick up shed is nearly complete, to enable a larger play area for our prep students.
Air-conditioner servicing was completed in B Block.
Emergency lighting and safety switches were tested.
Minor repairs were done on the junior playground.
The new shade sail over the Ninja playground is expected to be installed in the next couple of weeks.
ANZAC Day March
I invite all staff and students to participate in the ANZAC Day parade next Monday 25th April. Students need to dress in their formal school uniform and assemble in the Dome carpark (Corner of River and Gregory St) from 8:10am. The march will start at 9am and will proceed down Gregory, Gordon and Wellington Streets. Students can be collected in the usual place, near the roundabout on Gordon and Gregory Street (between the MECC and Central SS). For more information, please click on the link below.
Sporting News
Southern Suburbs Cross Country is this Friday 22/4/22 at the Gooseponds. 9am start. All the best to our 10-12year old competitors. Mr Rose and Mrs Houston will attend with our students. Private transport to be arranged.
St Mary's Battlers Rugby League commences this term, with training this Wednesday from 3pm-4pm. Normal training time will be Mondays 3pm-4pm. Interschool games start in Week 2; more details to come.
The Futsal Gala Day will be held in Sarina next Tuesday 26th April. Students will catch a bus, details TBA. Mrs van Lint and Mrs Davies will supervise students. Thank you to the parents who have indicated they can assist on the day.
The Basketball Gala Day will also be held at the Mackay Stadium next Tuesday 26th April. Students will walk from school to the stadium at 8:40am and will be supervised by Mrs Standish and Mrs Krause. Thank you to the parents who have indicated they can assist on the day.
Notes went home today about the Southern Suburbs Tennis trials, to be held at the Pioneer Tennis courts on Friday 29th April from 2pm-4:30pm. If your child did not receive a note, please contact the office.
Quote of the Week
"Acknowledging the good that you already have in your life is the foundation for all abundance."
- Eckhart Tolle
Prep 2023 Enrolments
Do you have a Prep student beginning in 2023?
Thank you to those families who have already submitted their enrolment application online. We encourage both existing and new families who have a child starting Prep next year to lodge their enrolment application as soon as possible. Applications are to be made via our online enrolment form available from our website www.smmrok.catholic.edu.au with interviews to commence on 9th May.
Please contact the school office for further information or any assistance required.
Tuckshop News
Please Note: Due to our Tuckshop Convenor being unwell, there will be no tuckshop available tomorrow (Wed 20 April) and a limited menu is available to order online on Thu 21 and Fri 22 April. We will be back to normal next week. All orders that have been placed for tomorrow have been refunded.
ANZAC Day Service
Youth Mass & Children's Liturgy
Please join us!
St Mary's School will join with Mercy College to celebrate our Youth Mass this Saturday 23rd April at St Mary's Church at 5pm. Children's Liturgy will also be held.
Mass will be followed by a supper outside the church which the whole family is most welcome to attend.
We look forward to seeing you there.
Mrs Terri Leotta
APRE/Teacher
Project Compassion 2022 Final Tally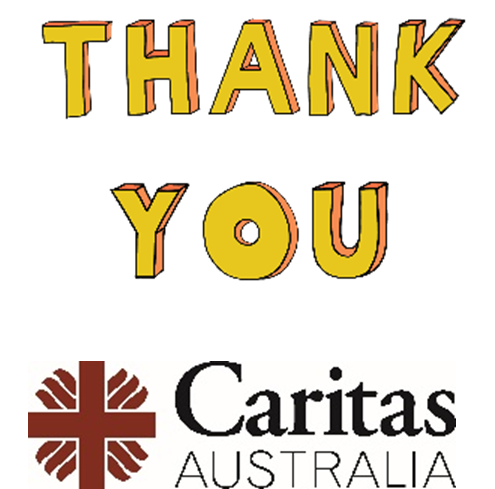 Thank you to our school community for the very generous donations to Project Compassion last term. Together we raised $2556.75.
Congratulations to Year 6M who have risen to the challenge with a huge donation of $513.
Easter Liturgy
Thank you to our year 6 students who led our school Easter Liturgy beautifully this morning.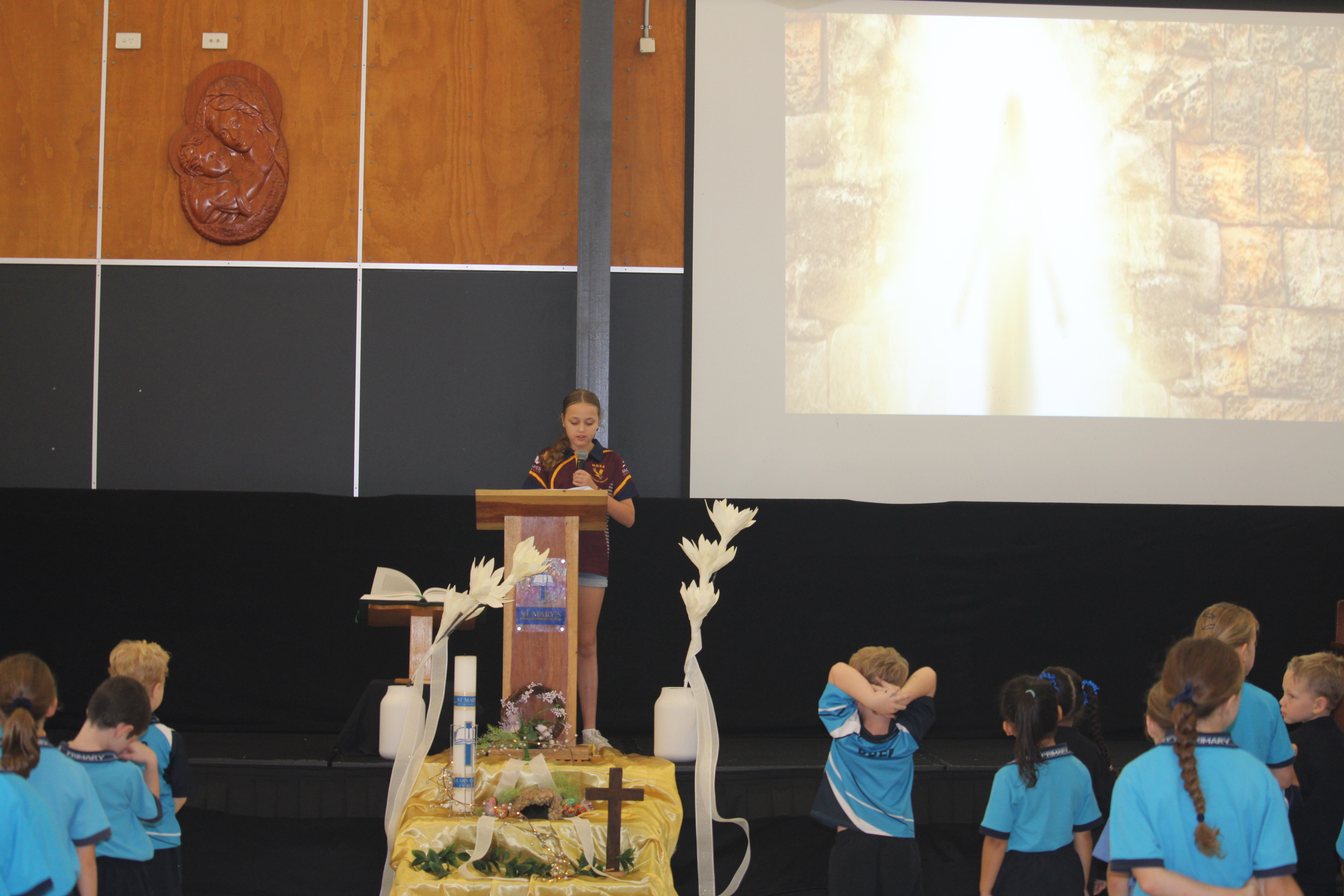 Book Club
Green Card Draw Winners
Congratulations to our Green Card winners and Nudefood winner from term one: Addison 6M, Lachlan 5L, Ryan 5L, Anna 4K, Milah 1L (Nudefood winner), Oliver 2A, Charlotte 1B, Hudson 3B. Well done!
Community News