Week 7, Term 2 2022 - 31st May 2022
Principal's News
Satisfaction Survey
Many thanks to the parents, staff and Year 4-6 students who gave their feedback at our recent School Satisfaction survey. A total of 216 parents, 37 staff and 155 students participated in the survey, which gives our school great feedback to continue our improvement journey.
It is heartening to see that in each of the domains (Catholic Identity, Wellbeing, Effective Teaching and Learning, Staff Engagement, Leadership Partnerships and Resourcing and General) St Mary's scored an excellent rating (over 4 out of 5). The following graphs show a comparison of our satisfaction results over the past 3 surveys.
Staff Comparison Graph
Student Comparison Graph
Parent Comparison Graph
Parents
I love the fact Saint Mary's school have quality teachers that learn and grow with their students. The facilities compliment the teachers and staff. The strong religious factor helps students have a strong mindset of what's right and wrong when following in the footsteps of Christ.
St Mary's is a fantastic school, it is bringing out the best in my child, he has now gone from an average to above average student, all the staff are caring, with a real desire to bring out the best in every student.
St Marys atmosphere is beautiful! The school's relationships with the community and parents/friends is great. Every teacher has the students' best interest at heart.
The new facilities for prep and year 1 are great. My daughter loves learning there and is genuinely excited about what she has learnt.
The sense of community felt just walking into the campus. And the fact that you can feel the teachers care about each and every student. Our daughter loves going to school every day.
I like that it is very diverse with students from diverse and multicultural backgrounds. I like the amount of guidance teachings of the Lord and Jesus Christ by the school staff, it makes me feel relieved that my children can grow up with a good moral mindset.
My child is not just a number, they are valued by the school, teachers & support staff. My children are happy & I think the school do a great job in creating a fun, safe environment for the children. I love that the staff cared so much about the children they went above & beyond during covid to ensure there was limited disruptions & there was still the most anticipated events still held for the children. Covid was not an excuse for children missing out.
St Mary's is a wonderful school community where everyone is welcome. There are excellent academic opportunities for student s as well as sporting, cultural opportunities. The school staff are dedicated and hard working. The school grounds and facilities provide wonderful learning environments.
The experienced teachers that push the students to be their best. The leadership are responsive to resolve issues between students. The teachers and leadership are good role models for the students.
Very welcoming when we transferred from another school; Very personal feel; All teachers are very approachable; such a warm and loving environment for all the kids. We've been so happy that our kids have had the privilege of attending St Mary's.
The welcoming and caring nature of the entire school; Strong and dedicated leadership; Children feel safe and valued; Opportunities for children to excel in all areas, academic, sporting and cultural.
We love the values that are being instilled in our children, they are receiving a great education at St Mary's but we love that the focus is more about producing good people with great values, that are academically competent and to enable them to pursue their future goals; the leadership and teaching staff are positive and inspiring; the school community is wonderful to be a part of.
Students
Nice friends and teachers and I love the ninja playground. (Year 4 student)
St Mary's is a good school I like that they provide you with activities like eco hero's and environmental club. I also like that they teach you many different strategies to learn and figure it out because not everyone learns the same. The other good thing is that they care about the waste and what bin you are putting it into. And you can do different things at lunch. They also help you out with your learning when you are struggling. The last thing is that we do a lot to do with religion and they teach us how to treat one and other. (Year 4 student)
That there's lots of kind people in this school. I forgot my lunch box one day and a boy in grade five found it; he read the name and tried to find me. I felt warm inside when he did that. (Year 4 student)
I can't really decide the best bit about the school when it's all so great. The teachers are wonderful and everyone is so friendly, I couldn't ask for a better school than St Marys. I get so much support and everyone is so helpful. (Year 5 student)
I like that the school has a variety of teachers and teacher aides that will always try to help you. It is a very welcoming school and that you can always count on a classmate. (Year 5 student)
I love the education, and the learning is really understanding, it is very welcoming as they cheer the new people and they never let us to give up. St Mary's has all the things that you need to run a school. (Year 5 student)
St Mary's is safe and caring about the planet. This school is really clean and tidy in my opinion. Teachers also listen carefully on what the students have to say, letting everyone have a chance to show them their differences. The teachers also work hard to make students reach up to their potential and really set the example of what MJR (making Jesus real) is. This really is good. (Year 6 student)
The students and teachers at our school are nice and encouraging. The peer support groups seem to help younger students learn more about Making Jesus Real and how you should treat others. I also think that school camp is an awesome opportunity for grade 5 and 6. Things that I like about grade 6 are Camp, Leading MJR groups and Challenge cup. (Year 6 student)
Staff
The shared commitment to encouragement, care and respect for all. These are not mere platitudes, they are what the students, staff and community recognise as prevalent in our school. Staff and students clearly strive to exemplify these virtues and the flow-on effects make our school an enjoyable to place to teach, to learn and to grow.
St Mary's is a great school community to be part of. The staff work cohesively and provide lots of support for each other. RTI and BOOST provide opportunities for grade teachers to work as a team and the new classrooms make working together easy. The school grounds, buildings and classrooms provide a wonderful learning environment for staff and students. The staff work as a team to ensure that student well-being is high. Having an ex-classroom teacher as the school counsellor is a great advantage that we have at St Mary's. The leadership team are supportive of staff and are approachable.
St Mary's feels like a family where our values of encouragement, care and respect are permeated through the school every day. I currently feel that I am a valued and respected staff member at our school. All teaching staff work hard towards the common goal in making a difference in the lives of our students.
The staff are so happy and supportive of each other; the staff are a fun group of people. RTI has changed the way I teach and assess, so many resources available. BOOST reading sessions for every student is wonderful. Lots of teacher aides who really care about the students; very knowledgeable staff who are easy to approach and ask for advice; supportive leadership team; many opportunities for students to participate in a variety of activities (cultural, academic and sporting). Having specialist teachers, literacy coach and learning support staff; additional non-contact time is much appreciated.
What I like most about St Mary's is how caring and supportive that all the staff members are. You always feel welcomed by the staff and students when you walk into the school gates and there is always someone who is happy to help you when you are in need.
Support and genuine care from all staff members from leadership down. The staff's ability to deal with all issues, no matter how small, with a sense of urgency, diplomacy, confidentially and with the respect that these issues deserve. The teaching staff, learning coordinators and leadership all work together.
The supportive and friendly staff, including an approachable leadership team. We are given time to consult with our teaching partners and have been given support that we require from leadership in all areas of our teaching and learning.
Positive feedback is always great to receive, and I thank respondents for these lovely sentiments. Our survey also called for recommendations, which give us good information about ways to improve the educational offering of our school. In summary, they include the following areas;
Before/After school care
Drop-off/pick-up issues
Homework
Consistent classroom/school communication
Technology use
Behaviour management consistency
Reducing interruptions to teaching time
Enhance the Prep playground area
Extra-curricular activities
Parent engagement in middle/upper years
Longer lunch times
Air-con in the Hall
Enhanced recycling/rubbish program
I thank each person who submitted a response to this survey. Your feedback is valued and will be used to affirm the good work happening at St Mary's and give direction for further improvement. Our school staff and school board will work closely with this information in the coming weeks and months. If you have any questions, please do not hesitate to contact me.
All the very best,
Wes Rose: Principal
From our Principal - Mr Wes Rose
Student Technology Use / Wearable Devices (e.g. Smart Watches)
I issue a timely reminder to parents and student of the St Mary's guidelines pertinent to technology. This is in response to an increase in students wearing smartwatches that are video/photo capable, as well as an observed rise in student social media use. An executive summary of this document is as follows;
The general advice is that while allowed, students should avoid bringing technology devices to school.
Students who bring digital technology devices (e.g. mobile phone) to school are to store them in the office for safekeeping throughout the day. Upon departure from school, students collect the device from the office, which can then be used for normal and appropriate use.
Students should avoid bringing wearable tech devices to school, as they provide a significant distraction throughout the day. If wearable tech is worn at school, the use of any audio or video recording function is prohibited. If a wearable tech device is deemed by the teacher to be causing a distraction, it will be confiscated until the end of the school day.
Student use of social media is strongly discouraged. If parents consent for their child to have a social media account, the age restriction of the social media platform should be consulted. Regular monitoring of any social media account should be conducted by the child's parents. More information can be found
If you have any queries about this, please contact me.
Staff News
- This Wednesday, our school will participate in the interschool moderation for NCCD. Mrs Dalglish (Learning Support teacher) and Ms Lenz (Year 1 teacher) will attend.

Baby news!
- Congratulations to Mr Phil Clancy (groundsman) on the birth of his grandson, Zaiden Grech.
- Congratulations to Mrs Jenni Motteram (Year 6 teacher) on the birth of her grandson, Elijah Motteram.
Congratulations Bishop Michael
Last weekend, Bishop Michael McCarthy celebrated his eighth anniversary since he was Ordained as Bishop of Rockhampton. We thank Bishop Michael for his care and leadership of our Diocese and wish him continued blessings in his ministry as shepherd to the people of the Diocese of Rockhampton.
Bike/Scooter Survey
In partnership with Arup and Zwart Transport Planning, the Department of Transport and Main Roads is gathering insights from parents and carers and staff about bicycle and scooter parking at schools across Queensland. The Queensland Department of Education and Catholic Education Diocese of Rockhampton has granted permission for schools to be involved in the research. If you would like to contribute your experiences and assist in improving bicycle/scooter parking at schools, we invite you to complete the following online survey by Friday, 24 June 2022. Bicycle and scooter parking at schools survey
Quote of the Week
"Who you think you are each day, completely determines the universe you live in."
-Ram Dass
St Mary's Trivia Night
From our APRE - Mrs Terri Leotta
Mackay Homeless Expo
St Vincent de Paul will be holding a stall at the Mackay Homeless Expo next Thursday 2nd June. Unfortunately their stock of non-perishable foods and blankets which are handed out to people experiencing homelessness, are running very low.
They are seeking any donations of these items. The donations can be dropped off to school or at the Vinnies office on the corner of Juliet and Hamlet Street.
This year we will also support the Vinnies Winter Appeal and ask that any of these same items be dropped into the school office by the end of Term 2.
May - The Month of Mary
May is traditionally dedicated in a special way to honoring Mary as the Mother of God and Mother of the Church.
Thank you once again to Year 5R who have created beautiful artworks in her honour. Some more of these have been showcased below.
Backflips against Bullying
Today all students watched, cheered for and participated in the Backflips Against Bullying performance. This program was chosen by St Mary's because it is evidence-based and is supported by Evelyn M Field OEM, respected psychologist and author of the Australian schools handbook to anti-bullying 'Bully Blocking'. In addition to this, Backflips Against Bullying is a registered Trusted E-Safety Provider with the Australian Government. The programs have been carefully tailored to reduce bullying amongst students through role play demonstrations of real-life scenarios delivered through high-action, music and content geared to the students' level. Clear messages were given to students which included what to do if you were being bullied, the effects of bullying, the importance of standing up for others and the negative effects of retaliation.
Mrs Terri Leotta
Assistant Principal: Religious Education
National Reconciliation Week
National Reconciliation Week—27 May to 3 June—is a time for all Australians to learn about our shared histories, cultures, and achievements, and to explore how each of us can contribute to achieving reconciliation in Australia.
We will be recognising this week with the following activities;
-The Too Deadly Mob will be presenting something special on June 3rd assembly, which is also Eddie Mabo Day, so there will be a guest speaker talking about the significance of this day.
-Prep - Yr 2 : Performance that will be recorded to be presented on the screen.
-Yr 3 - Yr 6 : A video presentation of What is Reconciliation, What it means to them etc
There will also be a colouring competition that the whole school will participate in.
Sport News

Congratulations to Thomas Hurley on his 1st place in the U10's Capricornia Cross Country. All the best at the Queensland Schools Championships in July.
Interhouse Athletics 2022
Our Interhouse Athletics is to be held across 3 days.
Thursday 9th June will be the Interhouse Field Events for 9,10,11 and 12 year old students (2013 – 2010) on St Mary's oval.
Tuesday 14th June will be the Interhouse Track Events for years 3,4,5 and 6 at the Mackay Aquatic and Recreation Complex, Boundary Road, Ooralea.
The Prep- Year 2 Carnival will be held on Thursday 23rd June. Prep- year 2 will participate in a 65m sprint, 4 x 65m relay and rotate through modified field events and ball games. The junior carnival will be held on St Mary's oval.
The Interhouse Field Event Day will be broken into two sessions, session 1 starting at 8:40 and session 2 staring at approximately 11:45. Students born 2013 and 2012 will rotate through Discus, Shot Put, Long Jump and High Jump during session 1. Students born in 2011 and 2010 will compete in the same events during session 2. Students should be wearing their sports uniform and remember their hats. Students born in 2014 in year 3 will stay in their classrooms for the day.
The Interhouse Track events will be at the Mackay Aquatic and Recreation Complex, Boundary Road, Ooralea. All students in years 3-6 will bus over to the venue first thing in the morning so please ensure your children arrive to school on time. Snack, lunch, water bottles and hats will all need to be taken to the field with the students. Students are asked to wear running shoes and socks, HPE shorts and their house shirt. Students will need to sit with their team rather than with family to ensure they do not miss their race. Events on this day include 800m (optional), 100m, 200m and relays. There is room for spectators if you would like to bring a chair or rug, but please take photos from behind the fence. If you choose to take your child home early, please let one of the staff members know.
I am in need of volunteers to ensure our carnivals run smoothly. Helpers are needed for marshalling and ribbon writing. Please email simone_sibley@rok.catholic.edu.au with your preferences if you are able to help out. Thank you in advance for your support and to those who have already offered their time.
Simone Sibley
HPE Teacher
HPE Week
Last week St Mary's celebrated Qld HPE Week with special activities to promote the importance of HPE in the learning and development of children. We had a fun filled week with lots of lunch time activities which included Just Dance sessions, hula hoop, monkey bar, parachute and ninja warped wall challenges. As a school we attempted to run 1740km around our school oval which is the same as running from St Mary's to Somerset (tip of Australia). We ran laps of our oval before school, during PE lessons and as brain breaks in class time but unfortunately did not quite make it. We managed to run 3665 laps of the oval which was about 1356km. This means we ran from Mackay to Archer River which is only 370km below Somerset (tip of Australia).
We have postponed the Staff vs Year 6 Dodgeball Game until we have more students and staff available.
Prev
Showing images
1 - 8
of 12
Next
HPE Lessons Reminder - Please bring your hat!
Parents please note: HPE lessons for the remainder of term 2 will be held outdoors in the sun. Please remind your child to bring their hats to school & ensure they are labelled with their name.
Health News
School Sores (or Impetigo)
Parents are advised that there seems to be an outbreak of school sores (impetigo) in the wider community.
School sores (impetigo) is an infection of the skin and called "school sores" because school age children are usually the most likely to be infected and sores can be spread throughout a school.
Impetigo is caused by bacteria that are able to live in the nose, throat, on the skin or in other parts of the body.
These sores can be anywhere on the body but often appearing on the face near the mouth and nose or on the arms and legs.
Impetigo is easily spread.
It is more common in hotter months.
What does it look like?
Impetigo usually starts with a blister or a group of blisters
The blister bursts leaving a patch of red, wet skin which weeps.
The spot becomes coated with a tan or yellowish crust.
The spots can be itchy.
What to do?
Please see a doctor to check the condition. Antibiotics are usually required to clear up the infection.
Keep area clean with regular washing.
Clothing, sheets and towels need careful washing.
Impetigo is contagious. Children need to remain at home until antibiotic treatment has commenced for 24 hours and sores must be covered with a watertight dressing.
Please advise our school office or the class teacher if your child has been infected. We are monitoring our school situation and encouraging our students to be vigilant with hand washing.
Thank you for assisting us in all health matters.
Reconcile Life - Goodways Campaign
Last week, we were very fortunate to have Reconcile Life bring their Goodways Campaign to our school to promote family safety and DVF awareness across to the next generation in a fun and healthy way. The students (and teachers) loved the music, dance and awesome live action show from JC Action Sports.
Student of the Week
Week 6, Term 2 Student Award Winners
Prep C
Amber
For your excellent work creating number sentences this week. Your number formations were perfect and your answers were spot on!
Prep C
Lochlan
For great work with your Daily 5 activities this week. We especially loved the concentration you showed when drawing Edward the Emu.
Prep P
Narnia
For great work with your insect writing this week. You are trying to sound out words and are remembering to use your heart words. Well done Narnia!
1B
Imogen
For being a number wizard when you can quickly and accurately order numbers to 100! Amazing work!
1L
Jackson
For the extra big effort you put into your Boost Reading this week. Keep working hard!
1L
Evan
For always trying hard on all tasks. You are becoming so independent!
2A
Finn
For being a polite, responsible member of 2A, and a role model to others.
2B
Isabelle
For the effort you are making in your Boost reading group. You have been making some thoughtful contributions to your group discussions. Well done, Isabelle!
3B
Hannah
For the fantastic calculating you have been doing when working out change. Great work!
3B
Levi
For all of the help you offered when moving our classroom. Nothing was too much for you to do. Thank you!
3M
Audrey
For the way you have tried your best in all of our tests this week. You were focused and kept on task the whole time.
4C
Lauren
For your impeccable organizational skills. You take on your class roles with enthusiasm and expertise. You are a delightful class member Lauren! Thank you
4K
Daniel
For your outstanding ability to represent common fractions as hundredths and decimal fractions - you are a 'Mathmagician' - great work!
4K
Connor
For your impressive ideas and reasons for persuading the town Mayor to bring an International Airport to Mackay - he's sure to say yes! Well done.
5L
Coco
You have produced some of the most amazing artwork this week. From the most beautiful 'Mary our Mother' sketch and design in our Religion lessons, to your fabulous futuristic keyhole story. Wow Coco! Wonderful work!
5L
Lachlan
This week you took some fabulous snaps with your camera for the Snapshots Camera Club!! It's wonderful to see you really take on board balance, the rule of thirds, lighting and leading lines! I can't wait to print and display your work! Well done!
5R
Jack
For continuing to persevere through challenges and always trying your hardest in maths lessons. Keep up the fantastic effort.
5R
Cooper
For always asking inquisitive and meaningful questions during Boost groups and class discussions. Your contributions are appreciated.
6M
Harmoni
For your problem-solving skills in RTI sessions this week. You successfully shared your thought processes with the group in a confident and logical manner.
6V
Zakayah
For the enthusiasm and diligence you have shown when researching Caritas and and preparing your Caritas stall. Great work Zakayah.
6V
Cassandra
For using evidence and excellent images to support your point of view when creating your persuasive slideshow. Love your work Cassie!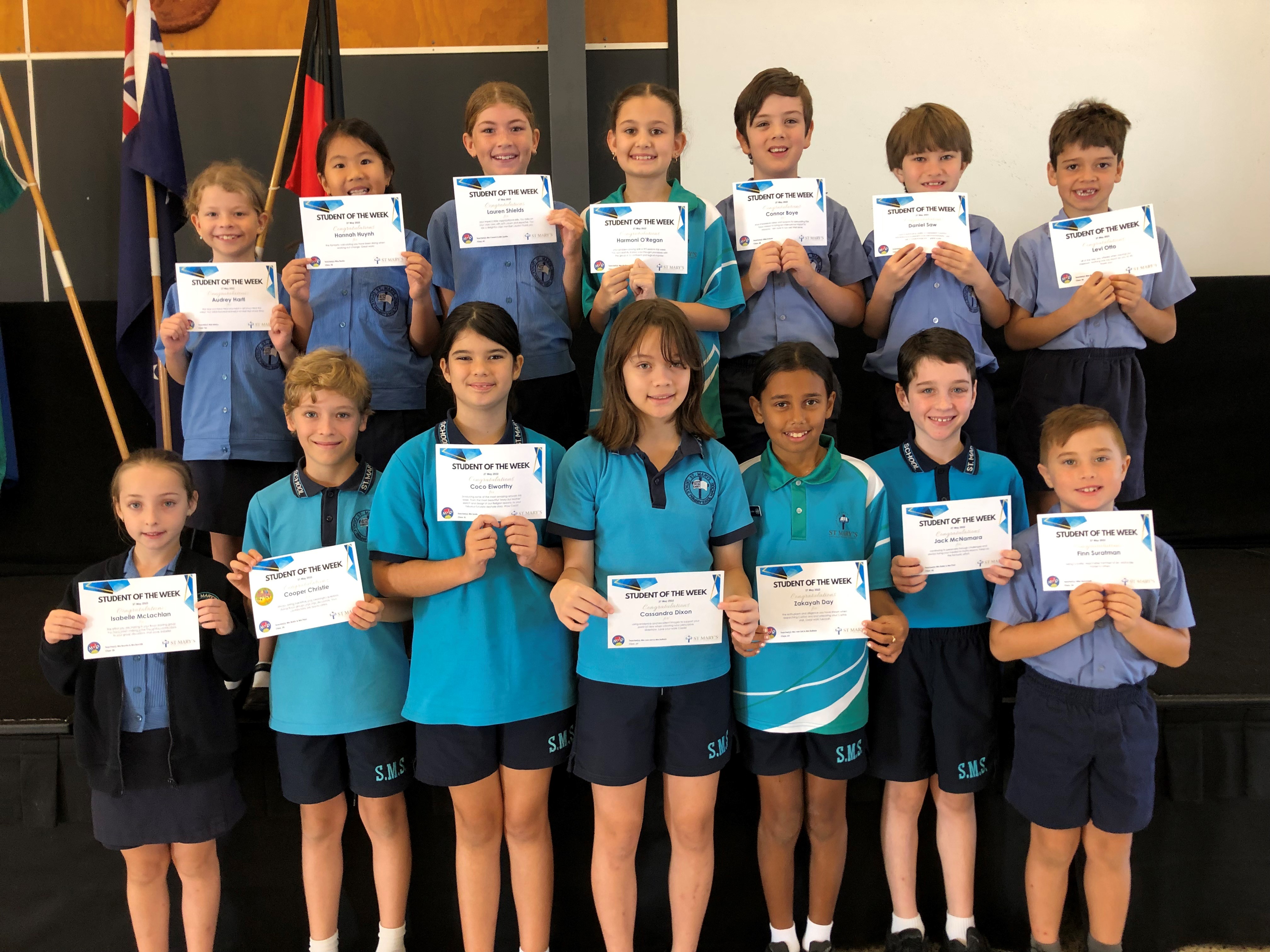 A Message from our Director
Community News
HOW TO LIVE IN THE POWER OF THE HOLY SPIRIT
DAILY DEVOTIONAL
Commencing Monday June 6, after Pentecost Sunday, join people across the country and around the world for a short, practical, and inspiring Daily Devotional video that you will receive in your inbox every morning to help you live in the power of the Holy Spirit.
Presented by Bruce Downes, known as The Catholic Guy, you will be inspired, refreshed, and renewed through these powerful and prayer daily reflections.
The Daily Devotionals are FREE, and you can sign up here: BruceDownes.org/HolySpiritDaily or go to our website BruceDownes.org