Week 8, Term 2 2022 - 7th June 2022
APRE's Reflection
This weekend the Christian Church celebrated the Holy Day of Pentecost. The word Pentecost is Greek and it means "50th day." Fifty days after Easter Sunday, Christians celebrate the coming of the Holy Spirit upon the Apostles and their followers, and the beginning of their Earthly ministry to make disciples of all nations.
The Coming of the Holy Spirit is revealed in Acts 2: When the day of Pentecost had come, they were all together in one place. And suddenly from heaven there came a sound like the rush of a violent wind, and it filled the entire house where they were sitting. Divided tongues, as of fire, appeared among them, and a tongue rested on each of them. All of them were filled with the Holy Spirit and began to speak in other languages, as the Spirit gave them ability.
The power of the Sprit that filled the room emanates from this reading. The disciple's surprise, elation, and fortitude to go out into the world filled with the Spirit, is evident in this reading. It may be worth reflecting on our own lives….
When was the last time that the wind of your Spirit roared through your life?
When was the last time fire lit up your heart?
When was the last time you had the expectation of the Spirit filling the world, and the lives of those you love with God's Glory and Power?
May your week be filled with wonder, expectation and aspiration, to cherish every minute and share the joy of belief in God with others.
Mrs Terri Leotta
Assistant Principal: Religious Education
https://alivepublishing.co.uk/2021/05/pentecost-overflowing-with-the-spirit/
https://www.vecteezy.com/vector-art/2543301-pentecost-sunday-holy-spirit
From our Principal - Mr Wes Rose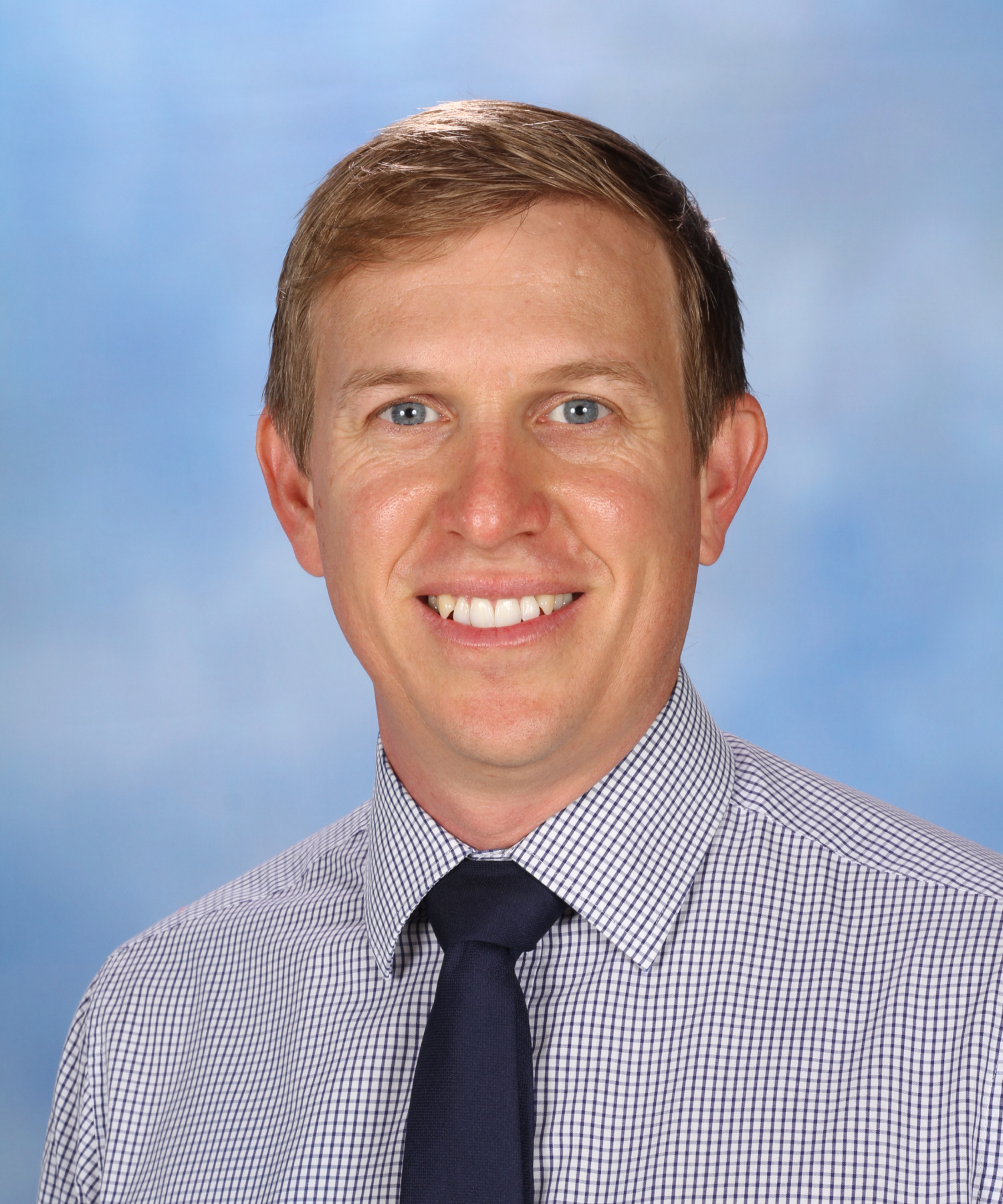 Athletics Carnivals
I look forward to the upcoming track and field days for all students. The carnivals are scheduled as follows;
Thursday 9th June 9-12 years Field event day at St Mary's.
Tuesday 14th June Year 3-6 Track events (100m, 200m, 800m and
relays) at the ARC.
Tuesday 21st June Southern Suburbs Athletics Carnival (10-12 years
rep carnival) at the ARC.
Thursday 23rd June Prep - 8 years Athletics Carnival at St Mary's.
Parents are most welcome at all of these carnivals. More details can be found in the article below from Mrs Sibley.
Staff News
- We continue to experience staff shortages due to illness and the drastically short supply of relief teachers. Please note that if your child's teacher is away, our intention is always to minimize the disruption to the class. This may mean that a relief teacher, leadership team member, learning support teacher or our literacy coach will teach the class. If these options are not available, specialist teachers may have to be redeployed. If this occurs, classes that miss their specialist lessons will have these HPE/Arts lessons made up at a future time. I thank all parents for their understanding at this time.
- Next Tue and Wed, Mrs Berardi and Mrs Rokic will attend an Autism awareness training session.
- This Friday, I will attend the Mackay Regional Principals' meeting. Mrs Leotta will be acting principal in my absence.
Show Holiday
A reminder to parents that next Thursday 16th June is the Mackay Show Holiday. This is a pupil free day.
Lunchtime Eating Procedures
Your child may have gone home discussing some different procedures at lunchtime. In summary, please find below what to expect at lunch/afternoon tea time:
Prep and Year 1 sit in the tuckshop area. Years 2-6 sit on the basketball court.
Students are asked to find a seat with their friends. At their spot, they can eat and talk with their friends. We ask students to limit moving around at this time. Students eat for 15 mins (no change).
After eating time, students with any rubbish are encouraged to use the 10c recyclable bin (for poppers), red soft plastic bin (for clean, soft plastics, glad wrap, etc), foodscraps bin (for fruit, sandwich scraps) and Green wheelie bin (other general waste). Our Eco Heros are on hand to assist students to work out what bin their waste goes into.
Afterwards, students are then dismissed to play for the remainder of the break time (no change).
These procedures are attempting to reduce the waste sent to landfill. Ideally, we ask that all students bring a lunch free of single use plastics and wrappers. I thank parents for assisting in this regard. If you have any questions, please let me know.
Semester 1 Report Cards
Please note that student report cards will be released on Parent Lounge on Thursday 23rd June, 4pm. This report card is a summary of your child's learning and achievement for the Semester. I ask that all parents access their child's report card and read/discuss this with this child. I also alert parents to the letter from our Diocesan Director (attachment below), regarding the 'on-balance' decisions your child's teacher may make if there has been significant student absences this semester due to illness. If you require further information, please let me know.
Quote of the Week
"Kind words can be short and easy to speak, but their echoes are truly endless"
-Mother Teresa
Readers Cup
Today St Mary's School competed in the Mackay regional competition of the Readers Cup. The team had to read five novels and compose questions and study notes to test each other. Today they were awarded winners and have been invited to compete in the state final in Brisbane. Congratulations to: Katie, Lara, Lily, Millie and Georgia. Well done girls!
Curriculum News - Mrs Belinda Battaia
Premier's Reading Challenge
The 2022 Premier's Reading Challenge kicked off last month. The challenge is not a competition but aims to improve literacy and encourage children to read widely for pleasure and learning. Students at St Mary's will challenge within their school by recording all the books they read between now and 26th August 2022. The winning class will be announced on assembly following the closure of the competition and the collation of results. Let's get reading St Mary's!
Mackay Primary Schools Mathematics Challenge
Year 5 and 6 students have been asked to put their name down if they wish to be considered for the St Mary's team to compete at this years Mackay Primary Schools Mathematics Challenge. The event will take place at St Joseph's Catholic Primary School on Friday 22nd July from 8:30-11:30am. Please ensure your child has seen Mrs Battaia if interested. In the event that we have too many applicants, a short quiz will be given to decide the final teams.
Belinda Battaia
Assistant Principal: Curriculum
Prep Vision Screening
Good vision is important for a child's educational, physical and social development. Vision screening checks for common eye conditions that may impact your child's ability to see and therefore impact their learning and development.
A Registered Nurse will be visiting St Mary's on Tuesday 16th August to conduct vision screening for children in their prep year. Your child does not need a Medicare card in order to participate in screening. If you wish to have your prep child participate in this free vision screening program, please complete a consent form by Wednesday 15th June. Online consent forms will be distributed to you or paper consent forms are available upon request from your school. Parents do not need to be present for screening, however if you would like to be, please contact the school to arrange this.
If your child's vision is screened, you will be advised of the results in writing. If a vision concern is found, you will receive a phone call from the nurse to discuss referral to an eye health professional for further assessment. If a vision concern is identified and your child requires glasses, eligible health care card holders may be assisted with free basic glasses through the Spectacle Supply Scheme.
Participation in vision screening is not compulsory. If you do not wish for your child to participate in screening, please complete the consent form and indicate that you wish to decline screening.
If you have any questions, please contact the Primary School Nurse Health Readiness Program on 1800 687 372.
From our APRE - Mrs Terri Leotta
Sacramental Program 2022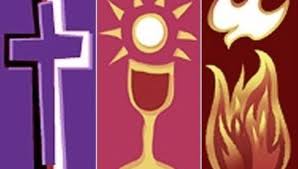 A reminder that our 2022 Sacramental Program begins this Saturday with our Confirmation Enrolment Mass at 5pm at St Mary's Church. Other important dates are as follows:
School Officer Day
School Officer Day on Wednesday, 8 June 2022 is our opportunity to celebrate the vital role support staff play in education. Schools simply would not function without school support staff. From teaching assistants, grounds staff, administrative staff to cleaning staff, library staff and IT specialists, support staff are dedicated professionals. We would like to thank them wholeheartedly for their dedication and expertise.
Year 6 Caritas Stalls
Last week our Year 6 students had a busy two days organising food, gifts and raffles for our annual Caritas Stalls. This event is always enjoyed by all of the students at St Mary's and over $2000 was raised to support Caritas. Well done to our year 6 students and their families.
Prev
Showing images
1 - 8
of 10
Next
MJR Scavenger Hunt
On Friday in our MJR groups we learned about the Ascension of Jesus and also discussed the importance of respecting the Environment.
To investigate our school environment further, each group went on a scavenger hunt with the added challenge of remaining in one line as a group for the duration of the task.
The photos show the fun that was had, and the learning shared. This Friday is our final MJR Peer-led Session but our class lessons and MJR Kid's Club will continue.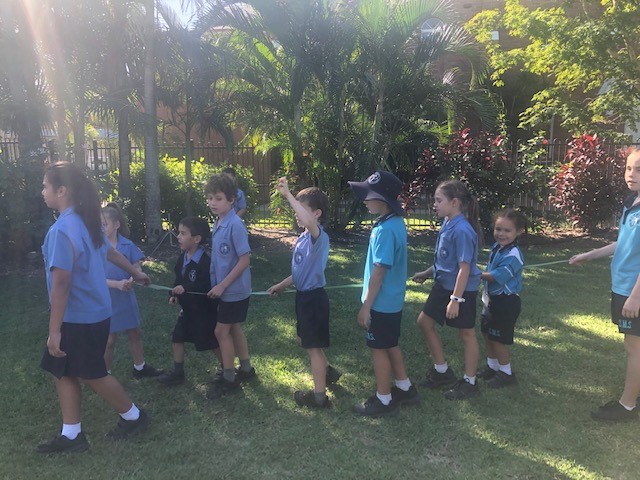 Sport News
Interhouse Athletics 2022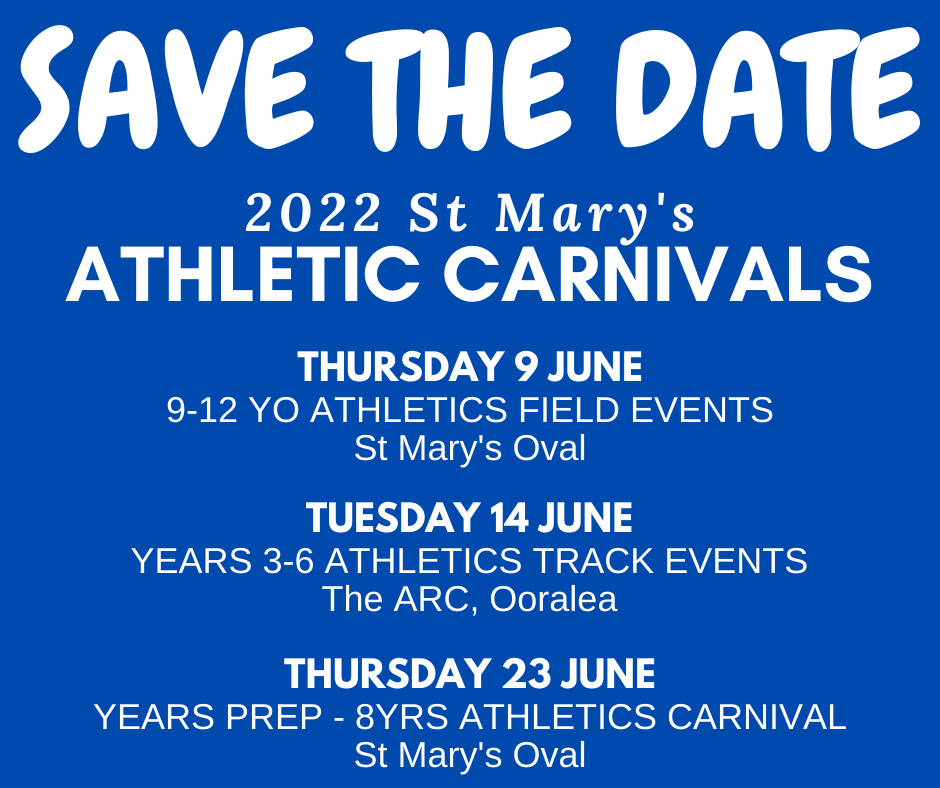 Our Interhouse Athletics is to be held across 3 days.
Thursday 9th June will be the Interhouse Field Events for 9,10,11 and 12 year old students (2013 – 2010) on St Mary's oval.
Tuesday 14th June will be the Interhouse Track Events for years 3,4,5 and 6 at the Mackay Aquatic and Recreation Complex, Boundary Road, Ooralea.
The Prep- Year 2 Carnival will be held on Thursday 23rd June. Prep- year 2 will participate in a 65m sprint, 4 x 65m relay and rotate through modified field events and ball games. The junior carnival will be held on St Mary's oval.
The Interhouse Field Event Day will be broken into two sessions, session 1 starting at 8:40 and session 2 staring at approximately 11:45. Students born 2013 and 2012 will rotate through Discus, Shot Put, Long Jump and High Jump during session 1. Students born in 2011 and 2010 will compete in the same events during session 2. Students should be wearing their sports uniform and remember their hats. Students born in 2014 in year 3 will stay in their classrooms for the day.
The Interhouse Track events will be at the Mackay Aquatic and Recreation Complex, Boundary Road, Ooralea. All students in years 3-6 will bus over to the venue first thing in the morning so please ensure your children arrive to school on time. Snack, lunch, water bottles and hats will all need to be taken to the field with the students. Students are asked to wear running shoes and socks, HPE shorts and their house shirt. Students will need to sit with their team rather than with family to ensure they do not miss their race. Events on this day include 800m (optional), 100m, 200m and relays. There is room for spectators if you would like to bring a chair or rug, but please take photos from behind the fence. If you choose to take your child home early, please let one of the staff members know.
I am in need of volunteers to ensure our carnivals run smoothly. Helpers are needed for marshalling and ribbon writing. Please email simone_sibley@rok.catholic.edu.au with your preferences if you are able to help out. Thank you in advance for your support and to those who have already offered their time.
Simone Sibley
HPE Teacher
Sport Star
Congratulations to Zac Callinan for his selection in the Capricornia Football team. All the best at the Queensland Schools Championships Zac.
St Mary's Battlers
Last Wednesday, the Battlers took to the field for their first game this year. The combination of new jerseys and playing positions certainly worked in our favour because we came away with a great 28-12 win against St Francis. Some excellent individual and team tries were scored by Fynn Shears, Harrison Roberts, Bodene Tass and Jack Watt. Well done to Sonny Richardson, Lucas Camilleri and Layla Bungay who ran strong through the middle and to our zippy outside backs Eddie Rose and Tyler Marteene who kept the sideline safe through their outstanding defense. Thank you to Mr Dave Roberts and his business D & F Earthmoving for the sponsorship of our new jerseys and to Mr Clancy for coaching the team. Tomorrow, we play Sarina State School at 4:50pm on field 3.
Grant Rovelli Rugby League Gala Day
Students born in 2012 or 2013 have been asked to put their name down if they wish to be considered for the Grant Rovelli Rugby League Gala Day. The event will take place at the Abbott Park fields on Friday 24th June. Please ensure your child has seen Mrs Battaia if interested.
HPE Lessons Reminder - Please bring your hat!
Parents please note: HPE lessons for the remainder of term 2 will be held outdoors in the sun. Please remind your child to bring their hats to school & ensure they are labelled with their name.
Mackay Show Holiday
REMINDER!
Mackay Show Public Holiday
Thursday 16th June
Student of the Week
Week 7, Term 2 Student Award Winners
| | | |
| --- | --- | --- |
| PC | Remy | For excellent reading during 'read to self'. Your teacher was so proud of you for using the words and sounds you know, to read the tricky book you chose - well done! |
| PC | Harper | For showing the virtue of kindness every day at St Mary's. You are always happy to help your friends and include them in everything you do! |
| PP | Bowen | For wonderful work during morning carpet time this week. You taught the class the months of the year song and helped us to change the calendar to a new month and season. Keep up the great listening and learning Bowen! |
| PP | Poppy | For great work with your writing. You are listening carefully for all the sounds and trying hard to write words and sentences. Keep up the wonderful work Poppy! |
| 1B | Olivia | For the well constructed and detailed retell you wrote this week. Your word choices and spelling were excellent! |
| 1B | Jacob | For making your teacher's mornings so enjoyable when you greet her with a big smile. Your cheerfulness and happiness is a wonderful virtue to have! |
| 1L | Chet | For great work comparing and working with the numbers to 100. |
| 1L | Alek | For your awesome improvement in all areas of literacy - you are reading, writing and spelling like a champ! |
| 2A | Oliver | For being an independent and self-motivated worker. Your enthusiasm for learning is commendable! |
| 2B | Jayda | Jayda, you are putting great effort into your Boost lessons. You are using all your strategies & you are becoming an amazing reader. We love your work. |
| 3B | Ashton | For the wonderful expression you used for the pirate voices in our BOOST Reading group. You brought the story to life. |
| 3B | Samuel | For the positive attitude and persistence you showed when catching up on your assessments. |
| 3M | Nate | For the confidence you showed during the Backflips Against Bullying show. You were so brave to volunteer to go up on stage and speak in front of the whole school. |
| 3M | Hunter | For the way you have actively listened and focused this week. You have tried your hardest to ignore distractions and focus on your work. |
| 4C | Sefton | For your insightful and well written persuasive text. Your reasons why Rugby League should be allowed to be played at break times was quite convincing. |
| 4C | Chiara | For your expertise when converting units of time. Well done Maths Whizz! |
| 4K | Harper | For being a fun and happy classmate. You are always looking for ways to make your friends smile. We are so lucky to have such a joyful person in our class. Thanks for being you. |
| 4K | Indy | For always being ready for learning. You are an organisational guru, your desk is even cleaner than your teacher's - Keep it up! |
| 5L | Nate | For using your problem solving skills during the fraction lesson. |
| 5L | Zac | For using your problem solving skills during the fraction lesson. |
| 5R | Louis | The grit and determination you bring to every task. You never give up and always put 100% effort in. Keep it up! |
| 5R | Madison | For being an organised, diligent, hardworking student every day. You are always trying your hardest to work to the best of your ability, well done! |
| 6V | Samuel | For demonstrating excellent skills when converting fractions to decimals and calculating percentage discounts. Keep up the great work Sam. |
| 6V | Jordan | For demonstrating GRIT in maths this week when calculating percentage discounts. Your perseverance and hard work paid off with some excellent results in your weekly assessment. Keep up the great work Jordan! |
| 6M | Lily | For creating, formatting and adding formulas to your Google Sheets document with speed and accuracy. Well done Lily. |
Community News