Week 9, Term 2 2022 - 14th June 2022
Principal's Reflection
Adorning the walls of the San Giuseppe Church in Molfetta, Italy, is a stained-glass window that is certainly very different from the traditional iconography we see in churches.
It is the first stained glass window depicting Blessed Carlo Acutis, the 15-year-old boy who was beatified on 10th October 2020 by Pope Francis. Beautification means that Carlo is on the road to being recognised as a Saint in the Catholic Church.
An Italian news article at the time described it in the following way:
"It's striking to see such an image decorating the church, because we're used to seeing stained glass windows with traditional coloured decorations including geometric shapes, animals, or the image of the Virgin, the evangelists, or Jesus Christ himself. We've never seen anything like it: the image of a contemporary adolescent, a blessed who transmitted the Gospel through social networks.
This representation of Carlo Acutis reminds us that holiness is closer to us than we think. His image—in jeans and sneakers—clashes with the traditional stained glass windows to which we are accustomed, and shows that holiness is closer to us than we think."
But who was Carlo Acutis? A quick search on Catholic News Agency turned up some very interesting facts about this remarkable teenager.
Carlo Acutis was born May 3, 1991, in London, where his parents were working. Just a few months later, his parents, Andrea Acutis and Antonia Salzano, moved to Milan.
As a teenager, Carlo was diagnosed with leukemia. He offered his sufferings for Pope Benedict XVI and for the Church, saying ""I offer all the suffering I will have to suffer for the Lord, for the Pope, and the Church."
He died on Oct. 12, 2006, and was buried in Assisi, at his request, because of his love for St. Francis of Assisi. His cause for canonization began in 2013. He was designated "Venerable" in 2018, and was designated "Blessed" October 10, 2020.
From a young age, Carlo seemed to have a special love for God, even though his parents weren't especially devout. His mom said that before Carlo, she went to Mass only for her First Communion, her confirmation, and her wedding. But as a young child, Carlo loved to pray the rosary. After he made his First Communion, he went to Mass as often as he could, and he made Holy Hours before or after Mass. He went to confession weekly. He asked his parents to take him on pilgrimages — to the places of the saints, and to the sites of Eucharistic miracles.
His witness of faith led to a deep conversion in his mum, because, according to the priest promoting his cause for sainthood, he "managed to drag his relatives, his parents to Mass every day. It was not the other way around; it was not his parents bringing the little boy to Mass, but it was he who managed to get himself to Mass and to convince others to receive Communion daily."
He was known for defending kids at school who got picked on, especially disabled kids. When a friend's parents were getting a divorce, Carlo made a special effort to include his friend in the Acutis family life.
He was also a programmer and built a website cataloguing and promoting Eucharistic miracles. On the site, he told people that "the more often we receive the Eucharist, the more we will become like Jesus, so that on this earth we will have a foretaste of heaven."
Carlo loved playing video games. His console of choice was a PlayStation, or possibly a PS2, which was released in 2000, when Carlo was nine. We know he only allowed himself to play games for an hour a week, as a penance and a spiritual discipline, but he wanted to play much more.
Initially, there were reports that the body of Carlo Acutis was found to be incorrupt. A spokeswoman for Acutis' beatification told CNA that the entire body was present when it was exhumed, but "not incorrupt." He, however, lied in repose in a glass tomb where he was venerated by pilgrims until Oct. 17, 2020. He was displayed in jeans and a pair of Nikes, the casual clothes he preferred in life.
His heart, which can now be considered a relic, is displayed in a reliquary in the Basilica of St. Francis in Assisi. His mother said that his family had wanted to donate his organs when he died, but were unable to do so because of the leukemia.
"God's influencer," as he was known, used social networks to send a completely different message from the one that usually circulates through them. In Carlo's words,
"Why do people care so much about the beauty of their body, and don't care about the beauty of their soul? A life is truly beautiful only if we come to love God above all else and our neighbour as ourselves."
The lives of Saints are examples for all of us on how to live a life of love and service to others. I hope that in some small way, Carlo's story serves as an example of how, even in a world filled with challenges and distractions, we can still live a life that brings us closer to God.
All the very best,
Wes Rose
Principal
From our Principal - Mr Wes Rose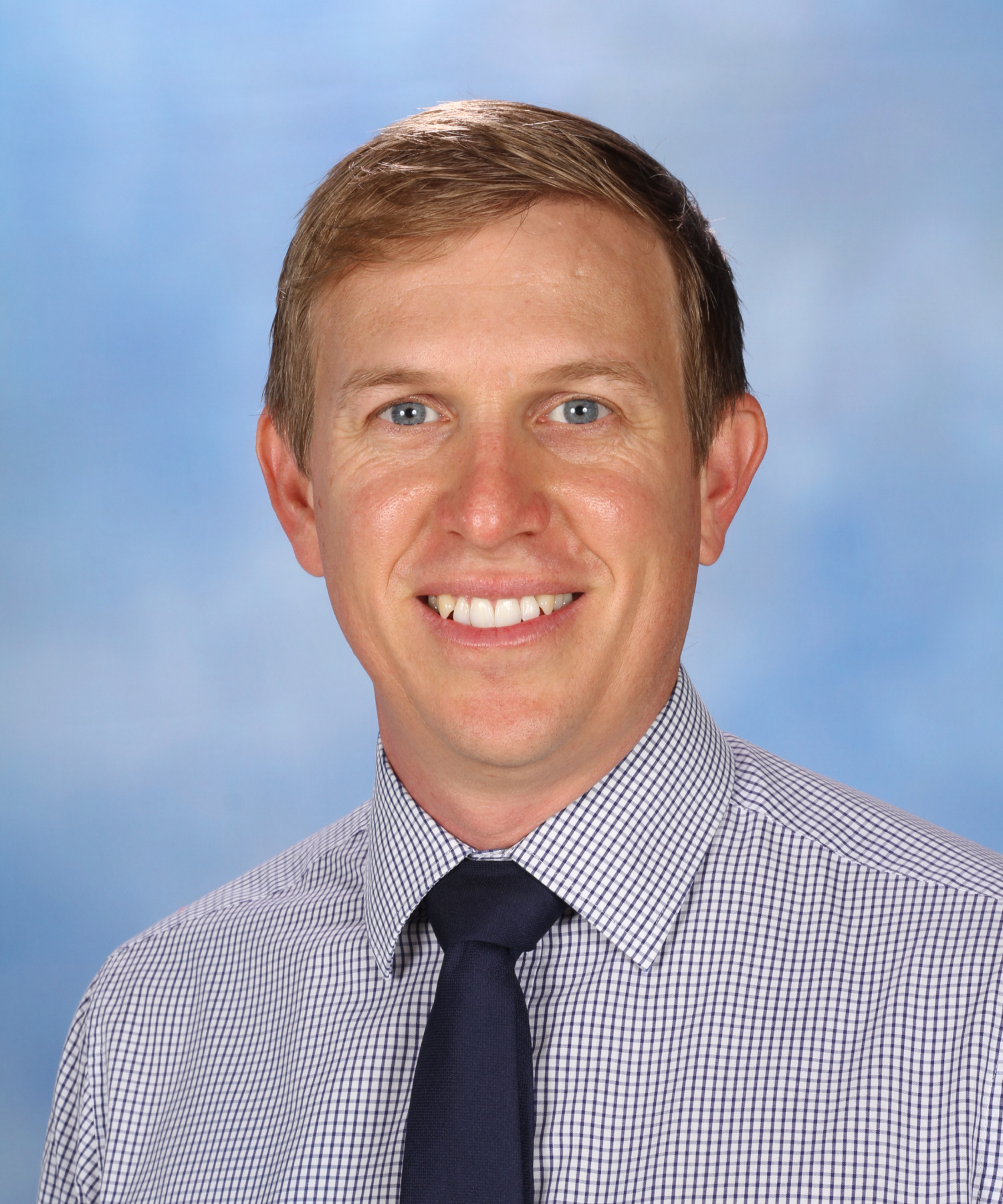 Staff News
Mrs Berardi and Mrs Rokic are attending an Autism training PD this Tue-Wed in Mackay.
I will be attending the Qld Catholic Primary Principals Conference this Wed-Fri in Yeppoon. Mrs Leotta is acting principal in my absence.
Mrs Standish is on leave for the remainder of the term. Mrs Yet Foy is replacing her in Prep P.

Show Holiday
A reminder to parents that this Thursday 16th June is the Mackay Show Holiday. This is a pupil free day.
Lunchtime Eating Procedures
Your child may have gone home discussing some different procedures at lunchtime. In summary, please find below what to expect at lunch/afternoon tea time:
Prep and Year 1 sit in the tuckshop area. Years 2-6 sit on the basketball court.
Students are asked to find a seat with their friends. At their spot, they can eat and talk with their friends. We ask students to limit moving around at this time. Students eat for 15 mins (no change).
After eating time, students with any rubbish are encouraged to use the 10c recyclable bin (for poppers), red soft plastic bin (for clean, soft plastics, glad wrap, etc), foodscraps bin (for fruit, sandwich scraps) and Green wheelie bin (other general waste). Our Eco Heros are on hand to assist students to work out what bin their waste goes into.
Afterwards, students are then dismissed to play for the remainder of the break time (no change).
These procedures are attempting to reduce the waste sent to landfill. Ideally, we ask that all students bring a lunch free of single use plastics and wrappers. I thank parents for assisting in this regard. If you have any questions, please let me know.
Uniform Reminders
With the cold weather upon us, it is timely to remind parent and students of the uniform expectations at St Mary's. A reminder to all families of our uniform guidelines. Some important areas to note include;
Students are to wear plain black footwear (formal shoes or joggers). Please note that appropriate footwear can be purchased from many retailers in Mackay, including Athletes Foot and Intersport.
Navy jumper with school badge on left side. Navy stockings or tracksuit.pants.
No coloured nail polish or acrylic nails.
Boys hair styles. Be neat in appearance and not falling into eyes or past the collar. Hair may not be dyed or worn in a style that is extreme or inappropriate for school (e.g. no tracks, rat's tails, mo-hawks, top knots, hair no shorter than gauge 2 or undercuts that have a large variance between length).
Boys: No earrings or body piercings.
Girls hair styles. Be neat in appearance and not falling into eyes. Girls with shoulder or longer length hair must have it tied back. Hair may not be dyed or worn in a style that is extreme or inappropriate for school. Hair accessories should be minimal and must be in colours of navy, blue or white.
Semester 1 Report Cards
Please note that student report cards will be released on Parent Lounge on Thursday 23rd June, 4pm. This report card is a summary of your child's learning and achievement for the Semester. I ask that all parents access their child's report card and read/discuss this with this child. I also alert parents to the letter from our Diocesan Director (link below), regarding the 'on-balance' decisions your child's teach may make if there has been significant student absences this semester due to illness. If you require further information, please let me know.
Quote of the Week
"All are born as originals, but many die as photocopies."
-St Carlo Acutis
From the P & F
On behalf of St Mary's P&F,
I would like to give thanks to all of our families, friends and local businesses
that helped make our 2022 Trivia Night a huge success.
Our Day at the Races was action packed with interesting Trivia facts,
an array of fashions of the field and lots of prize winners.
Thank you to our many sponsors that donated money,
raffle prizes and merchandise.
Gold Sponsors
Major Sponsors
The P&F would like to give a special thank you to the amazing volunteers who
took time to help set up, mark, run the bar, help on the night and pack away the event.
Danielle Hayward

Courtney Rogen

Nikita Kinnane

Dan Kinnane

Fiona Johnson

Kylie Ferriday

Adam Ferriday

Emily Camilleri

Lisa-Ann McNamara

Ashley Miles

Liz O'Neill

Patty Deguara

Emily Dalglish

Melissa McGuinness

Patrice Bettini

Natalie Phelan

Adam Pearce

Michael Durie

James Dunne

Bec Doll

Tanya Davies

Aileen Balding

Tahnee Armstrong

Dolly Louw

Sarah Vassallo

Erin Rose

Gavin Stables

Jay Rogers

Troy Cowan

Cait Bester

Andrea Pembroke
It was a close race with all teams vying for the St Mary's Cup, but there could only be one winner - Community Bank Sarina Bendigo Bank #1
won by a nose!
Bianca Miles
St Mary's Event Co-Ordinator
Sport News
Year 3-6 Athletics Carnival
A fantastic day was had by all students today in the Year 3-6 at St Mary's Athletics track day at the ARC. Thank you to the parents who came today, especially those that helped with jobs for the day. Stay tuned for photos in next week's newsletter.
Our results today were:
Eungella Green-600
Iluka White -610
Illawong Blue- 661
Iluka White took out the House Spirit award for their encouragement and support for each other and other teams throughout the day as well as making sure they were well represented in every single race.
We have had 4 records broken across our two event days. Congratulations to Oliver Standish, Harper Standish, Thomas Hurley and Ava Callinan for setting new records in their individual events.
Oliver jumped 1.20m in the 9 year old boys high jump which was 8cm higher than the previous record set in 2019.
Harper ran a time of 3.17.73 to beat the record set in the 800m in 1999 (3.19.31).
Thomas ran a time of 2.45.03 to beat the record set in the 800m in 1992 (2.51.34).
Ava ran a time of 15.52 to beat the 100m record from 2002 (15.56) and equalled the high jump record from 2020 of 1.15m.
Athletics Carnival - Field Events
Last week St Mary's had their 9-12 year old Athletics Field Carnival on the oval. Thank you to all the parents who came and watched and those who helped out. We would also like to shout out a big thank you to Mrs Sibley for a fantastic day. The students all performed very well, a few records were broken and they all competed with fantastic comradery and spirit.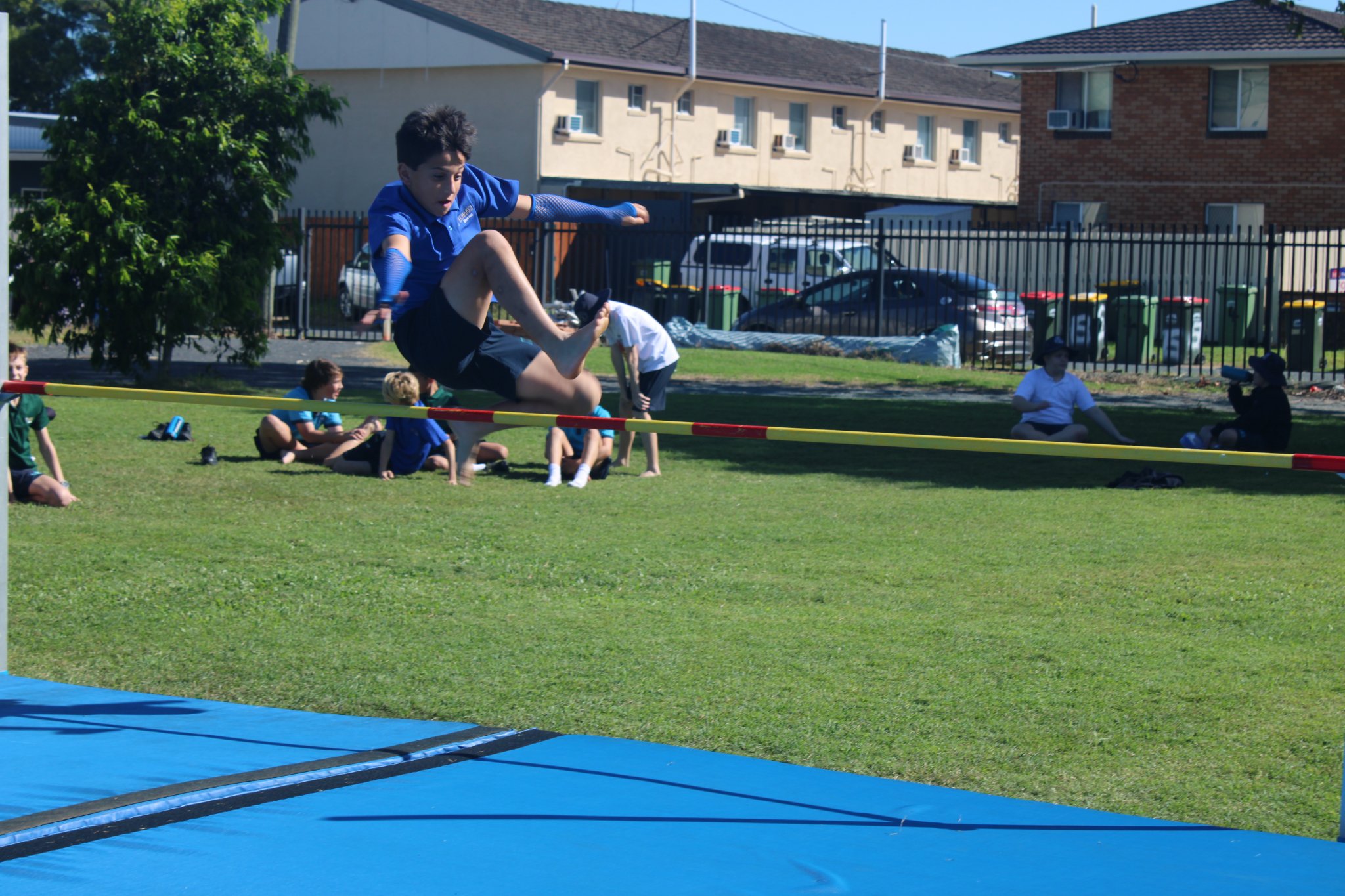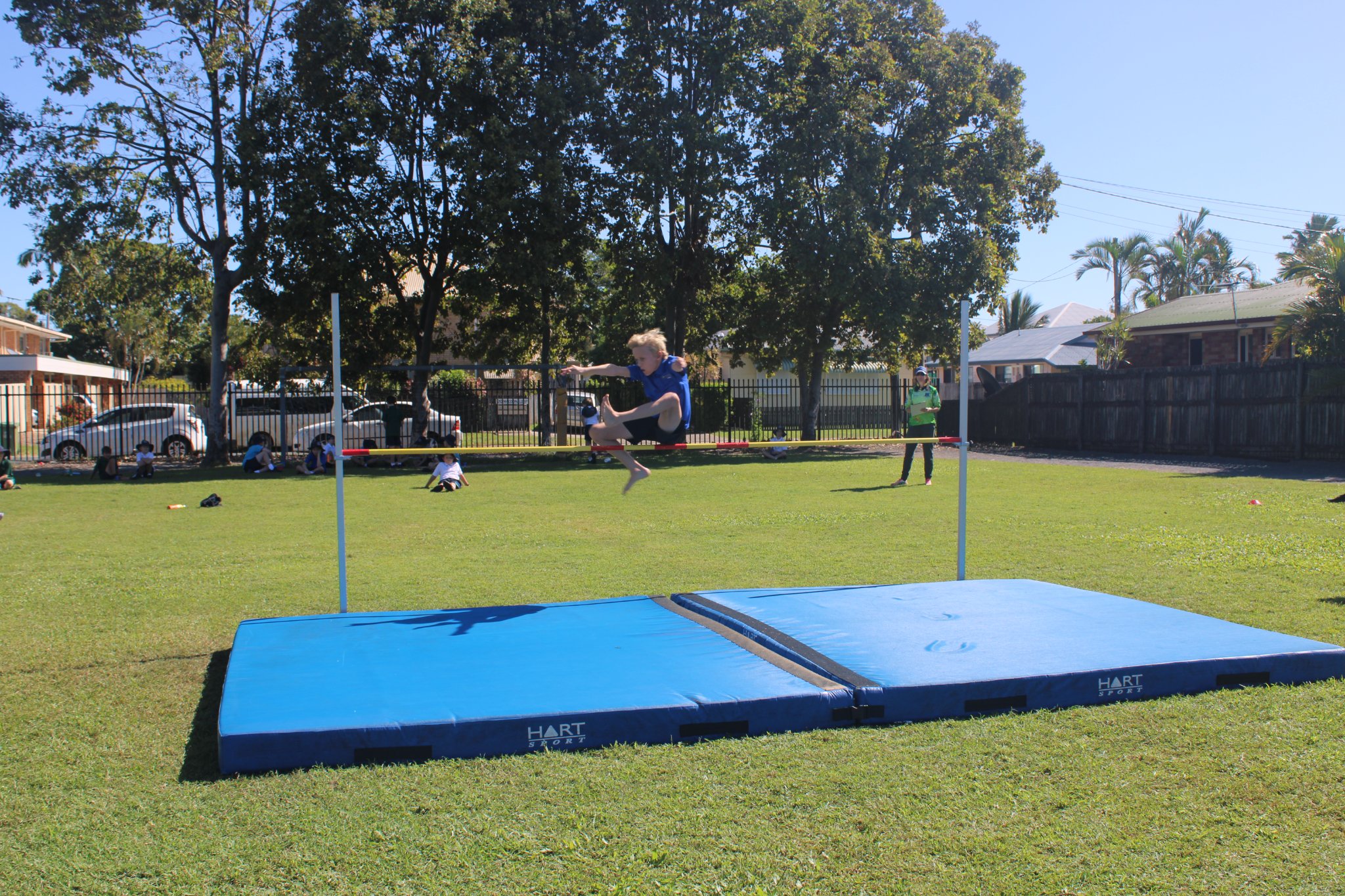 Prev
Showing images
1 - 8
of 23
Next
Prep - Year 2 Athletics Carnival
The Prep- Year 2 Carnival will be held on Thursday 23rd June. Prep- year 2 will participate in a 65m sprint, 4 x 65m relay and rotate through modified field events and ball games. The junior carnival will be held on St Mary's oval.
Rugby League
The St Mary's Battlers took out another great win on Wednesday afternoon with a 30-10 score over Sarina State Primary School. Jack Watt and Nate Keating co captained the team to victory with their quiet but hardworking defense and support, while year 5 students Archer Chamberlain, Zac Sheppard, Nev Lucas, Tom Hurley and Ryan Bettini came off the interchange bench with impact and commitment. Tomorrow, we play Eimeo at 4pm on field 4.
Vinnies Winter Appeal
Please help us to support the St Vincent de Paul Winter Appeal by donating warm clothing, blankets, bedding, etc.
Your donation will help keep others warm in these winter months ahead. Donations can be dropped into the school office.
Terri Leotta
Assistant Principal: Religious Education
Run Club
The final session for Run Club for 2022 is tomorrow, Wednesday 15th June. Thank you to all students who have participated so enthusiastically.
Mackay Show Holiday
REMINDER!
Mackay Show Public Holiday
Thursday 16th June
From our Regional Indigenous Education Liaison Officer
Recently 4K and 4C had Mrs Tatchell come into class to discuss sustainability from an Indigenous perspective. Students listened to methods of how Aboriginal people's knowledge of the land, animals and waterways helped them live sustainable lives. The students developed narratives and placed onto posters of what they learnt. Mrs. Tatchell was very impressed with the recall of knowledge and effort put into their work.
Karlie Tatchell
Regional Indigenous Education Liaison Officer
Student of the Week
Week 8, Term 2 Student Award Winners
| | | |
| --- | --- | --- |
| PC | Oliver | For being a champion at completing your work. You have worked extra hard this week to finish off all of the work you missed while being away. Thank you for being you! |
| PC | Thomas | For being an excellent audience member. You showed great listening and participation during our "Bravehearts Ditto Show" this week - well done! |
| PP | Emma | For wonderful work with your writing this week. You are trying hard to sound out each word. Keep up the great work Emma. |
| PP | Amelia | For great work during maths rotations this week. You listen and participate well at each activity, and were the 'number fly swatting' star! Thank you Amelia! |
| 1B | Lincoln | For the way you listened and participated so respectfully during the Bravehearts talk. You were an outstanding audience member! |
| 1L | Maggie | For your persistence and determination to achieve- no wonder you have improved in all areas of your learning! You're rocking it!! |
| 2A | Tane | For showing GRIT in your story writing. Wonderful work, Tane! |
| 2B | Wyatt | Wyatt, your hard work is to be commended this week. You have put such amazing effort into all your tasks and you have shown great commitment to your learning. Fabulous work! |
| 3B | Mia | For the beautifully detailed illustrations and detailed explanations of Jesus in the Gospels. Well done. |
| 3B | Piper | For the super effort and positive attitude you showed when catching up on the assessments you missed. You were a Super Star! |
| 3B | Reniel | For the pride you take in the presentation and neatness of your work. Your books are always a pleasure to read. |
| 3M | Maxwell | For being an active participant in our class this week. It has been excellent to see you participate in class discussions and be engaged with your work. |
| 4C | Evie | For the concerted effort you put in when completing Maths Online assessment tasks this week. You have shown impressive grit and determination. Well done! |
| 4C | Mackenzie | For the concerted effort you gave to your Maths Online Assessment tasks this week. You have shown impressive grit and determination. Well done! |
| 4K | Ellis | For having a tough week finishing all your assessment, but you powered through it anyway, showing grit and determination to complete hard work. You are amazing. |
| 4K | Brady | For writing a beautiful modern day parable about a soccer team encompassing Jesus' vision for the world to always find forgiveness in your heart. |
| 5L | Charlotte | You have made a super effort with your Pop Art this week and your finished portrait certainly 'POPs'! Andy Warhol would be impressed! It looks spectacular! |
| 5L | Thomas | It has been wonderful to see your enthusiasm when singing the prayer before lunch this week. Your efforts were impressive. |
| 5R | Isack | For the effort you are showing maths lessons. You are applying yourself and staying focused and it is paying off. Well done! |
| 5R | Stella | For the beautiful sentences you are writing in our Literacy block. I loved reading your simile and metaphor sentences. Keep it up! |
| 6M | Sonny | For displaying effort and perseverance when solving harder order of operations problems. |
| 6V | Tyler | For displaying the virtue of persistence when working on your assessments. Well done Tyler! |
| 6V | Lucy | For using your knowledge of poetic devices to write a beautiful poem about the colour green and sharing it with the class. |
Community News