Week 10, Term 3 2022 - 13th September 2022
From our Principal-Mr Wes Rose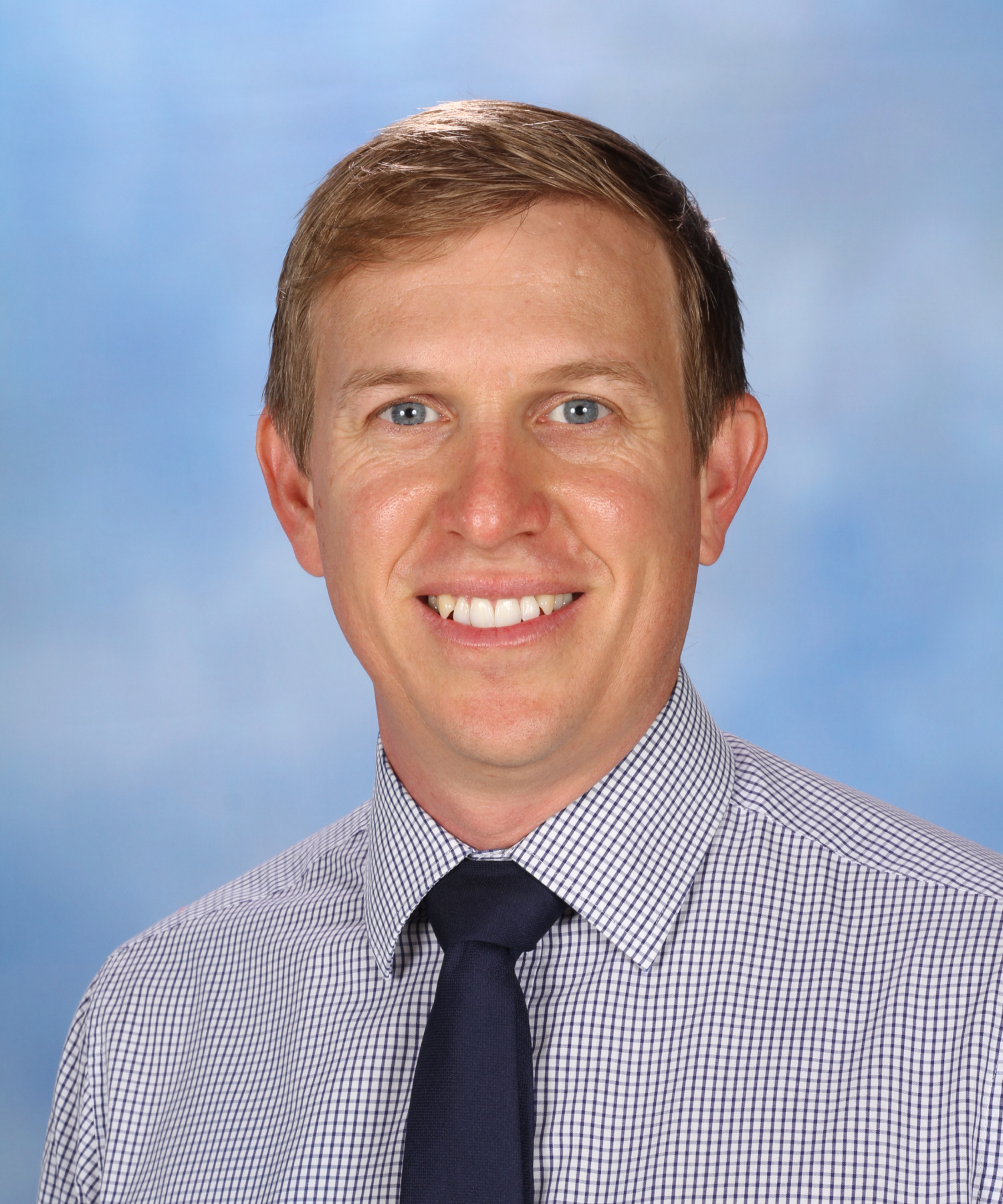 In our prayers
This morning, we were informed of the sad news that Mrs Catherine Lenz passed away peacefully at 99 years of age. Catherine is the mother of Maria Lenz (Yr 1 teacher), and grandmother of William (Yr 4). She lived a remarkable life, serving as a nurse in WWII, raising a family and living independently right up to yesterday. On behalf of the school community, I extend my sincerest condolences to the Lenz family at this sad time.
We also extend our condolences to the Elworthy family, Romeo (6V), Coco (5L) and Cash (3M), following the passing of their grandfather, Neil Elworthy.

'Eternal rest grant unto them, O Lord and may perpetual light shine upon them. May they rest in peace.'
School Holidays
All the best to students, staff and families for the upcoming school holiday break. A reminder that Term 4 resumes on Tuesday 4th October.
School Maintenance
We have several maintenance jobs scheduled for the school break, including;
Internal and external painting of the Library
Repair several leaking downpipes in F and B Block
Air conditioner servicing
Emergency lighting service
NAPLAN Results Pending
We expect that the individual student reports for the 2022 NAPLAN tests will be delivered shortly. Once they arrive, they will be sent home to parents. Preliminary data indicates that our students have scored well.
St Mary's Got Talent
I extend my thanks to Mrs Wood and the student performers who entertained us at last week's St Mary's Got Talent. I am always amazed, not only at the talent of our students, but also for the wide and varied nature of the acts. From singing, dancing, playing an instrument, whip cracking, fire twirling, magic and poetry, it really was a showcase of talent. I also thank Miss Ebony Walker (Drama teacher: Mercy College) and the Yr 10 student leaders for adjudicating the event.
Prev
Showing images
1 - 8
of 18
Next
St Mary's Battlers Grand Final
I invite as many students and parents to attend the Grand Final of the John Paap Interschool Rugby League competition. St Mary's Battlers will play against Mackay West State School at 4pm this Wednesday at the Souths Junior Rugby League grounds. C'mon Battlers!
Rugby League Gala Day
All the best to the boys and girls who are participating in the Gala Day this Friday. St Mary's has two U/11 teams, as well as a girl's team, entered for the day. Mrs Battaia will be managing our teams, as well as several parents helpers.
A message to children/families arriving before 8:15am
We have noticed that many of our students arrive to school before 8:15am and are spread out across various areas of the school. I remind students and parents that before 8:15am, there are no teachers on supervision duty. Therefore, students are to either sit with their parents, or if unaccompanied, sit in the tuckshop area. There is to be no play before 8:15am. Once the 8:15am play bell rings, students can play handball/skip/walk the track/visit the library.
Early Departure and Late Arrival at School
For the safety of all students, it is important that the following procedures are followed when students are collected early or arrive late for school;
If your child needs to leave school during the day for any reason, they must be collected from the school office and signed out. Advanced notice to the school office will assist in having students ready at the collection time.
Please do not go directly to your child's class, as the class teacher is unable to amend the attendance roll.
When returning to school following an appointment, students must report to the office so that the class roll can be marked accordingly.
Students who arrive late to school in the morning (after 8:30am) must report to the school office before going to their classroom. This will prevent SMS messages being sent to parents when children are present at school.
Families Leaving
As our total enrolment drives many aspects of our school (staffing, budget, class sizes and structure) it is important that we try to be as accurate as possible in predicting the school enrolment for 2023. If you know that you will be leaving at the end of the year, please notify the office as soon as possible. Your assistance with this matter is greatly appreciated.
Quote of the Week
"A wise person does not grieve for things they don't have, but rejoices for what they have."
-Epicetus
St Mary's Feast Day
Last Thursday we celebrated St Mary's School Feast Day. Our Mass to honour the birth of Mary our Mother was beautifully led by Fr Gaspar and Year 6V.
Congratulations to the students from each class who participated in the painting or presenting of our communal artwork to honour Mary. Sr Denise helped us cut the cake which the whole school shared to celebrate Mary our Blessed Mother and school patron.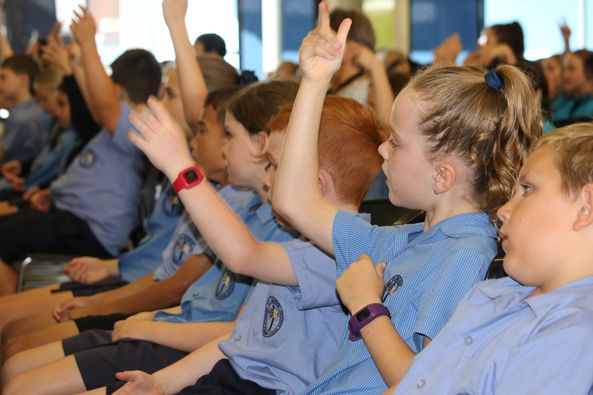 Premier's Reading Challenge Winners
Last Friday on assembly the winners of the Premier's Reading Challenge for 2022 were announced. Two classes were awarded the top prize with the achievement extra special because every student in the class attributed by completing at least one page of recorded reading. 6V have decided on the class reward of free play and a sweet treat and 5R have decided on the class reward of a pizza party. Congratulations to all students who made the effort to boost their reading levels throughout the challenge. Pictured are Christina and Fynn from 6V and Jack and Ava from 5R.
2022 Prime Minister's Spelling Bee
Every student in Years 3 to 6 competed in the Prime Minister's Spelling Bee. Students had to correctly spell 30 words via an online competition. The following students were awarded Class Champion: (highest points in their class)
3B - Charlotte
3M – Lexie
4C – Ryder
4K – Aylee
5R – Jessica
5L – Isabella
6M – Jesse
6V – Katie
We then had three students who made it through to the next level and had to compete in another spelling bee – The State Finals.
Our State finalists: Charlotte 3B, Reniel 3B and Aylee 4K. Well done!
Our school champion – with the highest overall mark was Reniel! Congratulations!
Sport News
It is our final week of skipping and we will be celebrating with our Jump Off afternoon on Wednesday 14th September from 1.30pm on the Basketball court. All students will have the opportunity to show off their skipping talents in front of their peers and teachers. We would love families to come along and be part of this event too.
Week 9 saw some new class skipping champions which was great to see, as some of these students have been so close to winning in previous weeks.
We have raised $3403 so far but there are still 5 days left to register and jump online to add your donations.
Week 9 Skipping Champions
Prep C - No champion this week Year 3M - Elly
Prep P - No champion this week Year 4C - Sefton
Year 1B - Reagan Year 4K - Harper
Year 1L - Matilda Year 5L - Brielle
Year 2A- Tane Year 5R - Madison
Year 2B - Jayda Year 6M - Emmi
Year 3B - Kolby Year 6V - Zac
Simone Sibley
HPE Teacher
Student of the Week
Week 9, Term 3 Student Award Winners
Prep C
Audrey
For your lovely participation and reverence during our Mary's Birthday Mass. It was very special to see you joining in with the actions and hymns with so much joy.
Prep C
Oliver
For your joy and enthusiasm for writing. Your teacher is so impressed with your determination to work on your writing goal this term, keep up your amazing work!
Prep P
Adelynn
For wonderful work with your literacy learning. You are remembering your heart words and trying to sound out unknown words in reading and writing. Keep up the great work!
Prep P
Jasmine
For being a great listener in class. It is great to see you putting up your hand during carpet time to share your ideas and answer questions. Keep up the great work Jasmine!
1B
Jessie
For displaying reverence during the St Mary's Feast Day Mass. Thank you for being so respectful!
1B
Reagan
For working diligently and skillfully when counting coins during maths rotations. Super effort!
1L
Kheiruz
For a wonderful improvement in handwriting and for the kind, caring heart you show to others.
1L
Paulo
For the effort you put into your reading at Boost. Mrs Davies is blown away by your hard work.
2A
Sienna
For being a responsible and trustworthy class member. Thank you!
2A
Nathan
For your reverent participation and beautiful singing at our school Mass.
3B
Makenna
For all of the 'little things' you have been doing this week. You've set a great example by showing others that if we all do the little things we can make a difference.
3B
Jayce
For the positivity and kindness you have brought to class this week. You have been encouraging others and approaching every task with a wonderful attitude.
3M
Maxwell
For your ability to independently complete all set tasks this week and the thoughtful contributions you made to class discussions. Keep up the great work Max!
3M
Milla
For the effort and thought you put into your artwork for the art show. You carefully considered the colours you wanted to mix together and this has resulted in an excellent work of art.
4C
Ryder
For your commitment and application of skills and knowledge in solving word problems. You are a Math whiz!
4C
Flynn
For your great work ethic and application of skills and knowledge in solving word problems. Keep believing in yourself as you can do great things!
4K
William
For a wonderfully informative class talk on the Cartesian Diver that you made. You wowed your audience and had lots of great information about how it worked and who invented it. You are a superstar!
4K
Chase
For your wonderful contributions in Religion lessons on prayer and your consistent effort to complete your narrative writing task. Keep it up!
5L
Milla
Milla, you have demonstrated great leadership qualities this week, when taking responsibility for your learning, participating in extracurricular activities at school and always being a kind and caring student. Your teacher is impressed!
5L
Charlotte
Charlotte you have gone over and above expectations to complete your 'onomatopoeia' artwork for literacy, and your completion of Van Gogh's 'Sunflowers' and 'Starry Night' for visual arts!! Your work is spectacular!!
5R
Isack
For your improved effort and concentration during class time. Keep up the fantastic work!
5R
Amara
For the confidence you are showing during class discussions and reading in Boost sessions.
6M
Emmi
For the encouragement you gave to others during camp to overcome challenges. You showed amazing leadership Emmi!
6M
Suporna
For showing courage when faced with new and challenging experiences on camp. The teachers were all very proud of you Suporna.
6V
Joshua
For displaying courage and bravery at Year 6 camp. You were an adventure-caving superstar!
6V
Harry
For being a willing helper at Year 6 Camp and displaying great manners and gratitude.
Community News
The Renegades Basketball Club are looking for new members who would like to play basketball over the summer season. The club can even cater for other sporting teams who wish to play together as a team as part of the Renegades Basketball Club. Please see the flyer above for details.
Any assistance with helping us find new members would be greatly appreciated.
If you have any questions, please don't hesitate to ask.
Regards,
Guy Simpson (President)
0410654575